Our top pick after the latest update:
NordicTrack T Series Treadmill 9.5S
Our top pick for the best treadmill for home use, the NordicTrack T series, sports a powerful commercial-grade 3.5 CHP Motor, 0-12 MPH Speed, 12° Incline and more features at an affordable price.
When you add the impressive 14-inch touchscreen display and the bundled 1-year iFit Membership, it checks all our boxes.

Buying a treadmill is similar to making an investment in your health and fitness, and should be done with no compromises. Although the best treadmills for home use can cost upwards of $1000, they can last for 10 or more years with regular use. This means that for a few hundred dollars a year, you're able to maintain your fitness goals, lockdown or not, without any worries.
While it may have been a luxury several years ago, a treadmill is now genuinely a worthy addition to your home gym setup. Furthermore, the best treadmills come with or support companion apps that show live running sessions, routes, and locations to spice up your workout.
How we picked the best treadmills for home use
When buying a treadmill, there are a few considerations to have in mind that largely determined how we chose our top picks.
While most of these considerations are related to the parts of the treadmill like running belt, design, motor, and functions such as incline, auto stop, EKG trackers and fitness programs, we also considered customer support and warranty to be very crucial.
In this guide, we've explained all these factors in detail so that you know exactly what you should look out for, as well as answer a lot of commonly asked questions by people shopping for a new treadmill. If you are in the market for only the best treadmill for your home gym, you're in the right place!
Top 7 best treadmills for home gyms
Pros
Powerful commercial 3.5 CHP motor
Beautiful 14-inch display
Free iFit 12 months membership
Foldable design
Cons
NordicTrack is notorious for its poor customer support.
Motor: 3.5 CHP
Maximum Speed: 12 MPH
Weight capacity: 300 pounds
Dimensions: 20 x 60″ belt surface
Additional features: 12° incline, one-touch controls, auto-breeze workout fan, EKG grip pulse.
Our top pick, the NordicTrack T 9.5 S is the top of the line model of the NordicTrack T series. It is a very impressive machine.
The first thing you'll notice is the gorgeous 14 inch LED display and modern layout of the dashboard. With this design, you won't need your smartphone or tablet and as such, there is no space for any of those. The dashboard also houses cup holders, EKG pulse grip bars, speakers, and interactive controls.
Under the hood, the T9.5S is very impressive. It is equipped with a commercial-grade 3.5 CHP motor, a standard 20 x 60″ running surface, and a foldable frame with hydraulic folding assistance to enable one person to move the machine easily.
Pros
Space-saving folding design
Standard belt size
Solid 3.0 CHP motor
iFit compatible
Lifetime frame & motor warranty
Good price
Cons
small screen
folding frame offers slightly less stability than fixed frame designs
Motor: 3.0 CHP
Maximum Speed: 12 mph
Weight capacity: 350 pounds
Dimensions: 20 x 60″ belt surface
Additional features: 12 degrees digital incline, 5 inches iFit display, tablet holder, 2 speakers and 30 preset workouts.
The ProForm 905-CST Treadmill is among the top models offered by Proform in their home use treadmill series. It packs enough punch in its space-saving foldable design to ensure you never miss a trip to the gym.
The treadmill frame is stable and solidly built and houses a 5-inch display along with control buttons on the dashboard. It also includes a very nice tablet holder and EKG grip pulse bar for both hands.
It has a standard belt surface of 20 x 60″ that gives you a lot of running space and cushioning technology to reduce wobble and noise on impact.
With iFit compatibility, you can enjoy your interactive fitness sessions on this treadmill.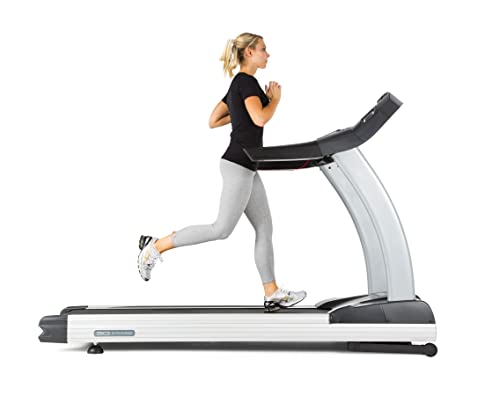 Pros
Buttery smooth to run on
Powerful 4.0 CHP motor
The suspension system provides a great cushion
Warranty is among the best
Very stable, solid frame
Cons
Dashboard looks a bit dated
Motor: 4.0 CHP
Maximum Speed: 15 MPH
Weight capacity: 400 pounds
Dimensions: 22 x 62″ soft orthopedic belt surface
Additional features: up to 15% auto incline, ortho flex shock suspension system,
Straight off the bat, the 3G Cardio Elite Runner treadmill takes no prisoners. It does not try to hide the fact that it is made mainly for hardcore, lung-bursting, serious runners.
It comes with a monstrous 4 CHP motor, an oversized 22 x 62″ orthopedic running belt, a large non-foldable frame, and a class-leading warranty (Lifetime motor and frame + 10 years parts coverage).
You also get extras like speakers, one-touch incline up to 15%, touch control panel, built-in programs.
It eliminates all the bells and whistles effectively and leaves you with a very premium running machine.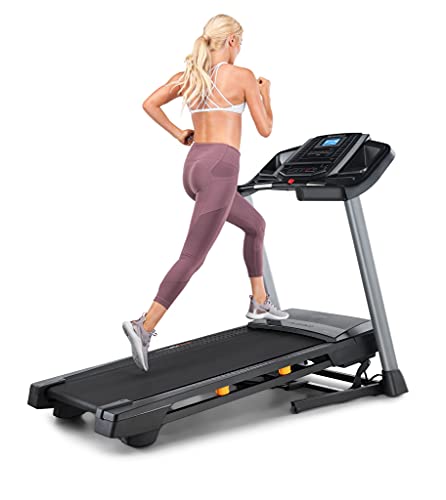 Pros
Space-saving foldable design with a compact build
Large running surface
Full iFit integration
Great price
Cons
Small 5 inch display
Lacks cushioning of more expensive models
Motor: 2.6 CHP
Maximum Speed: 10 MPH
Weight capacity: 300 pounds
Dimensions: 22 x 55″ running belt
Additional features: 10° auto incline, Dual CardioGrip heart rate monitor, One-touch controls, 1.9″ roller.
Our budget pick, the T 6.5S is a less powerful version of the NordicTrack T series even though it packs enough to satisfy everyday runners.
For under $1,000, it comes with a 2.6 CHP motor, a slightly wider but shorter 22 x 55″ running belt, and a foldable frame that allows you to use the treadmill in smaller spaces.
The dashboard is equipped with a 5-inch display, ample space for storing your drink and other items, control buttons that are easy to use, and a tablet/phone holder. It has full iFit integration + 1-month free trial membership upon purchase.
Performance is smooth and efficient, and you won't notice a big difference running on the T6.5S when compared to more expensive models. Finally, you'll be getting a lifetime frame warranty, 25 years motor warranty, and 1 year of service warranty.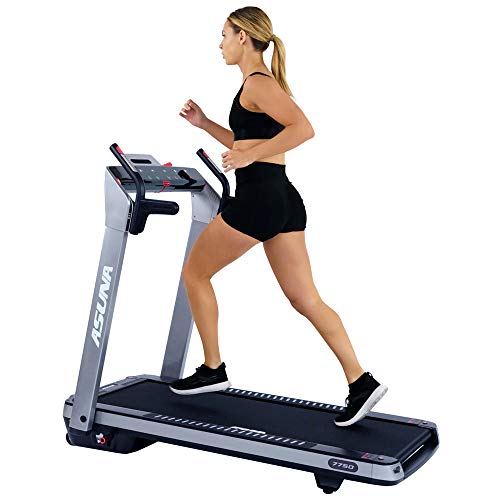 Pros
Compact size with foldable design
Modern stylish appearance
Speed up to 8 mph
Great price
Nice extras features
Cons
Not suitable for taller people
Motor: 1.25 CHP
Maximum Speed: 8 MPH
Weight capacity: 250 pounds
Dimensions: 19 x 51″ belt surface
Additional features: 12% auto incline, 8 preset programs, USB & earphone ports, speakers.
The Asuna Spaceflex is a bargain treadmill for apartments and small spaces.
It has a compact footprint of 57 x 28 x 48 inches (L x W x H), is well built, and easy to assemble, with a motor rated for 1.25HP and up to 8mph max speed.
Additionally, you get up to 12% auto incline, 8 preset running programs and the ability to add your own custom running program, a visible LED panel to display workout stats, a phone holder, USB & earphone ports, speakers, as well as Bluetooth connectivity.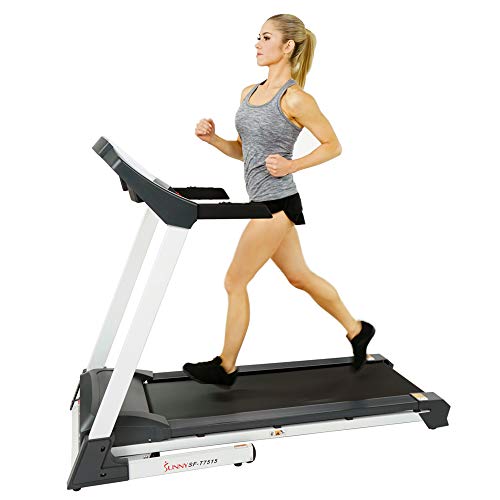 Pros
Decent power for a Walking treadmill
long sturdy side beams for support
compact, space-saving design
Great price to performance ratio
Motor: 2.2 peak HP
Maximum Speed: 8 MPH
Weight capacity: 240 pounds
Dimensions: 16.5 x 49.5″ belt surface
Additional features: Auto incline, Bluetooth, tablet and bottle holders
This treadmill, T7515, from Sunny Health & Fitness makes our list as the best walking treadmill you can buy.
As a walking treadmill, it has all the features you need. The frame is solidly constructed with a foldable design and it has a 2.2 peak HP motor tuned to deliver maximum speeds from 1 to 8MPH.
The walking belt measures a small 16.5 x 49.5″ which is enough area for casually walking with short or normal strides, even for tall people.
The dashboard features a large area for your phone, tablet, or laptop (13″) in case you prefer to binge a show/ do some work while walking, a small display to show your walking stats, and a few one-touch buttons, including an emergency stop.
Pros
Solid construction
Foldable and easy to move around
Manual incline
Manual resistance
Nice extra features
Cons
Niche product
May be too expensive for some people
Motor: Manual
Maximum Speed: Manual
Weight capacity: up to 440 pounds
Dimensions: 17 x 51″ belt
Additional features: Manual incline up to 14%, manually adjustable resistance, sweatproof grip handles, phone/tablet holder
Our last top pick is also our top manual treadmill for those who want to push themselves harder. The Asuna High-performance manual treadmill is comfortably the best manual treadmill we could find.
It has a very solid frame that can support up to 440 pounds of weight and a running belt area of 17 x 51″. The running surface is inclined at a static 10 degrees and can be further increased manually to 14 degrees. You can additionally, increase the resistance of the belt for more challenging workouts.
The dashboard is very minimal with sturdy and sweat-resistant handles, and a small phone/tablet holder. There are no extra bells and whistles.
Buying a treadmills for home use – frequently asked questions
Is it worth buying a treadmill for home?
If you're already searching for the best treadmills to add to your home gym, then it kinda feels like you do need a treadmill. Whether or not it is a worthy purchase depends on your needs and fitness habits.
If you regularly like to run, both indoors and outdoors, consider buying your own treadmill. It adds more convenience to your life, and you don't have to be limited by time or place to get a good run.
On the other hand, if you're more of a cycle person, then a treadmill may not be the best option for you. In that case, you might consider buying one of the best exercise bikes or ellipticals.
How do I choose a treadmill for my home?
We spent lots of hours researching and writing this buying guide so that you don't have to break a bone searching for the best treadmill to buy. However, you should have an idea of the things to look out for (and the features we considered) when choosing a treadmill for your home.
Motor
With the exception of manual treadmills, all other treadmills are defined by the quality and power of their motor. You'll soon find out that treadmill motors are the biggest factor in determining the price and performance (the top speed) of most treadmills.
Another exception to note is that walking treadmills – even the best ones – have less powerful motors than their running counterparts.
Belt
Another important part of every treadmill is the belt. Simply put, the belt is the running surface of the treadmill. To the untrained eyes, all belts might seem equal, that is, they are all large black pads that your feet strike while you run, however, this is not the case.
The belt materials and size matter. Some materials offer more cushioning than others while cheaper treadmills tend to have small belt dimensions.
The standard belt size for treadmills in commercial gyms is 20″ x 60″ which offers enough running surface for most people. The best treadmills for home use offer up to this size of belt, although some more compact ones have smaller belts.
Speed
Speed is another key detail to look at when you're choosing a treadmill for home use. Typically, treadmills designed for walking will have top speeds less than 5 MPH, whereas those designed for running can have speeds up to 12 MPH
Speed is determined by the power of the treadmill motor, and the resistance of the belt material. So it's possible for both a 2 HP motor and 3.5HP motor to both have up to 12 MPH speed. But the smoothness and efficiency will be noticeably higher in the treadmill with the more powerful motor.
Incline
The incline is the treadmill feature that makes it seem like you're running up a hill. It helps to increase your cardio workout efficiency in different ways.
Most modern treadmills offer some sort of auto-incline. Most budget treadmills skip the incline feature completely, while higher-end models at the top of the spectrum can have inclines up to 15 degrees. Unless you're a very serious athlete, anything from 10 degrees and above should suit you just fine.
Design
Although most treadmills look similar, there are some subtle design features that you should consider. For instance, if you're buying a treadmill for walking, you should consider one with longer rails/handles as well as a large (spacious) dashboard surface that can easily hold a laptop or tablet.
Also, if you have limited space and are considering a compact treadmill, you should be looking at treadmills with foldable designs.
Advanced Features
Almost every treadmill has bells and whistles that you may or may not need. However, some of these features have become standard over time.
They include tracking sensors that can monitor your heart rate/pulse as you run, pedometers that count your steps, Bluetooth connectivity, speakers, charging ports for your devices, digital display to show all of this information, etc.
Some of the features we love best are the connected fitness features that let you stream studio sessions with personal trainers who are able to control your treadmill's settings (speed, incline, and decline) and running program in real-time.
Are there different types of treadmills?
We wouldn't really call them different "types". But rather, there are treadmills that are best suited to the different needs of people. We did a deep dive and noted that treadmills for home use generally belong to one of these groups:
These are treadmills for people living in smaller apartments. They have space-saving features such as foldable designs that allow a user to store the treadmill vertically and reclaim space after workouts and smaller overall belt sizes and dimensions.
Despite being small, some compact treadmills do not compromise on features quality.
Walking Treadmills
Treadmills for walking are designed differently when compared to their running counterparts.
Firstly, they have less powerful motors. So it is typical to find them sporting a motor with anything from 0.9 HP (horsepower) to 2.5 HP. This also means that they have significantly less maximum speed and the very best top out at around 6 MPH – just in case you need to do some light jogging/running.
Next, many of them have larger supporting side rails due to the fact that they are bought for use by people just recovering from injuries or elderly people who need more support. They are also more likely to have a quick stop button.
Running Treadmills
Running treadmills are the most popular or common category of treadmills. When choosing a treadmill for running you're likely to be spoilt for choices and a buying guide might be helpful.
The best treadmills for running have more powerful motors up to 4 HP and can reach a top speed of 12 MPH. They can also be found in big, standard, and compact sizes.
Budget Treadmills (Under $500)
Although a lot of treadmills exist in the budget category, most of them are not worth your money and may end up becoming an expensive piece of junk in your home.
However, with the right guides, you can also find some very decent budget treadmills that may skip on a few extras to provide great basic running and walking functions.
For those who want to challenge themselves more, manual or non-motorized treadmills exist. These treadmills are basically powered by your efforts.
In addition to being able to burn up to 30% more calories on a manual treadmill, you will also be saving a lot of money as they tend to cost considerably less than motorized options. Although a few premium models can cost up to $1,000.
Are treadmills bad for knees?
Running generally places some degree of stress and impact on your knees. The degree of the impact on your knees largely depends on the running surface, your running technique, your body weight, and running shoes.
Research suggests that running on a treadmill is easier and has a lighter impact on the knees than running outside on a hard surface like concrete or uneven surface with obstacles that cause your knees to be maladjusted and reposition with every strike on the surface.
Another important factor to consider if you worry about damaging your knees is your training plan and intensity. A schedule that allows your body to recover fully is a must.
For people with bad knees due to several medical conditions may be better off with other cardio activities besides running such as cycling, rowing, or using an elliptical. For these people, it is best to consult your physiotherapist for expert advice.
Are expensive treadmills worth it?
It will be an apple vs oranges contest to judge treadmills by their price tags alone. This means that even though it may be easy to look at a $2,000 treadmill and conclude that it is expensive, you might consider that many premium laptops, phones, and other gadgets cost as much.
Another funny consideration is that these expensive gadgets have nowhere near the longevity and do not offer any sort of health benefit that a treadmill does, even though they cost similar amounts.
So a treadmill is really worth what you're willing to pay for it. However, keep in mind that below a certain price (under $300) you're definitely not getting any worthwhile motorized treadmills for your money (you can find good manual treadmills for this price). Generally, a sweet spot to get the best treadmills both in performance and features will be between $1,000 to $ 2,000.
Are treadmills good for weight loss?
If you buy and use a treadmill regularly, yes, it can contribute a lot to your weight loss.
Generally speaking, how fast you lose weight or how much weight you lose depends on your activity on a treadmill, your diet, your size, and a few other factors.
Someone running at moderate to high speed over 30 minutes will obviously burn more calories than another person walking at a consistent pace for 30 minutes.
Losing weight is a bit more complex topic, but the bottom line is that running on a treadmill is a good way to burn calories that help you lose weight if other factors like your diet and body size are put in check.
How long do treadmills last?
A good treadmill, with regular personal/home use, should last for 7 and more years. The best treadmills offer 15 years+ warranty on core components like motor, frame, and belt.
Also, how you care for your treadmill can determine how long it lasts for you. As with most electric machines, small maintenance measures such as avoiding water spills, wiping it down after use, adjusting and/or lubricating the belts, etc can add to the longevity of your treadmill.
Last update on 2023-09-30. Affiliate links and images from Amazon product advertising API