Our top pick after the latest update:
Vanswe Wall Mount Cable Station
Our top pick among the best cable machines for home gym setups is suitable for beginners and pro who want a great machine without spending a fortune.
It is easy to assemble and has a small footprint that won't take up all your space.
---
Buying a cable machine is not a straightforward exercise. If you've scoured around, you'll soon find that cable machines are becoming like Dinosaurs – they're going extinct and being replaced by "Home Gym stations".
You'll also find out that most of the remaining ones are very similar in function and build. You need the eye of Sauron (or just a good review like this one) to help you find the best cable machines for home gym setups you can buy.
---
How we selected the best cable machines for most home gyms
We reviewed 18 different cable machines and as at the time of writing this article, most of them are no longer being manufactured. This list then represents the best available cable machines you can buy in 2020.
Our review process factored the cost of adding a cable station to your home gym vs the range and quality of exercises you can get from a cable station; ease of assembly vs the overall build quality of the machine; and the overall footprint of the machine.
---
The best cable machines for home gyms you can buy in 2020
---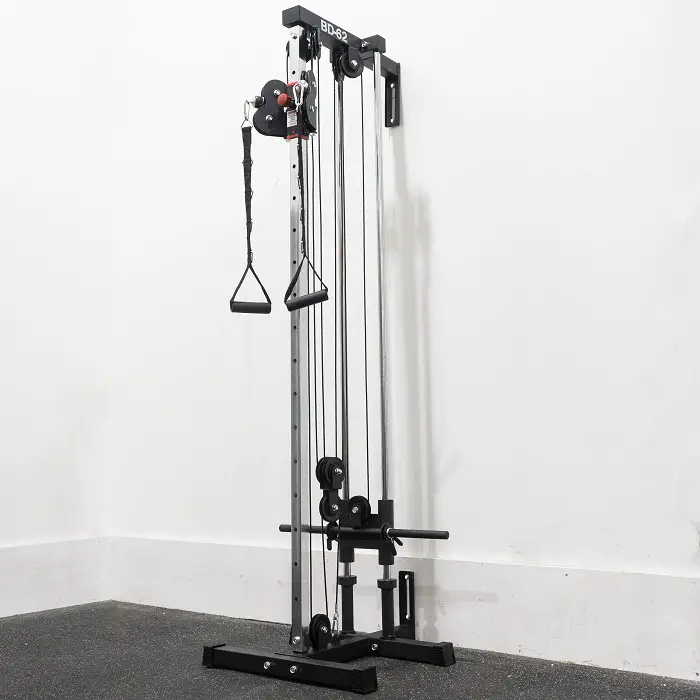 ---
Pros
Very Compact and space-saving
The price is juicy!
Pro-grade stability after installation
Can take up to 300lbs of weights
Has rubber feet to protect your floor
16 adjustable pulley positions for all kinds of workout
Dual pulleys to work both hands simultaneously
Easy to assemble
Cons
You have to drill holes in your wall
You won't get a true crossover system with this machine
The Vanswe Wall Mount cable machine is our top recommendation for your home gym because of a few reasons.
Firstly, it is essentially the same product as the Valor Fitness BD62 and ARCHON Wall Mount Cable Station that have since become unavailable for purchase. So whichever of these brands you buy, you'll be fine.
It comes at a shockingly affordable price when compared to similar stations that are 4X more expensive.
The price notwithstanding, you'll be getting a solidly built cable station with decent features and some important extras.
It is easy to assemble, and once completely assembled is solid and very stable – wall mounts contribute to this.
What's more impressive is that you'll be using a very small footprint of your home gym for this installation. The dimensions come in at 25″ l x 24″w x 83″ h!!
It has a dual pulley system which is great that you can do bilateral workouts with this small machine.
The Vanswe wall mounted cable machine is plate-loaded meaning that it uses standard or Olympic plates, and would be a great choice if you already own plates or intend to purchase some in the future.
The plates are not included in the box.
---
If our Recommend Product is Unavailable, or you're looking for something more robust, try these picks.
---
---
Pros
The price is very affordable
Pro-grade stability after installation
It can take up to 300lbs of weights on each side!
Has rubber feet to protect your floor
Large space in-between is preserved for other workouts
Easy to assemble
Cons
No middle Pulleys
Fixed height may not suit all home gyms
Not as stable as our top pick if you load one side alone.
The Powerline PCCO90X cable crossover machine has a rather large footprint, but since most of it is empty space, it doesn't feel like it takes up as much area as it seems like it should. When assembled, it measures 112 by 39 by 82 inches (L x W x H).
It has two pulleys at the top and bottom pulleys that have smooth 180+ degrees of motion for frictionless training in all directions.
This cable cross machine is also plate-loaded and accepts both Olympic and standard plates (each sold separately).
It offers incredible value right out of the box with two cable handles and one ankle strap.
Assembly is easy, and shouldn't take more than 4 hours with the diagram descriptions.
---
---
Pros
Better than you'll find in most commercial gyms
Superb build quality
It can take up to 210lbs of weights on each side!
Has rubber feet to protect your floor
Virtually unlimited number of workouts
Easy to assemble
Superior stability
Cons
This machine is massive in size and weight.
Price may be too steep for some people
The Freemotion Dual Cable EXT Crossover Station is a Pro-grade Cable machine that you can find in top tier gyms, so we can understand the price.
This beautiful beast is built solidly and weighs over 900lbs. Once assembled, forget about moving it an inch – except, of course, you're the world's strongest man.
It is surprisingly easy to assemble and takes up a space of 60 L x 113 W x 84 H inches.
It comes with two weight stacks that each have 210lbs stacks. That said, each weight stack operates off a 3-1 Cable ratio which means although the weight stack is 210lbs, you're actually getting 75lbs per arm which is the equivalent of using up to 75lbs dumbbell on each arm.
The design and swivel mechanism means you get unlimited angles, and almost any workout you can imagine. You also get a workout DVD to show a lot of workouts you can achieve with the machine.
We're quite confident that this can be your only machine or an excellent addition to a few other pieces of equipment for your home gym.
If you can afford the Freemotion Dual Cable EXT Crossover Station, we highly recommend you to purchase it.
---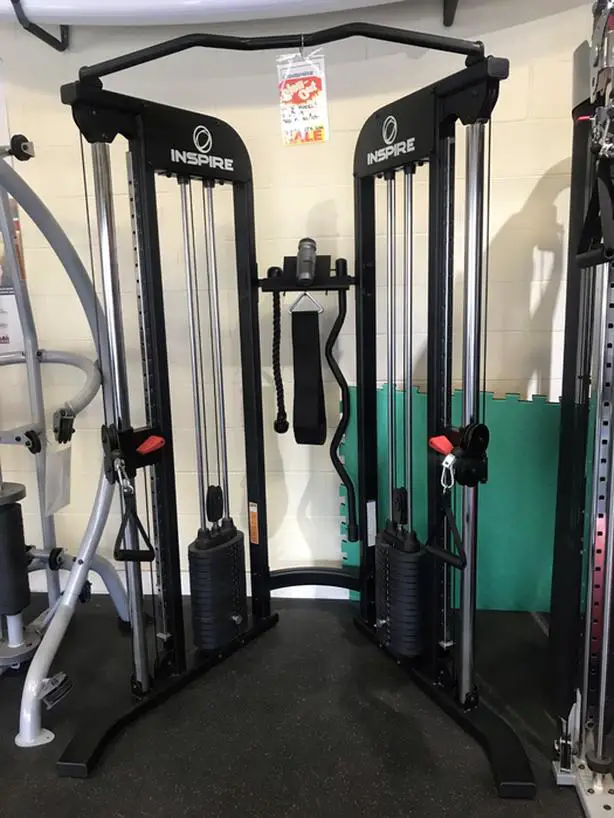 ---
Pros
It offers a solid price to performance ratio
Pro-grade build and stability
Very versatile pulley system for a wide variety of exercises
Has rubber feet to protect your floor
Compact and space-saving footprint
Easy to assemble
Cons
If you want more weights than the offered 165 lb, look away
Our 4th entry is an excellent cable crossover machine from Inspire Fitness, a company renowned for its great range of fitness equipment.
It is on the pricey side, but well worth the investment if you're looking for a solid cable machine that is well-built and comes with weights.
The Inspire Fitness FTX Functional Trainer has a small assembly footprint of 40 x 54 x 85 inches (L x W x H) and weighs 544 lbs.
It comes standard with two, 165 lb. Weight stacks and thirty swivel pulley positions to allow for complete freedom in any direction and unrestricted exercises.
Other accessories included in the box are; a triceps rope, a pair of deluxe D handles, a chin/dip belt, and a Curl bar.
---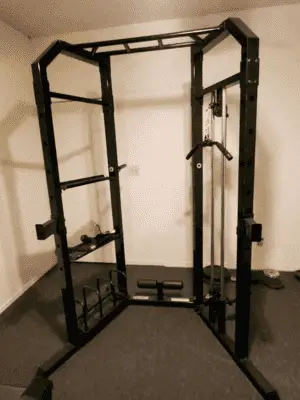 ---
Pros
The price is very affordable for a Power cage/cable station
Two Pulley positions
Small footprint
Has rubber feet to protect your floor
All the benefits of having a power cage
Easy to assemble
Works with Standard and Olympic weights
Cons
No middle Pulleys
Not as stable as our top pick
Does not
Not as strong as our other picks
Our final entry is a more versatile option. Technically, it is a power cage but makes our list for having a good dual pulley system on the side.
The Marcy SM-3551 Olympic Multi-purpose Strength Training Cage works best for those who want more than just a cable machine, as you can get the power cage and cable machine (with more restricted angles and positions) in one package.
It's quite compact with an assembly footprint of 46″L x 60″W x 87″H and is easy to assemble.
Aside from the many benefits of the power cage, you'll be getting a cable station that uses standard or Olympic weights and has pulleys from top and bottom positions.
It is more limited than our other picks (Our top pick has up to 16 adjustable positions!!), but it works fine.
Last update on 2021-09-20. Affiliate links and images from Amazon product advertising API