Our top pick after the latest update: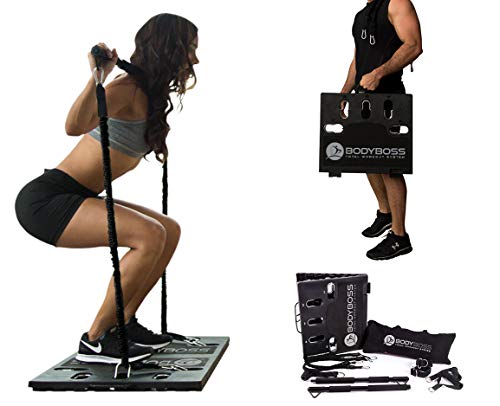 Bodyboss Home gym 2.0
Our top pick for the best home gym under $200 is the BodyBoss Portable Home Gym 2.0. It is a lightweight and portable multi-trainer with various accessories that you can use for over 300 different exercises.
---
Multi-Home gyms are a great way to achieve workout consistency despite tight and busy schedules. You can set them up safely and stealthily in your yard, room, or workplace. In this article, we put together our picks for the 5 best home gyms under $200, including their peculiarities and what to look out for when buying one.
---
Top 10 Best Home Gyms Under $200 in 2020
---
---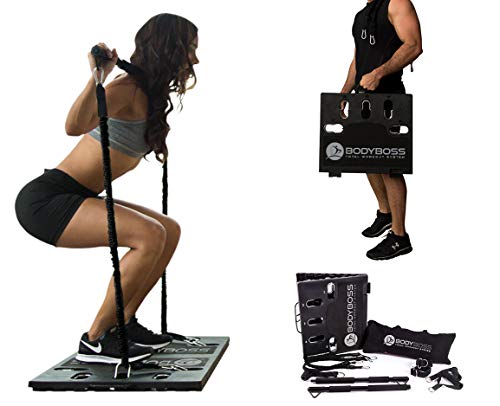 For: 👍 Foldable base, strong resistance bands, padded straps and handles, 360-degree rotatable bar.
Against: 👎 Some issues with the balance due to folding base, members-only video collection.
---
The BodyBoss 2.0 Full Portable Home Gym is a multi-gym solution that packs enough to impress beginner and seasoned gym-goers alike.
This cheap home gym packs double sets of handles, ankle & wrist straps, a collapsible bar, and resistance bands to give you a full workout experience. Also included are multiple tutorial videos for more than 300 exercises. We loved that you can make basic exercises like power squats, pushups, and lunges more challenging with the BodyBoss 2.0
For what it offers – a truly cheap, compact, portable, and versatile workout experience, it is a great deal if you're looking for a great alternative to regular gym visits.
---
---
For: 👍 Reinforced steel base, a wide variety of exercises, Increased strength bands
Against: 👎 Unclear workout instructions, Board could be better
---
The Fusion Motion Portable home gym is a compact and cheap multi-gym system that is built with a reinforced steel base to accommodate intense workouts and comes with eight accessories (attachments) to help you achieve a wide range of workout routines. It also features a handle and a lightweight base that makes it easy to carry around.
Two notable attachments are the ab roller wheels which can help stimulate your torso and push-up handlebars that can fix your pushup positioning and strength. The included instruction workout guide features over 200 exercises, although, some of them can be very unclear and challenging for beginners.
It's also important to note that all the workouts use your body weight and some resistance bands which may not provide enough challenge if you are looking to build muscles.
---
---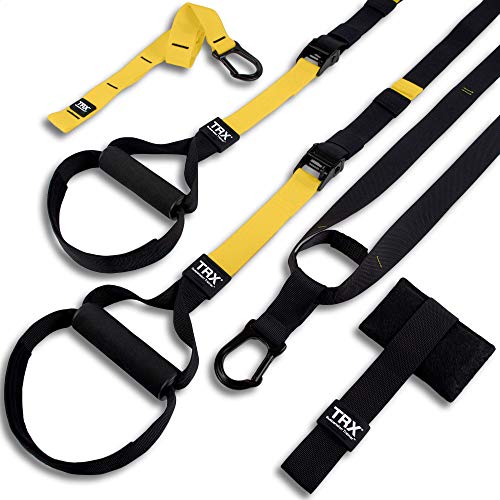 For: 👍 Great for traveling, single point anchor, strong resistance bands.
Against: 👎 May not be ideal for beginners
---
The TRX All-in-ONE Suspension Training System is a very interesting take on suspension bands with a single anchor point and locking loop design. This basically means that you can use it anywhere you can mount a single anchor point such as trees, walls, doors, pillars, etc.
The bands are made from high-quality materials and seem very sturdy with integrated handlebars that also serve as foot straps.
Included in the TRX All-in-one suspension trainer is a 35-page workout manual and a carrying pouch, and you also get access to their mobile app that contains some more exercise routines. 
Being the most portable home gym system on our list, we highly recommend the TRX suspension trainers for people who travel a lot and need to take their gym experience along.
---
---
For: 👍 Powerful 200lbs of resistance, steel frame construction, a wide range of exercises.
Against: 👎 Some plastic bits in the construction bring up longevity issues.
---
The Body by Jake Tower 200 is a multi-tension resistance-based multi-gym that is door mounted. The equipment is designed with a steel frame that you can hook up to the top and lower parts of your door and achieve strong resistance levels up to 200 lbs. Assembly is easy for one person and does not take more than a few minutes to get going.
With all the included attachments, you can get lots of exercises (200 and more), making the Tower 200 a really flexible home gym. These exercises are easy to follow and most of them can be done by beginners with the help of an included disc with tutorial videos.
We love the whopping 200lbs of resistance that you can get with this cheap home multi-gym although we couldn't say the same about some plastic fixtures in the swivel mechanism. For under $200, the Body by Jake Tower 200 is a highly recommended budget home gym for most people. 
---
---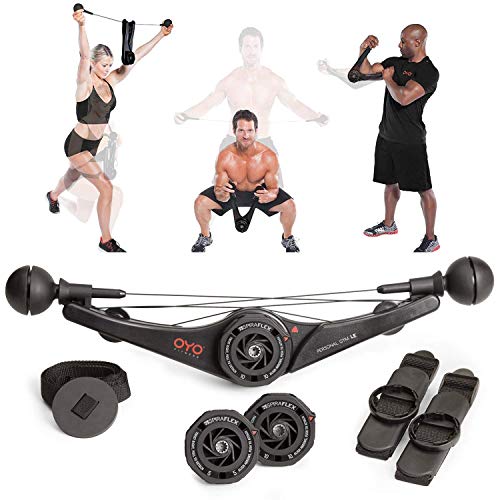 For: 👍 Quirky design, easy to use, mobile and compact
Against: 👎 Low maximum resistance of 25 lbs
---
First off, the OYO Personal Gym is a quirky piece of affordable home gym equipment. The manufacturers put a lot of thought to come up with the V-shaped swivel design that seems to mostly work.
We liked the design and compact size a lot and the surprisingly huge number of workouts you could get out of it. During our testing, we found that for most of the exercises in their included manual, the Oyo personal gym performed at "ok" levels. For a renowned resistance trainer, the maximum 25lb resistance is amateur grade, or fit for rehabilitation use (when you need a bit more than your body weight). This is to say that it was a bit disappointing for us (regular and fit exercise junkies).
We recommend the Oyo gym only if you're in one of the three categories of people who we think this device should work for nicely – amateurs just starting out with resistance training, people undergoing rehabilitation and recovery from injury, and old people.
---
How to choose the best affordable home gym under $200
---
Available Space
If you're going to get a home gym, make sure it fits your home or workplace. Some equipment takes up a relatively large amount of space, while others just need to be hung. Whether you're a regular user or a once-in-a-while type, the equipment's size and the space it'll take is an important considerations. This shouldn't be a concern though as most home gyms under $200 are resistance-based and very portable.
Safety
The best cheap home gyms would usually not pose any threats to your safety if you use them properly. This means that you should give priority to the multi-gyms with included instruction manuals and videos.
You should also consider wearing protective gear such as gloves, exercise boots, and knee guards. These items might help to reduce any damage that you could sustain when using cheap home gyms such as those from falling equipment or sudden snap-off of resistance bands.
Workout Preferences
Aside from space and safety, it's essential to consider personal needs and preferences when buying the best affordable home gym. If you have underlying health conditions like joint pain, consider low-impact equipment. Heavy or intense workouts require specially-made units that'll withstand the pressure.
For cardio-based exercises, these home gyms under $200 are usually best for HIIT sessions. If you prefer more traditional forms of cardio exercises like running or biking, then you might consider getting a treadmill, an elliptical trainer, or a rowing machine.
Home gyms are generally made so that you can personalize your workout experience. Take advantage of this.
Installation
Another vital consideration is the assembly and installation. Most brands require little or no expertise to assemble the unit. Some others provide instructional guides that might be cumbersome to the layman. This means that you should look out for cheap home gyms with good assembly instructions.
Weight/Resistance
One final important consideration when buying a cheap home gym for under $200 is the amount of weight or resistance you can train with. As many of the home gyms in these categories are resistance trainers, it is important to know whether you want very little or higher resistance levels.
You don't want to buy a budget multi-gym trainer and complain all the time about the "too little or too much" resistance, so you should figure this out before making a purchase.
Another interesting way to increase/add extra weight or resistance to your workouts is by using weighted vests.
---
Frequently asked questions
---
Can a $200 multi-gym be effective?
If you're ready to spare a little time and put in consistent effort, a cheap home gym can be just as effective as commercial gyms. However, at some point, you may consider upgrading your multi-gym to a more complex and of course, more expensive home multi-gym system to get a full commercial gym experience at home.
For people who are motivated just by going to workout centers and seeing other members, a budget home gym might not be the best option. If you're this kind of person, you should at least consider multi-gym systems that support live-streaming sessions.
Can you put the home gym upstairs?
Usually, heavy gym units are operated on the ground floor. But sometimes, you might need to set up your home gym on the upper floors due to space. The truth is, you can proceed, but we recommend you consult your architect or engineer to give you the go-ahead.
The most crucial consideration in placing home gyms on the upper floor is to ensure that the total weight does not exceed local building codes. When calculating the 'live load', which is the weight of things the floor can support, it's vital not to neglect detachable accessories in the home gym.
Will a home gym help me lose weight?
Yes, a home gym can help you lose weight. Weight loss is achieved primarily when you expend more energy than you take in. Home gyms are a match in helping you achieve a caloric deficit with commercial gyms. Moreover, you can be more consistent in a home gym as it's always within your reach when compared with other workout avenues.
This consistency is an essential requirement for weight loss. Several home gyms come with durable accessories and resistance bands. These accessories are made to mimic common workout effects and give significant results. The resistance bands also afford you flexibility, which accelerates your weight loss journey.
Are home gym machines worth it?
A home gym should be considered a long-term health investment, whether fitness is a hobby or not. You can get a similar experience to what you have in a commercial gym and you do not have to worry about prying eyes, congestion, or membership fee.
At the comfort of your home and your desired schedule, you can carry out a wide variety of routines and anyone concerned with weight loss should consider starting out at home with a home gym. It should help to improve your compliance and motivate you to work out more.
Last update on 2023-12-04. Affiliate links and images from Amazon product advertising API