The best elliptical machine offers a low-impact workout that helps you in getting rid of calories without hurting your joints.
These machines are becoming popular every day especially for households because of their benefit in toning the body without causing harm to the body like other forms of cardio exercise such as running.
If you are out to buy the best elliptical machine in the market, read on to get the best advice and buying guide.
Our top pick after the latest update: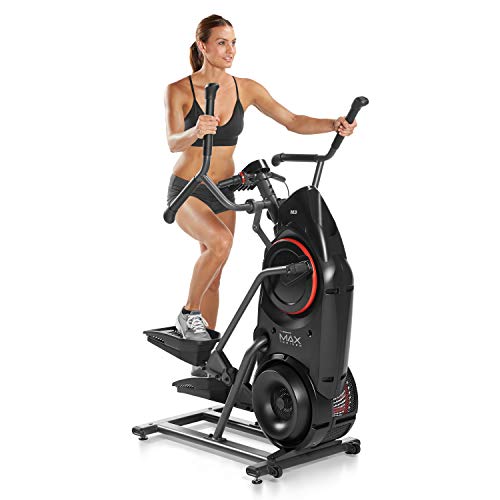 Bowflex Max Trainer M3
Our top best elliptical
machine for home
use, the Bowflex Max Trainer M3, is a full-body compact trainer equipped with 8 levels of resistance, is reasonably priced, and offers excellent quality, durability, and decent features for a beginner or an intermediate level user.
How we picked the best elliptical machine
We considered a lot of criteria in choosing the best ellipticals in the market. Some of the criteria include:
Size: When buying an elliptical, consider the size of the product in relation to the space available in your home. Ensure you have adequate space on both sides of the machine that will allow you to get on and off. Put into consideration the height of the room because ellipticals are elevated than treadmills and may not fit into a room with a low ceiling.
Configuration: The most common configuration of elliptical are: front-, center-, and rear-drive. The configuration refers to the location of the machine's drive wheel. The rear-drive units are the longest and provide a smooth, quiet ride while the center-drive units are often the most compact.
The front-drive vibrate more and a bit louder.
Programs: You should consider buying an elliptical with built-in multiple programs so as not to get bored with doing the same workout all the time. This type of machine will also guide you along your fitness journey. Ellipticals that does not have any programs could be good for you if you regularly use it and have a set routine.
The Top 10 Best Elliptical Machines for Home Use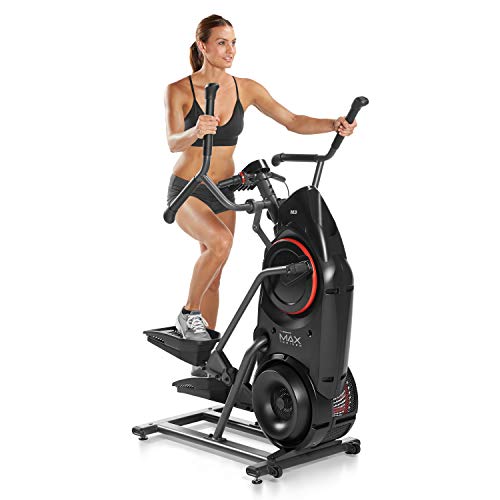 Pros
Compact design
Wireless heart rate monitoring through the chest strap
It is affordable
Upper body workout more impactful than most ellipticals
Cons
Lacks built-in sound system or speakers
Has only two workout programs
Stride length – 22 inches
Design – Front-drive
Resistance levels – 8
Pre-loaded programs – 2
Training Mode – Yes
The Bowflex Max Trainer M3 is an entry-level, sturdy, compact full-body trainer that is reasonably priced and provides a satisfying workout for you with low impact on your joints. This elliptical is great for burning calories, bodybuilding and muscle toning. It has eight different resistance levels with twist-grip on the handlebars making it easier to move higher or lower the levels.
Because the Max Trainer M3 lacks an HD touchscreen display or any other flashy entertainment features, chances of being distracted from your workout by a video are low. The machine, rather, comes embedded with a combination of a dial-style calorie burn rate indicator, a series of simple controls for burn rate, a backlit LCD display, and an interval selection. 
Another great feature of the Bowflex M3 that is lacking in more expensive ellipticals is the wireless chest strap for heart rate monitoring that gives more accurate information when compared with contact grip monitors.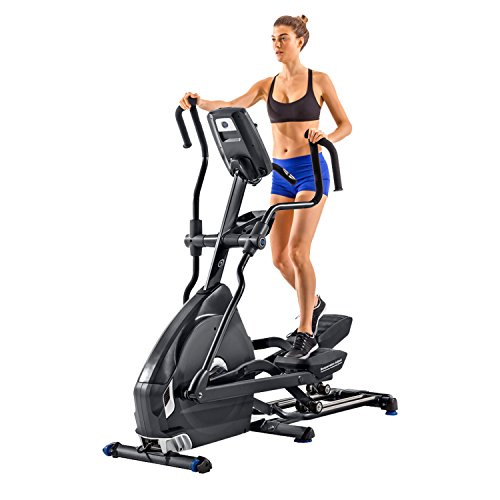 Pros
25 resistance settings
Cushioned pedals
Wireless heart rate receiver and chest strap
Bluetooth enabled for wireless stats sharing
29 workout programs
Cons
22-inch stride may be too long for smaller trainees
Requires more maintenance
Stride length – 22 inches
Design – Front-drive
Resistance levels – 25
Pre-loaded programs – 29
Training Mode – Yes
The Nautilus E618 Elliptical is a top performance series elliptical equipped with wireless heart rate monitoring, a Bluetooth connection for easy data sharing, and 29 training programs. The 30-pound flywheel makes the machine operate smoothly without wobbling or shaking. The machine comes with 29 training programs that control resistance, incline, and training duration. You can save customized routines on the console and access them for future use.
This elliptical is capable of working out your upper body and lower body with the handlebars and power incline respectively. The product has two LCDs with adjustable angles to display the program and exercise data. There is a shelf to hold a tablet computer or smartphone while speakers are also integrated for an MP3 player.
Pros
It is compact in design
2 Sets Of Handlebars
Advanced LCD Tracking Display
8 Resistance Levels
Micro Tension Controller
Cons
Short Stride Length
Limited Warranty
Stride length – 13 inches
Design – Back-drive
Resistance levels – 8
Pre-loaded programs – None
Training Mode – No
The Sunny SF-E905 Elliptical Machine is a low-impact cardio workout device that is designed to fit into a smaller space, yet not compromising quality. This elliptical provides a smooth workout session for your upper and lower body with the use of revolutionary magnetic resistance. To monitor and maintain your target heart rate, the pulse monitoring sensor is embedded in the stationary handlebars. 
There are large anti-slip pedals on this elliptical to prevent you from falling. A built-in computer that provides critical workout data including elapsed time, speed, scan, distance, heart rate, and calories burned.  
Th SF-E905 does not have any workout programs to assist you with training and has a shorter stride length measuring 13 inches, which can be uncomfortable for people who prefer longer stride.
Pros
Compact and lightweight design
It has wheels for convenient transport from room to room.
Affordable
Easy to assemble
It has diverse workout programs
Smooth and quiet in operation
Cons
Has poor warranty coverage
No wireless chest strip for heart rate monitoring
No stationary handlebars
Stride length – 17.5 inches
Design – Front-drive
Resistance levels – 8
Adjustable pedals – No
Pre-loaded programs – 6
The Schwinn A40 Elliptical is a well-built machine whose operation is quiet and affordable. The machine comes with a quiet magnetic ECB (Eddy Current Brake) resistance system which makes it to be quiet during use.
There are 8 levels of resistance you can choose from and for most people, this should be sufficient. The machine has an average stride length of 17-inch and is equipped with moving handlebars which is great for working out the upper body. The perimeter weighted flywheel does not come into contact with the brake to prevent wear and tear.
The multi-function display screen gives you 8 basic workout readouts which include RPM, distance, time, pulse, resistance level, speed, calories, and course profile. It also comes loaded with 6 workout programs that include 1 manual and 6 profiles.
The console also features a holder for a water bottle, a reading rack, and a 2-speed workout fan. The machine can monitor your heart rate with the two built-in sensors on either side of the console, although, it lacks a wireless monitoring option.
5. Sunny Health and Fitness SF-E3865 Stride Zone Elliptical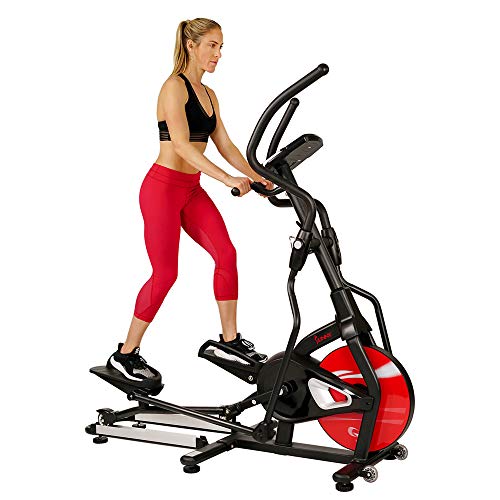 Pros
It is sturdy and well built.
Quiet and smooth in operation
Easy to assemble
Good arm motion and a good leg stride
Cons
No incline adjustment
The foot pedals only have sides on the inside
Stride length – 20 inches
Design – Front-drive
Resistance levels – 8
Pre-loaded programs – 12
Training Mode – No
The Sunny Health and Fitness SF-E3865 Stride Zone Elliptical come equipped with a large non-slip foot pedal that helps you keep your feet in place while you are using it. To workout your upper body effectively, the machine has curved non-slip, multi-grip, full potion handlebars. For your lower body workout, the 16 levels of motorized smooth belt drive resistance will do the job. 
The backlit LCD console helps you track your heart rate, speed, rpm, time, distance, calories, watt, level, and program. This elliptical has a water bottle holder to keep you hydrated during workout sessions. You can also easily place your mobile devices on the tablet holder for a convenient workout with your favorite videos.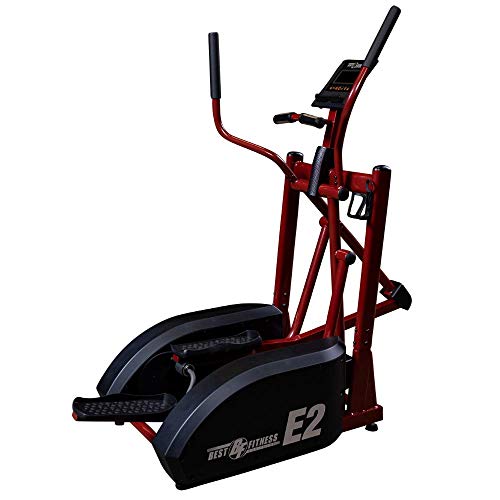 Pros
It is compact and solid
It is affordable
Has synchronized arm for complete body workout
Easy-to-read digital display
Custom Training Modes and Program
Cons
No wireless chest strap for heart rate monitoring
Design – Patented Center Drive design
Resistance levels – 8
Adjustable pedals – No
Pre-loaded programs – 12
Training Mode – Yes
The Best Fitness BFE2 Elliptical Trainer is an affordable machine that is solidly built for smooth workout sessions. It provides both upper and lower body workout options in a very compact space. It is also embedded with a 5-inch digital display that includes a readout of speed, RPM, time, calories, distance, pulse, watt, load, temperature, clock, and calendar.
It features 12 different preset program profiles that you can choose from to fit your fitness goals and levels. 
The embedded training modes, five in number, allow you access to several exercise options for customized and complete workouts. You need to grasp the entire area of the heart rate contact sensors on both sides of the handlebar to monitor your heart rate while exercising.
The built-in wheels make it easy for you to transport the elliptical trainer machine from room to room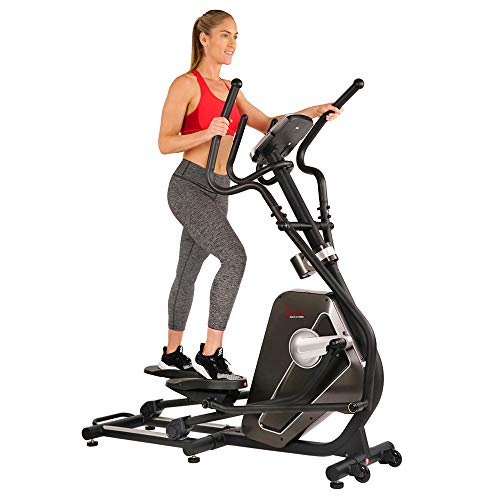 Pros
Sturdy steel construction
Quiet and smooth in operation
Has inbuilt wheels for transportation
Has 24 workout programs
Large, non-slip pedals
Excellent warranty
Cons
Has no sound system
The console is not telemetric
Stride length – 15.75 inches
Design – Yes
Resistance levels – 16
Adjustable pedals – No
Pre-loaded programs – 24
Training Mode – Yes
The Sunny Health & Fitness Magnetic Elliptical Trainer Machine is a mid-range elliptical trainer equipped with a console with 24 workout programs that helps your stamina development, muscle toning, and weight loss., and a set of articulated pedals for better stability for your feet.
The machine comes with mobile and stationary handlebars that monitor your pulse when you hold them. 
There are 16 levels of resistance on this machine the pedaling becomes more intense as you move from lowest to highest. and allows for more intense workout sessions.
The console of this machine features a 6-inch LCD display with fairly large digits for easy readability and gives out important workout metrics: distance, time, RPM, total distance, watts, speed, heart rate, target heart rate, and calories.
Pros
18 resistance levels
Manual incline 0 to 20 degrees
Commercial steel frame
Silent Magnetic Resistance
Built-in wheels for easy transportation
iFit Compatible
Cons
Lacks a wireless pulse receiver
Short warranty on the parts and electronics
Stride length – 19 inches
Design – Front-drive
Resistance levels – 15
Pre-loaded programs – 18
Training Mode – Yes
ProForm Endurance 520 E elliptical is among the lowest priced elliptical trainers, yet it has a maximum of 20-degree incline, a 19-inch stride, and almost infinite workout programs due to iFit Coach readiness. The workout programs are specially designed to help you burn calories, great performance, speed, and incline training.
The ProForm 520 E has the heart rate sensors built into the stationary handlebars, so to monitor your heart rate, you need to grip them.
The ProForm 520 E has a tablet computer shelf and an iPod-compatible sound system with 2-inch speakers to integrate your own tablet or smartphone as high tech options. It has inbuilt wheels for easy transportation and storage away.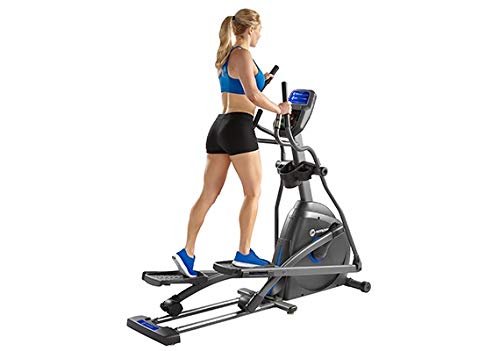 Pros
Simple and easy to use
Smooth and quiet motion
It is close to the commercial-grade quality
Sturdy and well built
Includes a decent warranty
Cons
Lacks On/Off Switch
Produces loud noises after long-term use
Stride length – 18 inches
Design – Front-Drive
Resistance levels – 10
Pre-loaded programs – 10
Training Mode – Yes
The Horizon Ex-59 Elliptical Trainer is a durable, well-built machine that is easy to operate, great for workout sessions with enough resistances to achieve your fitness goals. This elliptical machine build quality can be compared to commercial-grade ellipticals used at your local gym. The product is fairly stable on a hard floor but when used on a softer floor type, you may experience some rocking.
There are hand grips to monitor your pulse rate, though they are slow to read and often seem to be inaccurate from users' experiences. The console, though fairly basic, monitors the standard metrics such as time, speed, distance, and calories. It lacks Bluetooth sync capabilities to fitness apps but you can plug your mobile device into the machine to play the audio through the speakers.
The Horizon Ex-59 Elliptical Trainer has a standby mode but does not have a power on/off button.  If you want to turn off the machine completely, you can either off it at the mains or unplug it completely.
Pros
Has 8 levels of magnetic resistance for high intensity and effective workouts
Quiet and smooth during operation
Cons
It leans forward a little bit.
Stride length may not ideal for taller users.
Stride length – 18 inches
Design – Front-Drive
Resistance levels – 8 (magnetic)
Pre-loaded programs – 10
Training Mode – No
MaxKare Magnetic Elliptical Trainer has a magnetic flywheel that allows for a smooth and quiet operation. The product has its strength in stability and noiseless operation courtesy of the magnetic front flywheel.
The machine is well-built, robust, and durable and gives your upper and lower body a great aerobic workout.
You can monitor your fitness level during your workout with the LCD-backlit display panel giving out the time, speed, distance, pulse rate, and calories. To monitor your pulse rate, you grip the stationary handles in the center where the pulse sensors are located.
It has a tablet holder to hold your smartphone to follow your preferred exercise during a workout. This elliptical can be easily moved from place to place and for storage thanks to the transportation wheel included.
How to choose the best elliptical machine
When shopping for the best elliptical machine, there are important checklists to consider apart from price. Before you buy an elliptical for your workout, here things to consider
Size
Consider the size of the elliptical you want to purchase in relation to the available space in your home. When using an elliptical, you will be more elevated than when on a treadmill, so ensure you have a sufficiently high ceiling. For safety, a minimum of 20 inches of free space is needed on at least one side and either the back or front.
Exercise Programs
Ellipticals come with different exercise programs which can make your workout less boring and more varied. What is important is that the programs on the elliptical you want to purchase address your workout needs. Different manufacturers have different names for their programs but be sure they offer essential ones. Products with custom exercise programs would allow you to create your desired resistance profile to achieve your fitness goal.
Exercise Intensity
There is a variable resistance on ellipticals, depending on the manufacturer. Before you buy an elliptical, make sure the lowest resistance on that machine is easy for you to pedal and becomes more challenging as you increase it to about 75 percent of the highest level. This is to ensure you improve with workouts. Check to see if the elliptical come with an adjustable incline and if it requires manual adjustment or it is automated.
Incline Adjustment
The best elliptical machine has the ability to greatly vary positions for a diverse and challenging workout. The ability to alter the degree of your incline is important when working out on an elliptical. Automatic incline adjustment is preferable to the manual type.
Stride Length
Different ellipticals have varying stride lengths and it means different things for different people. varies from machine to machine and matters more for some people than others. If you are tall, a longer stride length will be good for you. For most people, a 20 -inch stride length will mimic the natural condition of walking quickly.
Frequently asked questions
What is an elliptical machine?
An elliptical machine refers to a piece of stationary exercise equipment that provides resistance for aerobic exercise while placing low stress on the joints, thereby decreasing the risk of impact injuries. It typically has foot pads that move in a horizontal direction and handlebars that move forward and backward.
Are elliptical machines good for weight loss?
Yes, the best elliptical machine can help you lose body fat and tone up your muscle within a short period of time because of its high-calorie burning ability. Burning more calories than you consume can help you lose weight. You should focus more on increasing the intensity of your workouts on the elliptical to burn more calories. Source.
Does elliptical machines build muscles?
Yes, the best elliptical machine strengthen helps you to build a long list of muscles throughout your body, including muscles in your, arms, shoulders, back, chest, midsection, and legs. To help you build more muscles, consider increasing the resistance level of the machine. Source
Are elliptical machines better than treadmills?
The question of which is better between an elliptical or treadmill should be answered by your fitness goals. If you have ankle, hip, or knee issues, the elliptical is your best bet because it has a lower-impact option of the two. The treadmill is a better option for race and sports training because it mimics the natural movement of running outside. Ultimately, both machines help you get a great cardiovascular workout.
Last update on 2023-12-08. Affiliate links and images from Amazon product advertising API