TheNordicTrack C12.9 elliptical trainer is one of the commercial iterations of ellipticals designed by the household fitness brand "NordicTrack". It sits above the C10.9 and below the C14.9 models and was released around April 2019. It features NordicTrack's branded "silent magnetic resistance," and improved integration with iFit subscription that has constantly over-promised and under-delivered.
The other significant upgrade to the NordicTrack C12.9 is an improved 30-pound flywheel and a bigger price tag.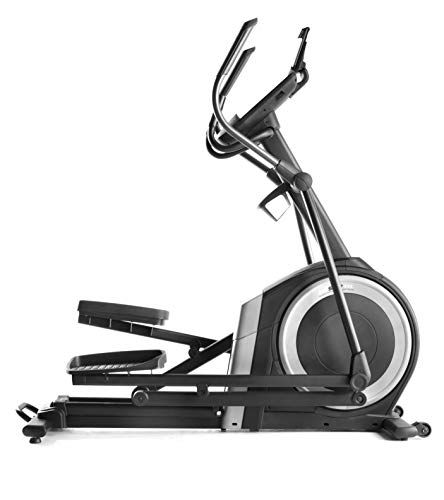 Pros
Heavy flywheels for low-impact striding
12months free iFit membership
Monitors heart rate
Adjustable stride length
7" Smart HD Touchscreen
Built-in workout routine
Cons
Expensive
This machine is as big and as heavy as they come
A mandatory one-year iFit subscription
Slow customer service
| | |
| --- | --- |
| Brand name | NordicTrack |
| Model | NordicTrack NTEL71218 |
| Manufacturer | ICON Health and Fitness |
| Color | Gray |
| Resistance Levels | 26 |
| Maximum User Weight | 375 lbs |
| Weight | 210 lbs |
| Flywheel Weight | 30 lbs |
| Shipping Weight | 253 pounds |
| Incline | 0–20° |
| Drive Type | Front Drive |
| Stride Length | 20 |
| Dimensions | 68.3 x 28.8 x 68.5 Inches |
| Display | 7" Smart HD Touchscreen |
| Suggested Users | Unisex-adult |
| Included Components | Exercise arms, Flywheel, Pedals, Console, one-year NordicTrack iFit membership. |
| Audio System | Two 2" Digitally Amplified Speakers, Auxiliary Music Port |
| Heart Rate Monitoring | EKG Grip Pulse, Bluetooth Chest Strap |
| Warranty | Frame-10-Years, Parts- 2 Years, Labor- 1-Year. |
Display
The NordicTrack C 12.9 elliptical features a small 7" Touchscreen display that handles all the integration with iFit. This means that you cannot use a tablet or any other external display to stream your iFit live sessions as that particular function is reserved for the built-in display.
Nordictrack says it's because the built-in display is integrated in such a way to allow remote access and control of your elliptical trainer. But this is really a huge pain in the ass as the display although bright enough, is not as responsive as a tablet, and has a less than impressive user interface that is clunky and difficult to navigate.
Design & Build Quality
This elliptical on a quick glance looks well built. It features a lot of steel and gray plastic finish and does not stray too far from older NordicTrack Ellipticals. The foot pedals are spacious and have a textured surface to prevent slippage while the handles are also covered with the same soft rubber coating.
There are several accessories including a front-facing bottle holder between the handles of the elliptical below the display, a tablet holder that sits above the display, and EKG pulse meter built into the mobile handles. There are also two stereo speakers and a port to connect your iPod or music player.
The overall frame is a hefty 400lbs that sits sturdy on the ground, but the pedals sometimes feel wobbly and we couldn't figure out why exactly.
iFit Integration
The NordicTrack C12.9, like many other premium NordicTrack machines, comes with a free one-year iFit Coach subscription. If you don't already know what iFit is, it is a connected fitness program where you can get thousands of live-streamed workouts for whatever machine you're using. iFit also gives trainers the ability to remotely adjust the settings of your machine during a session.
NordicTrack's integration with iFit is great, and the connection to WiFi was always stable and automatic. But we were disappointed that you couldn't use the iFit app on your other devices (phones and tablets) to connect to the C12.9 elliptical. Instead, you could cast the tablet's display to a large monitor or TV using an HDMI cable.
Prebuilt Workout Programs
Excluding the large number of fitness programs and routines on the iFit app, the NordicTrack C12.9 (NTEL71218) has 35 built-in workout programs designed by licensed trainers to make maximum use of the machine's resistance. The programs are of four types: Heart rate control, speed, calorie, and incline.
The heart rate control programs are designed to help you train at a preset cardio exertion rate. To monitor your progress, this elliptical comes with a chest strap that can measure your heart rate as you go through the motions.
Performance
In theory, this NordicTrack C12.9 elliptical trainer should be a performance beast, but it didn't feel like it. It offers 26 levels of magnetic resistance that feels smooth and properly weighted, with an incline of up to 20 degrees. It wasn't hard at all to break a sweat on this machine. However, the stride is not manually adjustable and will definitely be a bit of a challenge for shorter people.
Also, the 32-pound flywheel makes this elliptical a real delight to work out on as the motions are very smooth and 'dreamy' without feeling over or underpowered.
Assembly
This heavy elliptical ships in parts and you have to put it together by yourself. Firstly, you'll definitely need help in placing it in the correct room where you want to assemble it, but after that, the entire assembly can be completed by one person in just under 4 hours (although it is better and faster for 2 people to assemble the unit).
The included instructions are very precise and easy to follow and NordicTrack packs enough lubricant to use while assembling the unit.
Some similar ellipticals we love
Schwinn 470 Elliptical Machine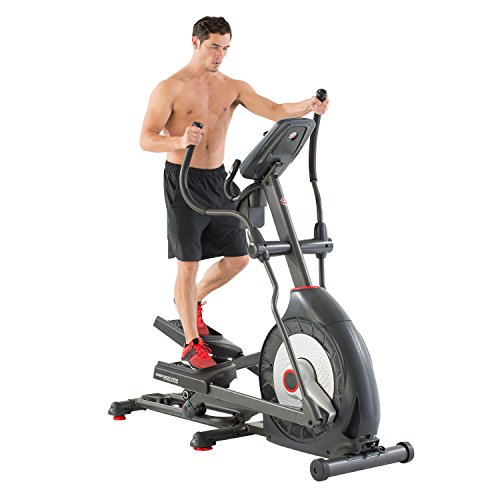 Key Specs
Resistance Levels: 25
Maximum User Weight: 289 lbs
Incline: 10°
Stride Length: 20″
Display: 2 DualTrack blue backlit LCD
Workout programs: 29
The Schwinn 470 is in a lot of ways similar to the NordicTrack C12.9 NTEL71218 trainer. Firstly and most importantly, it's more affordable than the NordicTrack C12.9. Also, it comes with 29 preinstalled workout programs and 25 levels of adjustable resistance to provide more challenging exercises.
Finally, it is well built, runs quietly and smoothly, and includes convenient extras like a media rack, speakers, and a bottle holder.
For almost half the price tag, this elliptical is an excellent competitor to the NordicTrack C12.9 and does well on a number of categories.
SOLE E35 Elliptical trainer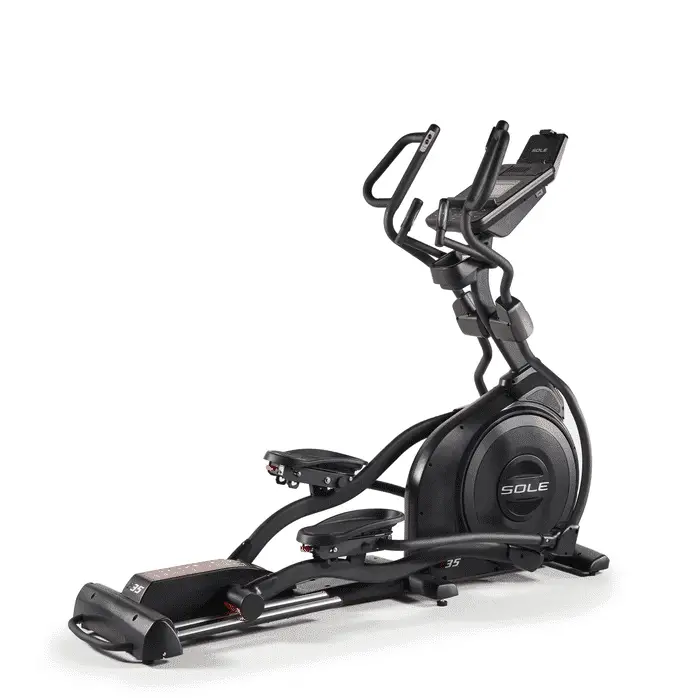 Key Specs
Resistance Levels: 16
Maximum User Weight: 375 lbs
Incline: 0–30°
Stride Length: 20-22″
Display: 7.5" backlit LCD
Workout programs: 10
The SOLE Fitness E35 Elliptical is more of a direct competitor to the NordicTrack C12.9 (NTEL71218) elliptical trainer in both features, size, and performance. It features a stride length of 20-22", up to 30° of adjustable incline, and a 30-pound flywheel. It also includes a 7.5" backlit and tiltable LCD, built-in speakers, and a bottle holder.
With a maximum user weight of 375lbs, the Sole E35 elliptical is premium in every way and commands a premium price.
Verdict
NordicTrack C12.9 (NTEL71218) elliptical trainer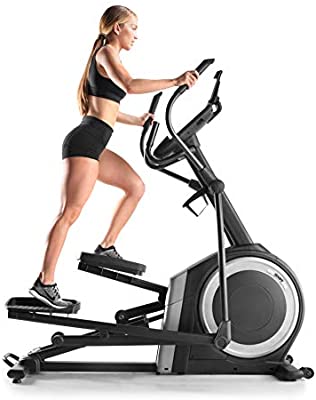 NordicTrack C12.9 elliptical trainer is a massive piece of high-quality elliptical that is well built, strong, and performs very well. The flywheel adds a level of control and smoothness that you don't get on lower budget ellipticals.
The iFit integration is a bonus, although the display could be a lot better.
Last update on 2023-09-30. Affiliate links and images from Amazon product advertising API