Running is a great exercise for burning those unwanted calories and having a treadmill as part of your home gym setup is a great way to run at any time – lockdown or not.
If you've been putting off buying a treadmill because of limited space, you can buy a treadmill for small spaces that gives excellent value to both your home gym and health. We did the difficult job of finding the best compact treadmill you can buy in 2023 for your limited space.
---
Our top pick after the latest update:
On Sale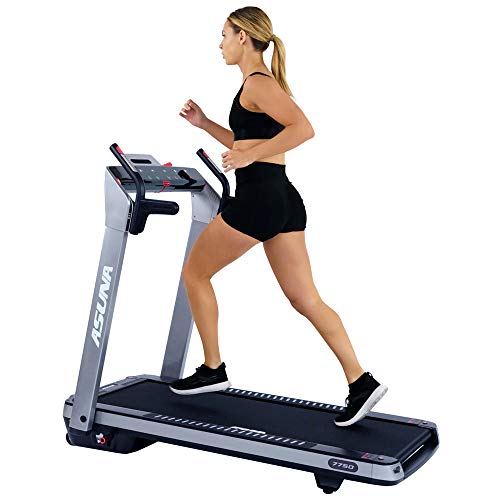 ---
The best compact treadmills you can buy in 2023
---
---
---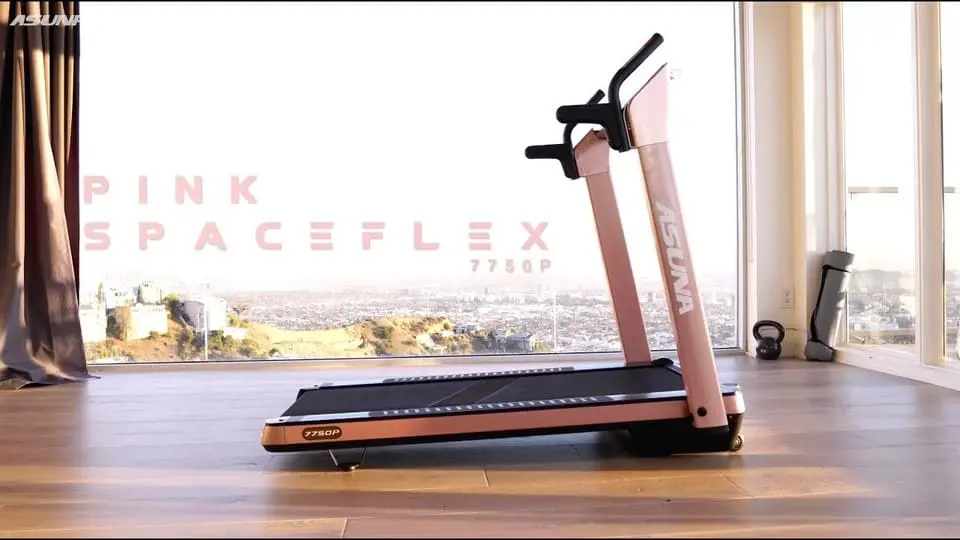 ---
Pros
Great overall build quality
Easy to assemble
Compact size with foldable design
12 levels Auto Incline
Speed up to 8mph
Minimal modern design that looks good in your apartment
Nice extra features
Great price-to-performance ratio
Cons
We don't recommend this treadmill if you're over 6 feet tall.
Having a compact footprint of 57 x 28 x 48 inches (L x W x H), the Asuna SpaceFlex Running treadmill is our top pick among the best compact treadmills you can buy in 2023.
It features all the hallmarks of a great treadmill in a small size. It is well built and easy to assemble, has a motor rated for 1.25HP, 8mph max speed, and up to 12 auto incline levels. The actual running area (belt) measures 51″ L x 19″ W.
Additional features include 8 preset running programs and the ability to add your own custom running program, a visible LED panel to display workout stats, a phone holder, USB & earphone ports, speakers, as well as Bluetooth connectivity.
The Asuna Spaceflex is a great treadmill for small spaces that offers excellent value for money and earns our top recommendation.
---
---
---
Pros
Solid build quality
Easy to assemble
Compact size with foldable design
12 levels Auto Incline
Nice extra features
Bargain price
Speed up to 8mph
Cons
Not suitable for tall people
Looks a bit dated
The Sunny SF-T7515 treadmill is a cheaper and older model from the same company that produces our top pick, but it is no slouch. It has a compact footprint of 65″ x 28″ x 50″ (L x W x H) and is also foldable.
It has a smaller running area (belt) of 49″ L x 16″ W and is less suited to anyone taller than 6 feet. If however, you're below 6 feet tall, you'll be getting a well-built, compact treadmill for small spaces with 12 levels of auto incline, speed up to 8mph, a small LCD display, and some extra features at a bargain price.
---
---
---
Pros
Solid build quality
Great modern design
Easy to assemble
Compact size with foldable design
Nice extra features
Bargain price
Speed up to 8mph
Cons
No Incline
Not suitable for tall people
Our next pick, the Asuna 8730G space-saving treadmill comes in at 59 x 30.5 x 40 inches  (L x W x H) and folds completely flat making it just as portable as our top pick.
It looks elegant, modern, and very minimalist without compromising on sturdy build quality. You get a treadmill with a running area (belt) of 49 x 18 inches (L x W), up to 8mph maximum speed, and nice extras including speakers (wired connectivity), shock absorbers, and a step counter.
What you do not get is any level of incline whatsoever, but considering that it cost almost half the price of our top pick, it could be a good trade-off for some people.
---
4. Goplus 2 in 1 Folding Treadmill
---
---
Pros
Stylish and very compact
Easy to assemble
Foldable design
Great for walking
Bargain price
Speed up to 8mph
Cons
No Incline
Small belt surface area
the remote control can be fiddly
If you want something even smaller than all of our other picks, then the GoPlus 2 in 1 folding treadmill is the smallest treadmill for small spaces we can recommend.
It has a footprint measuring 49 x 27 x 42 inches (L x W x H), with a running area of 40 x 16 inches (L x W) making it ideal for offices where standing desks are allowed. In addition to the small footprint, it folds flat down and runs very quietly with speeds up to 7mph.
It has a sleek design that almost looks cute and is more suited to smaller people in our opinion. Additional features include a Bluetooth speaker, a remote control, a display panel, and a phone/tablet holder.
Overall, the Goplus Folding treadmill is a treadmill for small spaces that is great for walking, and good for running, and the price is just right.
---
If our top picks are not available, or you're considering buying a treadmill that is slightly bigger than our top picks, we recommend the NordicTrack T Series Treadmill 6.5S.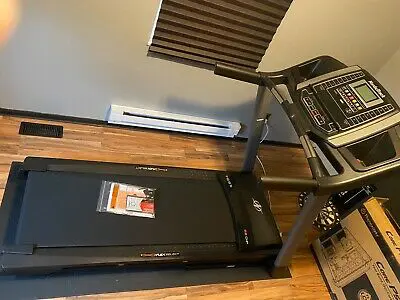 ---
It is missed out on our list for not meeting our criteria of "compact" (under 65″ L x 35″ W). However, it is one of the best small treadmills by every account. It has a footprint of 73 x 35.8 x 67.5 inches (L x W x H) with a running area of 55 x 20 inches.
The NordicTrack T Series T6.5S Treadmill has up to 10 degrees auto incline and can get to a maximum speed of 10mph with a powerful 2.6HP motor, and a 5″ display.
It also packs a lot of extra features not seen in any of our other top picks including dual speakers, live interactive training via the 30 days iFit trial membership, and lots of workout programs to choose from.
It is as close to a commercial treadmill experience as you can get that won't burn holes in your pocket.
---
How we chose the best compact treadmill for small spaces.
---
Picking a treadmill for small spaces meant that we had to set a size limit to what constitutes "compact" and settled for all treadmills under 65″ L x 35″ W. We also made sure that our picks had foldable designs making them easier to move around or store after use.
The best compact treadmills in addition to their small size should also offer a great running experience for the user. Finally, we did not consider manual treadmills even though some of them met our sizing criteria for "compact." Manual treadmills are judged on their own merit and we have made a detailed guide on the best manual treadmills you can buy.
---
1. Size
When considering buying a compact treadmill, the very first consideration should be the size when fully expanded and in use. This is also known as the footprint or the space that the treadmill will occupy while sitting on the floor.
For reviews, we defined the term "compact" to mean treadmills that were 65 x 35″ or smaller. This is the best size that can afford most people a large running surface/belt without occupying so much space.
In addition to their size when in use, we also considered treadmills that have foldable frame designs which allow you to store them vertically and reclaim some space when not in use.
---
2. Belt surface size
A treadmill belt surface is a surface that your feet hit continuously while you run and is a really key part of any treadmill. Compact treadmills tend to have smaller belt surfaces than regular-sized treadmills because of their overall smaller frame.
However, being compact does not mean that the treadmill's belt surface should be very small that you cannot take any meaningful stride on it. You should be looking out for a belt surface of at least 45 L x 15 W to be able to run comfortably on the treadmill. If you are shorter than 5 feet 3 inches or want a treadmill for only walking, then you can get away with buying a treadmill with a smaller belt surface.
---
3. Motor
There is usually not enough room to fit powerful commercial-grade motors in the best compact treadmills, so it is typical to find that most compact treadmills will be less powered than standard-sized ones.
Also, as the motor is the engine that runs the entire treadmill, you should consider getting the most powerful possible motors in a compact treadmill. Many of our top picks have motors ranging from 1 to 2.6 HP, with the NordicTrack T Series T6.5S being the most powerful (albeit in a larger frame than the rest of the competition). Therefore, if you're very serious about running fast and long distances on your treadmill, the NordicTrack may be the best pick for you.
---
4. Incline
The incline is another feature that many compact treadmills remove and it could be a deal-breaker for some people. Incline adds variability and resistance to your running and helps stimulate the body to burn calories faster.
Most of our top picks have good auto-inclines, and you wouldn't be out of place to use this feature in narrowing your list down. The ASUNA 7750 SpaceFlex treadmill, the Sunny Health & Fitness SF-T7515, and NordicTrack T Series T6.5S have 12, 12, and 10 degrees of auto incline respectively.
---
5. Additional Features
Many treadmills have extra features that improve the user experience and comfort when in use. These features can be anything from cup holders, tablet holders, speakers, phone chargers, heart rate monitors, and the support of streaming services.
While they are nice to have, they are not really essential. That said, the NordicTrack T Series T6.5S is the most feature-packed treadmill in our top list and narrowly edges out the ASUNA 7750 SpaceFlex treadmill for having integrated support for iFit streaming. As for the other treadmills, they have a good number of these extra features.
Last update on 2023-11-30. Affiliate links and images from Amazon product advertising API