When it comes to creating a home gym, choosing the right equipment is crucial. With so many options available, it can be overwhelming to decide which pieces of equipment to invest in. In this article, we'll discuss 5 essential pieces of equipment that will help you get the most out of your home gym.
Power Rack
A power rack is an essential piece of equipment for any home gym. It provides a safe and sturdy environment for lifting weights and allows you to perform a wide range of exercises, including squats, bench press, and pull-ups.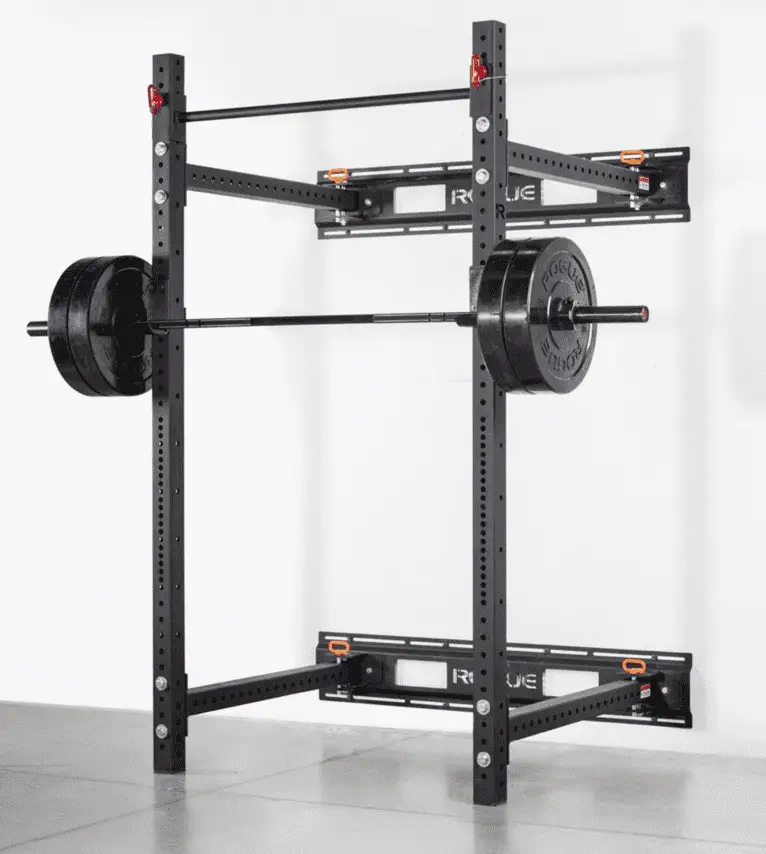 Our Pick: The Rogue RML-3W Fold Back Wall Mount Rack is a top-quality power rack that stands out from other products in the same category. It is made of heavy-duty steel, has a compact design that can be easily folded against the wall when not in use, and comes with a lifetime warranty.
If you need a power rack that you only have to buy once in your life, this is it.
Adjustable Dumbbells
Adjustable dumbbells are a versatile and space-saving alternative to traditional dumbbells. So that instead of having up to 12 pairs of dumbbells laying around your home gym, you have just one that you can adjust the weight to your specification. Basically, they allow you to quickly and easily adjust the weight, making them perfect for a variety of exercises.
Our Pick: Bowflex SelectTech 552 Adjustable Dumbbells are an excellent choice for a home gym. With the ability to adjust the weight between 5 and 52.5 pounds, they are versatile and suitable for beginners and intermediate users. The design is ergonomic and compact, with a comfortable grip and durable, noise-reducing weight plates.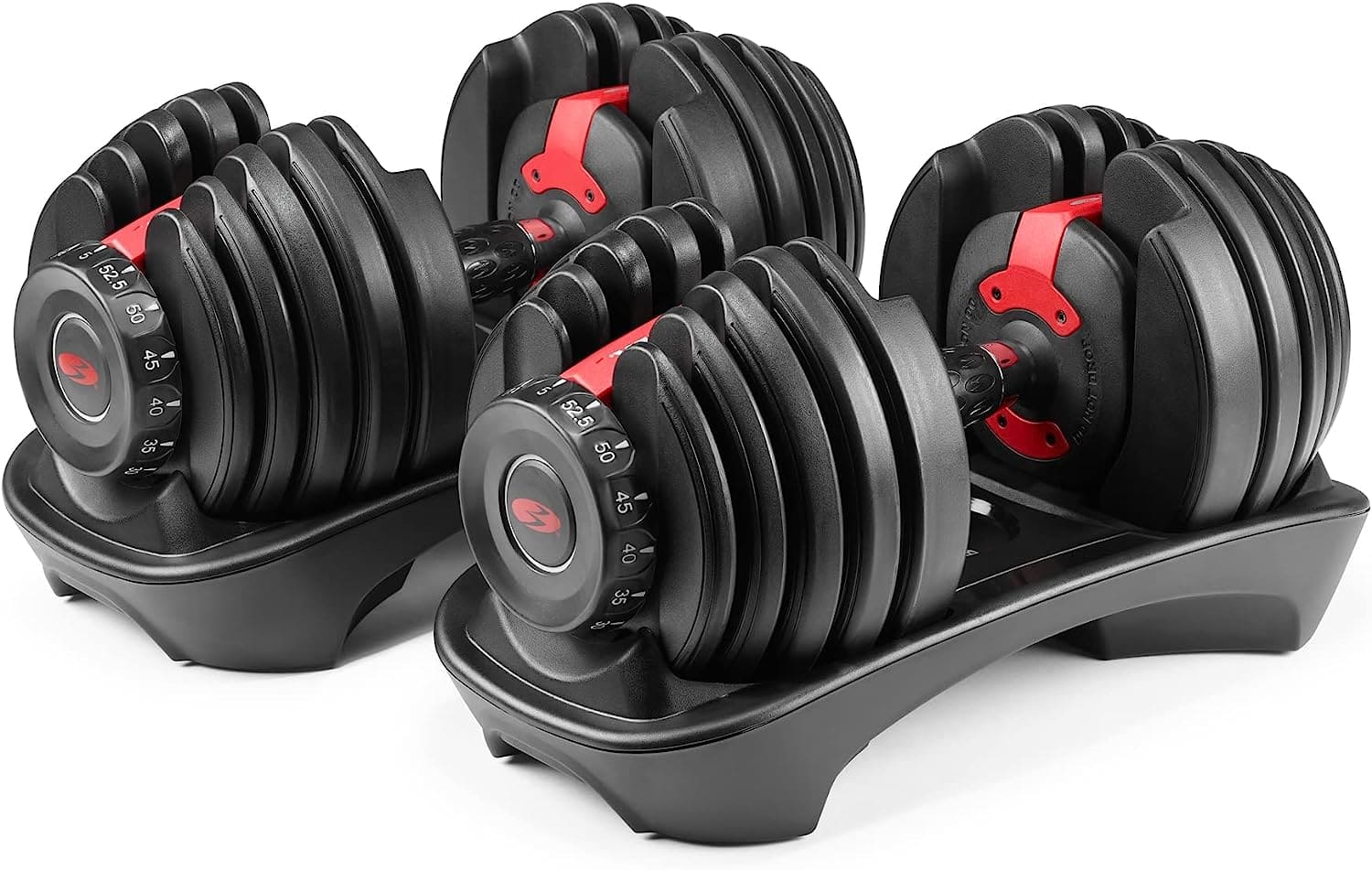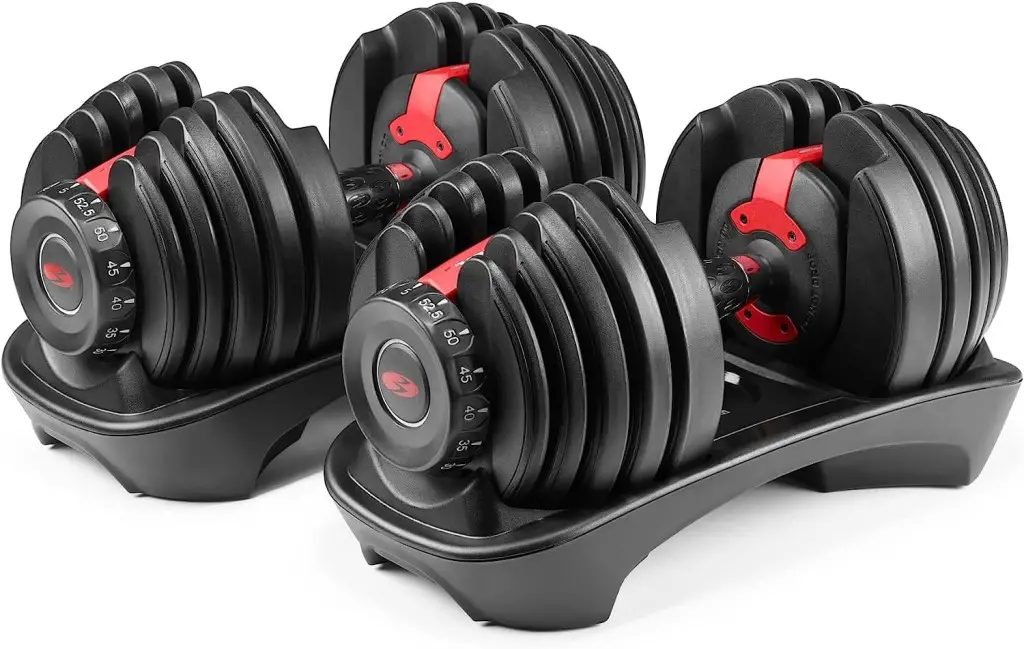 These dumbbells can replace multiple sets of traditional dumbbells, making them a cost-effective and space-saving solution. The free app that comes with the Bowflex SelectTech 552s offers a range of workout programs and instructional videos, providing users with plenty of options and motivation.
Treadmill
A treadmill is an excellent piece of equipment for cardio workouts. It allows you to walk, jog, or run indoors, regardless of the weather outside. We are strong advocates for having a treadmill in your home gym and reviewed some of the best compact treadmills you can purchase for your home gym. However, if you have a little more space to spare and you want one of the best treadmills available, our top pick is the NordicTrack Commercial 1750 Treadmill.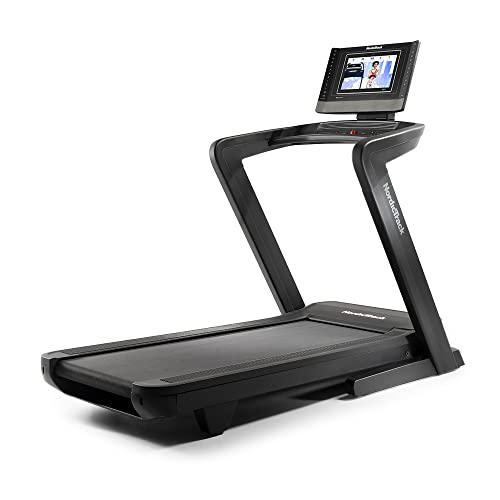 It is a top-of-the-line treadmill that boasts a spacious running area, a powerful motor, a well-decked console, and a 10-inch HD touchscreen display that allows you to access interactive workouts and track your progress. While many treadmills may have retro and downright ugly designs, this model looks modern and would fit nicely with any home gym decoration idea.
Check out all the other treadmills we've reviewed here.
Adjustable Bench
An adjustable bench is another essential piece of equipment for a home gym. It allows you to perform a variety of exercises such as bench press, incline press, and dumbbell curls. It also allows you a space to take a breather (Don't tell anyone that we said this). When shopping for an adjustable bench, weight capacity, build quality, comfort and level of adjustments come to mind.
Our top pick: Rogue Fitness Adjustable Bench 3.0 is an excellent choice. exceptional stability and versatility for strength training. With 11 adjustable positions and a weight capacity of 1,000 pounds, this bench can accommodate a wide range of users and exercises. The bench is constructed from high-quality materials, includes wheels for easy transport and storage, and scores good points in being comfortable.
A yoga mat is an essential piece of equipment for stretching, yoga, and Pilates workouts. It provides a comfortable and non-slip surface for your exercises, protects your joints, and makes it easier to maintain proper form.
Contrary to what anyone would have you believe, it is actually a must-have accessory for any fitness enthusiast. Not only does it provide a comfortable surface for yoga and stretching exercises, but it also protects your floors from sweat and scuffs.
But let's be real, the real reason you need a yoga mat is for those moments when you inevitably fall out of a pose and go crashing to the ground. With a yoga mat, you can avoid the embarrassment of a loud thud and instead land gracefully, as if it was all part of the plan. So, do yourself a favor and invest in a yoga mat – your floors and your ego will thank you.
Our top pick is the Manduka ProLite Yoga Mat.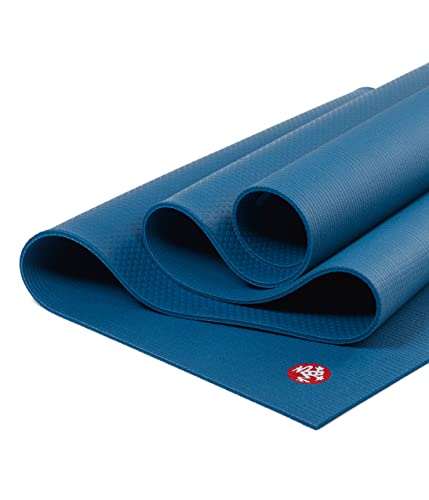 It is a top-rated mat that provides excellent cushioning and support for your joints. The closed-cell surface prevents sweat from seeping in, making it easy to clean and maintain. It is made from eco-friendly materials and comes with a lifetime warranty.
Conclusion
Having a home gym is a great way to stay fit and healthy without leaving your house. By investing in the right equipment, you can create a space that is convenient, effective, and enjoyable. The 5 essential pieces of equipment discussed in this article – the power rack, adjustable dumbbells, treadmill, suspension trainer, and a yoga mat – will help you get started on your home gym journey. Remember to choose equipment that suits your needs and preferences, and have fun working out!
Last update on 2023-09-30. Affiliate links and images from Amazon product advertising API