Our top pick after the latest update:
On Sale
Zyllion Shiatsu Back and Neck Massager
Our pick of the best electric back massagers comes in a compact pillow shape and offers powerful shiatsu kneading massage for your back at a great price.
---
For a lot of people, back pain is a real sticking point. Countless hours of hunching, sitting at work desks, and even working out at the gym can leave your back sore and in need of a good ol' back massage.
If you can afford to visit a massage therapist every week, sure, go ahead. But if you don't have the time or luxury, one good option would be to enlist the help of any of the best electric back massagers to help relieve all that soreness and tension.
---
These are the Top 7 Best Electric Back Massagers
---
Pros
Portable build
4 Shiatsu massage modes
Heated rollers with auto shut off
Very affordable
Cons
No adjustable speed/intensity
Zyllion Shiatsu back and neck massager hits a sweet spot with design, build quality, function, and price. It is compact enough to fit on any part of your back, neck, thigh, and calves, and to take with you to work or while driving long distances.
Functionally, it offers shiatsu deep kneading massage with four multi-directional nodes and a heating function that you can turn on and off. It is not rechargeable, so it needs to be plugged into a wall plug to work. Thankfully, it comes with a wall and a car AC adapter.
One caveat to be aware of is that you can not adjust the speed or intensity settings of the massager. You can, however, lean into the massager to get more contact and more intense massage or lean out for the opposite effect.
Finally, the Zyllion Back and Neck massager comes with a decent one-year manufacturer warranty to round up a list of impressive reasons why it's our top pick for the best back massagers at any price.
---
---
Pros
Large area covers your back
Optional memory foam mat is great
Heating function
Adjustable massage intensity
Can be used as a sleeping mat
Great price
If you'd rather have a massage mat that you can just lay on while it beats the pain out of your back, the Snailax Memory foam massage mat is one of the best back massagers in this regard.
Out of the box, it is a vibrating and heating massage mat with ultra-comfortable memory foam that adjusts to the contour of your body. It has 3 models to choose from but we can only recommend the Deluxe model which has the memory foam. This model also has 10 massage nodes and 6 heating pads across 5 independent heating and vibrating zones that you can control with a handheld remote controller, and 3 intensity levels. We found the highest intensity level to be just right and the other two settings only good for sleeping.
What you're not getting with the Snailax memory foam massage mat is shiatsu kneading massage. So if this is your particular need, do not buy this massager. However, if you want a good massager AND sleep mat, the snailax comes highly recommended.
---
---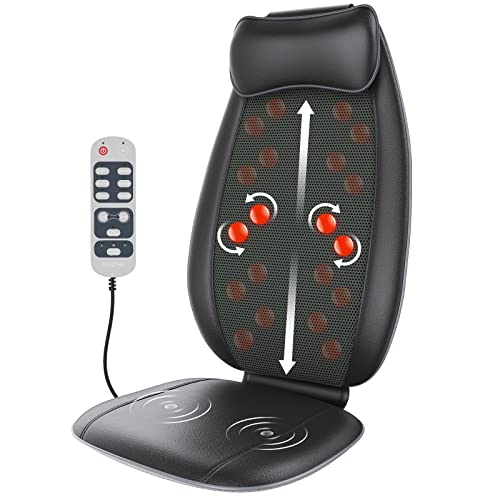 Pros
Great for your car and office chair
Adjustable intensity rollers for shiatsu massage
Heating function
Cons
Can be a bit uncomfortable
Not portable
We recommend the Renpho Shiatsu massage seat as a specialty back massager for your office chair or car seat. If you spend most of your time driving or sitting in a chair, you should seriously consider getting the Renpho Shiatsu massage seat as one of the best back massagers for sitting.
The Renpho Shiatsu massage seat has an S-shaped ergonomic design to support your back, 3 rolling massage zones that you can control independently, heating function, and 3 intensity adjustments. The seating part of the setup has a vibrating function that is also controlled independently.
One caveat we noted is that the shiatsu rollers can be a bit uncomfortable when not in use. This little note aside, you're definitely getting your money's worth and a personal massage therapist with a year warranty.
---
---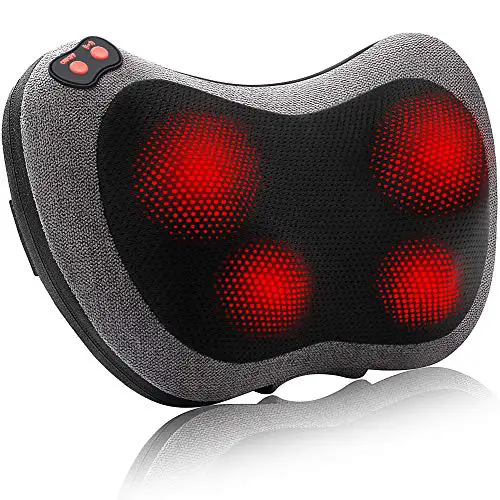 Pros
Good alternative to our top pick
Portable build
shiatsu and heating functions
Budget price
Papillon massage pillow is very similar to our top pick with a very portable pillow design and four shiatsu rollers. It offers shiatsu kneading massage in automatic multi-directions and 3-speed adjustment levels. It also offers heating function and auto shut-off as safety and power-saving measure.
Out of the box, you get a wall and car adapter, quick instruction manual, and the massage pillow itself. Setup is basic and easy, with the two buttons at the one end of the device.
The only downside to this massager was that the material felt a bit cheap and less appealing compared to our top pick. If you don't mind the looks, the Papillon Shiatsu massage pillow is a great option for having one of the best back massagers that you can always take around with you.
---
---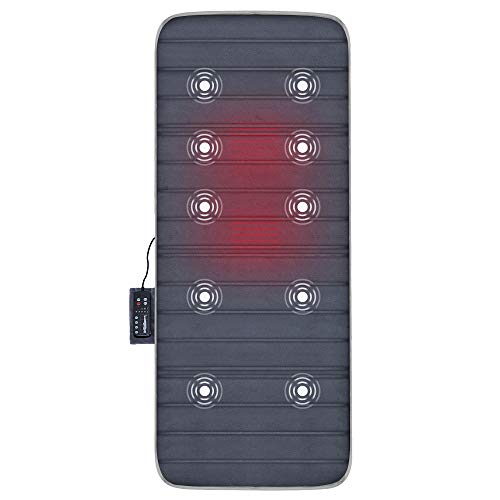 Pros
Large massage surface
Very comfortable to use as sleeping mat
Vibrating and heating function with auto-off
Cons
no shiatsu massage
lacks memory foam
The second full-body mat on our list is this good option from Comfier. It is made from soft Polyester and foam inserts that are comfortable although the lack of memory foam means that it settles for a lower spot on our list than the Snailax massage mat.
It has 10 vibrating massage nodes across 5 zones, and 2 heating pads that are positioned around the back area. It also has 3 intensity levels and 5 preset massage programs to choose from.
Like the Snailax mat, this mat also does not have a shiatsu kneading massage mode so you should generally steer clear of full-body massage mats if Shiatsu kneading massage is your top choice. However, it is one of the best back massagers to just lie down on and enjoy a great massage.
---
---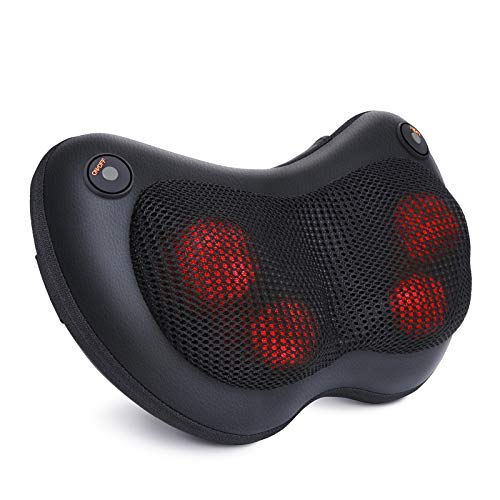 Pros
Very nice build materials
4 shiatsu massage modes
heating function with auto-off
Cons
thin padding offers reduced comfort
Despite occupying a lower spot on our list, the Naipo Shiatsu massage pillow is no slouch. It comes in the same compact pillow design made from soft faux leather and polyester mesh material.
It has 4 kneading massage nodes that move in rotatory directions automatically. The nodes can be independently heated up to 112 F and are set to auto-off once this max temperature is reached. On the flip side, it does not have as much padding as our other top picks and you can not adjust the speed/intensity settings.
Often retailing at under $40, the Naipo Shiatsu back massager comes with one year warranty and is a great option if our top picks are unavailable.
---
---
Pros
Versatile to use
Portable and solid build quality
Adustable heat setting with auto-off
The comfier heating pad is a bit of an outlier when it comes to back massagers. It has a belt design that will surely leave you feeling like a WWE superstar while offering great pain relief from back aches and menstrual cramps!
It sports heating pads along with its wrap-around design. The Comfier heating pad is the only massager on our list with adjustable heat settings. You also get 3 preset heating modes and an auto-off feature for overheating protection. It is not a Shiatsu kneading massager so look away if that is your thing.
---
How we selected the best electric back massagers
---
Picking the best electric back massagers was a lot more hectic than we thought. We quickly discovered that there are over 100 models in the market to choose from, many of which are knockoffs and/or poorly made. So we settled on 10 models to review based on several lists on the internet.
While writing our review to settle on the best back massagers, we considered key features such as the type of massager, whether it was shiatsu kneading massager, vibration-only, or a combination of both. The number of available massage modes, the strength of the massage kneading/vibration, overall build quality, durability, and some extra features (heating function, wireless or wired, remote control, auto-off, etc).
We did not consider handheld percussion gun massagers in this review as that makes a list of its own (Read our roundup review of the best percussion massage guns here) and we did not also consider heating pads because even though they ease pain and inflammation, do not provide any massage option. We also did not consider TENS or EMS Units because they work very differently and we already have an in-depth guide on the best TENS/EMS units for back pain.
Finally, as most of our top pick retail around the same affordable sub $100 price, we didn't consider prices when selecting our top pick.
Last update on 2023-12-04. Affiliate links and images from Amazon product advertising API