Home gyms are a great way to overcome the challenges of comfort, time constraint, and inconsistency in your fitness journey although many of the best home gyms are expensive, hulking, and difficult to assemble and maintain, we put together for you 5 of the best home gyms under $500.
Our top pick after the latest update:
On Sale
Total Gym Apex G5 Home Trainer
Our top pick for the best home gym under $500 is the Total Gym APEX G5 home fitness equipment. It comes in a foldable, ergonomic, lightweight design with detachable accessories, nutritional guides, and an instruction manual that supports over 80 different workout exercises.
Pros
Ten levels of resistance
Allows up to 80 workouts
Ergonomic headrest and glide board 
DVD tutorials
Detachable accessories
Weight capacity of 375lb
Cons
The innovative and budget-friendly Total Gym APEX G5 takes comfort to a whole new level with its adjustable glide board and well-padded headrest. The household fitness equipment manufacturers put an impressive 10 levels of resistance on this gym to allow more control and a wide range of up to 80 different exercises. A weight capacity of 375lbs also affords intense workouts and weight training opportunities.
It also comes with detachable accessories which include a squat stand, dip bars and a training deck to allow users to make the most of their workout time. When you buy a Total Gym APEX G5 home fitness equipment, you'll have access to instructional videos, manuals and nutritional guides.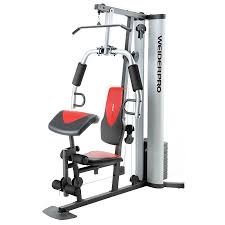 Pros
It has a resistance of 330lbs
Six different workout stations to support 55 exercises
Adjustable seats
Multifunctional lat bar
Durable handles and Ankle straps
iFit app support
Cons
Not the easiest to assemble
The cables are not readily movable
The Weider Pro 6900 Weight System is a compact and versatile home gym perfect for all varieties of weight training. Weight exercises can help you gain more bone density and fat-free body mass. This home gym comes with durable handles and ankle straps to enhance safety and versatility. Its adjustable seats and workout stations allow potent moves such as leg lifts and support up to 55 different exercises.
This gym comes with a unique pulley system which gives a powerful resistance of 330lbs required for weight training and intense routines. An additional bonus is the iFit app support. On this app, you have access to instructional guides for various workouts.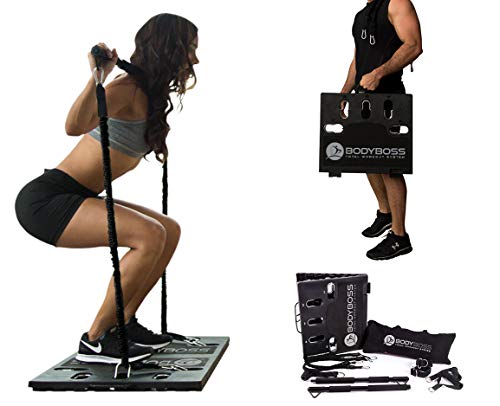 Pros
Cloth-covered resistance bands
Collapsible bars
Durable handles
It comes with a case and door anchor
live and pre-recorded workout instructions
Cons
It has only two resistance bands
Optional accessories sold separately
The BodyBoss 2.0 Full Portable Home Gym is known for its foldable vectorFit base. This base allows a wide range of squats and a comfortable platform for standing. It also features cloth-covered and adjustable bands which provide up to 30lbs of resistance. 
Completely foldable and made to save space, this home gym boasts impressive detachable accessories to provide a fulfilling workout experience. The accessories include collapsible and padded bars which allow for more freedom while squatting and two sets of handles that can be improvised to make a dumbbell.
There's also a door anchor for performing pulley-like exercises. The BodyBoss 2.0 Full Portable Home Gym also comes with easily accessible live and pre-recorded workout guides.
Pros
Fully assembled
Nutrition and exercise guide
12 resistance levels
Maximum weight capacity of 350 lbs
Supports over 60 different exercises
Cons
It has a relatively short bench
resistance bands will not make you bulk up
The Total Gym XL7 is a piece of foldable fitness equipment that you can take wherever you go. It features 12 resistance levels to support a wide range of challenging workouts while not compromising control. To further support its claim of being eligible for various workout routines, it comes with detachable accessories such as Dip bars, Ab crunches, and press-up bars.
This is a piece of equipment fit for beginners and experts as it comes with well-labeled nutrition and workout guides. Also included are two workout DVDs for over 60 different exercises.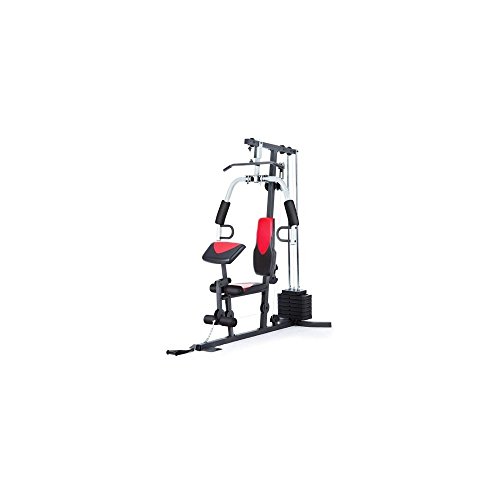 Pros
Study frame 
Small footprint
6 workout stations
Well padded fly bars
It supports over 36 exercises
Easy to set up, assemble and maintain
Cons
Non-upgradable weight stack
The Weider 2980 x Weight System with its very sturdy frame is a highly recommended home gym that's easy to set up, assemble and maintain. It features 6 versatile workout stations such as leg attachments, chest press, and curl pad to support a wide range of versatile workout positions. The well-padded accessories also give users a minimal noise experience which makes it fit for indoor use.
While you strengthen and build lean muscles with this gym, it also features an exercise chart if you wish to get expert instructions and get faster results. If you're concerned about prying eyes in commercial centers, this home gym offers a portable and budget-friendly alternative.
How to choose the best affordable home gym under $500
Here are some essential factors to consider when shopping for the best cheap home gym.
1. Versatility
An essential consideration when shopping for home gyms is to look out for features that'll keep you focused and not bored with your routines. Most home gyms come with detachable accessories that support a wide range of exercises. The more the number of supported workouts, the greater the versatility.  
2. Fitness goal
Your choice of a home gym should depend largely on your fitness needs. Home gyms are usually recommended for travelers or those with time constraints when it comes to fitness.
Endeavor to look at the maximum weight capacity of the equipment and evaluate if it's the best fit for your weight. Also, equipment meant for low-intensity workouts should not be used for high-intensity routines or heavy weight training.
3. Features
Home gyms are a good match with their commercial counterparts when it comes to mouth-watering features. More features mean more versatility and comfort. It also means more expenses. However, we implore you to look for a gym with a timer, deck, tablet holder, ankle straps, and any other additional feature that'll give you a mind-blowing workout experience. 
4. Durability and Warranty
Home gyms are subjected to a great deal of use and pressure. Hence, a durable gym should be your priority. Also, a brand that boasts more than a year warranty is highly recommended. In essence, we believe that a good gym should be durable and long-lasting.
5. Safety
Safety is an essential point of note when buying a home gym. Buy protective gear if the accessories are heavy or metallic. Also, non-foldable equipment should be located in a safe space far away from the reach of children. Endeavor to consult your fitness coach and physician if you're unsure if home gyms are a good alternative for your health.
6. Space
Most cheap home gyms need little space for setup. However, consider the available space in your home or workplace before buying expensive equipment. If you're a consistent traveler, get something that can easily fit in your car trunk. Foldable gyms have an extra edge as they can help you conserve space after use.
7. Assembly
One final important consideration when buying a cheap home gym under $500 is the ease of assembly. Most home gyms come with accessible instructional guides that'll ease installation. However, we recommend a ready to use or piece of fitness equipment that needs little or no expertise during assembly.
Bottom line
Buying a multi-home gym for less than $500 is not a compromise for many people because good home gyms have gotten cheaper. We even made a list of the best home gyms under $200 if you'd like to save some more money!
However, $200 – $500 seems to be the sweet spot for getting a versatile, durable, compact, and highly functional home gym that you'll actually enjoy using. We recommend the Total Gym APEX G5 as our top pick and the Weider Pro 6900 Weight System if you want more weight training.
Last update on 2023-12-01. Affiliate links and images from Amazon product advertising API