Our top pick after the latest update:
Intensity Health Runner Curved Manual Treadmill
Our pick for the best manual treadmill, the Intensity Health Runner Curved Manual Treadmill features a non-slip curved running surface, steel made frames, ergonomic handles, an impressive weight capacity of 400 lbs, and can handle speeds up to 50 mph.
---
You might be well accustomed to motorized treadmills due to their popularity, but the advent of manual running treadmills has proven that achieving a regular workout routine can be inexpensive and comfortable. Due to their numerous benefits and appeal, you now have the opportunity to get fit and torch those excess calories without the worry of higher electricity bills.
If you're looking to buy one, you're in luck, as we intend to review the best manual treadmills in this article. Stick around, and you'll get to know their features, pros, and cons as well as what's best for you.
---
Top 5 Best Manual Treadmills to Torch Calories at Home
---
---
---
---
Pros
Great aesthetics and construction
Impressive weight capacity of about 400 lbs
Easy to assemble
Easy to move around
Foldable: No
Incline: Curved running surface
Running surface: 61L x 17.15W inches
Maximum weight supported: 400 pounds
The Intensity Hi-Performance Health Runner curved manual Treadmill comes with all the features you'd want in a manual treadmill. With its impressive 400 lbs weight capacity, it fully supports almost anyone on it. The curved running surface makes up for a lack of incline to support various movements and positions, and unlike most other treadmills, this manual treadmill features a unique cushioning system to protect your knees and spine during exercise. You simply will get the desired result, whether you're on a specific sports regimen or a general workout.
Out of the box, it is easy to assemble as most of the parts come preassembled. It has a digital console for performance tracking. Although the console is not backlit, it does satisfactorily well in tracking steps, calories, distance, and speed. The handlebars and sidebars are constructed with premium alloy steel and feel premium to the touch. The frame is heavy-duty, made of steel, and is sweat resistant. It's easy to transport as it has roller wheels underneath.
One of the standout features of the Intensity Health Runner is a market-leading 5-year warranty. So you can rest assured that the machine has been solidly built to withstand the rigors of regular use.
---
---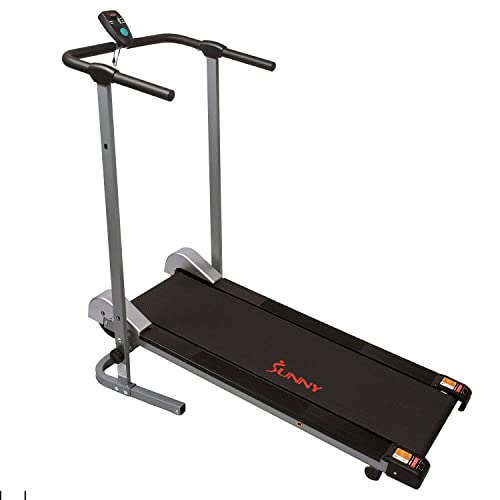 ---
Pros
Versatile with impressive resistance
Ergonomic and well-positioned handrails
Easy to assemble
Cons
The belt runs a bit loose
The incline may be too steep (for the fixed incline model)
Foldable: Yes
Incline : 13.5%
Running surface: 53L x 16W inches
Maximum weight supported- 300 pounds
This non-motorized treadmill stands apart with its ergonomic design and versatility, allowing various walking or jogging positions. You will burn extra calories faster due to the double flywheel design, and there's a dial if you wish to adjust the resistance level. The unit also comes almost fully assembled and boasts two front wheels for easy transportation. Its weight capacity of 300 pounds is equally impressive as well as its foldable option. This allows almost anyone the chance to give the treadmill a run.
The SF-T1407M Manual Treadmill prioritizes comfort. It features rail support and a wide surface to allow you to walk in a different positions. You've got the versatile gear to support various workouts and exercises if you opt for this non-motorized treadmill. The incline also provides a fluid workout experience.
To get its belt started, you're required to put in maximum effort due to the double flywheel weight. This helps you burn fat and excess calories in little time. The flywheels are also adequately protected from dirt and sweat in other to guarantee a long-lasting treadmill.
---
---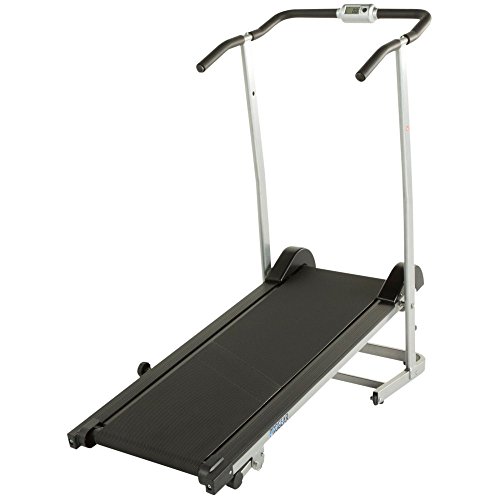 ---
Pros
Affordable
Strong frame
Foldable design
Dual flywheels
Small LCD display
Cons
Can be noisy
Small belt surface for tall users
Foldable: Yes
Incline: 6 and 10 degrees
Running surface: 43 x 13 inches
Maximum weight supported: 245 pounds
If you run a medium-weight routine, the ProGear 190 might be the best manual treadmill for you, especially if you want something inexpensive. It features a strong steel-made frame, double flywheel, and an oversized belt. The unit is foldable and boasts very long handles for easy transportation and storage. You're guaranteed a great exercise routine on this beauty alongside shedding extra weight, muscle tone improvement, and general fitness. It offers a time-saving, safe, and comfortable experience.
The safety rails are long to allow more flexibility, security, and intense exercises. It's self-powered and requires little or no maintenance. If gaining stamina is your concern, you're adequately covered with its well-designed incline and belt.
The belt provides a smooth workout experience as well. You've also got no worries about fall injuries, and discomfort as the treadmill has an adjustable incline feature, which allows a two-position incline.
---
---
---
Pros
Lightweight & portable
Impressive weight capacity of 350lbs
Durable and spacious running belt
Easy maintenance
Cons
Short warranty
Pricey
No incline
No Incline
Max User Weight: 350 lb
The Assault Fitness Runner is a non-motorized manual treadmill for those who want something more serious. It has an expansive deck that allows you to jog, run, and walk in various styles and positions. It also features a durable belt that is very easy to maintain, although it has a short warranty of just a year. It is lightweight and easy to store due to its foldable steel design.
It also features a Liquid-crystal display that shows speed/distance covered, time spent, and amount of burnt calories. This gives you the extra motivation needed if you feel relaxed or under-accomplished.
The Assault Fitness AirRunner is like the Rolls Royce of manual treadmills that offers you unlimited speed and a hitch-free running experience. It could easily take our top spot for the best manual treadmills if not for the limited one-year warranty. That said, if you're not limited in your budget, it is highly recommended.
---
---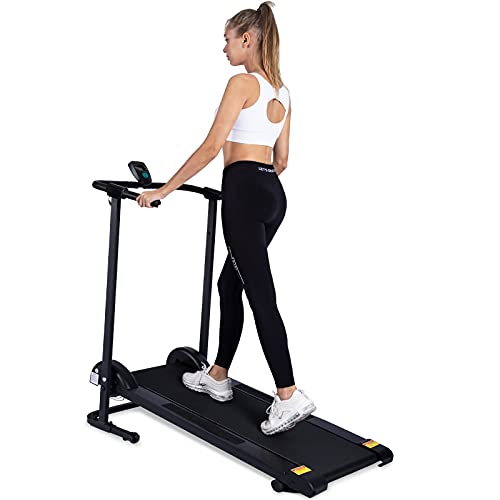 ---
Pros
Unique arm exercisers are refreshing to use
Compact, foldable design
Good incline
Foldable: Yes
Incline: 7, 8 and 9 degrees
Running surface: 41.73L x 13.39W inches
Maximum weight supported: 220 pounds
Kotia Manual treadmill is one of the best manual treadmills for people under 200lbs on smaller budgets with adjustable incline and comfortable handlebars.
You do not need to worry about space as it is on the smaller side and quite easy to store due to its foldable steel frame. The running surface measures just 42.5L x 13W and is suitable for small spaces. It sports a 10 degrees incline that is not too steep, and the non-slip mat ensures that you stay safe whether you are power walking or jogging.
It also benefits from a digital LCD that displays your exercise metrics intermittently.
On the downside, this treadmill might not work for those who wish to sprint at fast speeds, and they should look to our top pick which can handle sprinting comfortably.
---
How to choose the best manual treadmill
---
Here are some essential factors to consider when shopping for the best manual treadmill.
Weight Limits
Consider your body weight and fitness goal before choosing a manual Treadmill. It's an important consideration if you're heavyweight or intend to do high-intensity routines. The best manual treadmills come with an impressive weight capacity within the range of 200 to 400 lbs.
The suggested weight limit is usually well-written by the manufacturer. Do well to go for what's compatible with your weight and body size.
Incline
Manual treadmills do not have motorized inclines but you do have the opportunity to adjust the incline on several treadmills. This allows you to set the surface and slope of the runway yourself. You must however watch out for some machines that do come with a steep incline which is not adjustable. These machines have this as their standard which might not be compatible with your goals. The good news about the nonadjustable inclines lies in the ease of moving the belt.
Belt Size
The belt on manual treadmills come in many different non-standard sizes. Some of them are compact, while others are large. For runners, the ideal belt size should have a length of 48 inches and a width of 18 inches. If you're very tall, you might want to consider going for larger belt sizes.
If you have a manual treadmill with a large or standard belt size, the advantage is that you're allowed more room for taking longer strides compared to smaller belts.
Portability
Most non-motorized treadmills are foldable, hence, easy to store and transport from one place to another. This is an important consideration especially if you do not have too much space to spare. There are also many motorized compact treadmills that are good for small spaces
Consider something with wheels and no power cords. Also, watch out for tablet holders, decks, and foldable handles. The tablet holders are designed for convenience and ease of access.
Performance
Double flywheels are a sign that you'll be getting a mind-blowing workout experience. Always check for them. If you're a runner, speed should be an important variable. The running surface dimension also varies from one product to another. A large running surface is suitable for people with large bodies and people who have intensive workout routines. Go for sweatproof and well-protected handles for ease of use and comfort.
---
Frequently Asked Questions
---
What is a manual treadmill?
Just as you must have noticed in the article, a manual treadmill is simply a running machine that does not require electricity. It also has no motor, so you must put in the effort yourself to move the belt.
How do you adjust the manual incline on a treadmill?
Usually, you just need to look for two knobs at the rear of the runway. There's one knob per side. To adjust the angle of the runway, pull the knob out, and rotate the smaller piece. Put the knob back in. Repeat the same procedure for the other side, and you're done.
Manual treadmill for older people?
Interestingly, some non-motorized treadmills such as the Sunny Health and Fitness made types are safe for older people and provide them with an opportunity to get some exercise done.
Last update on 2023-09-30. Affiliate links and images from Amazon product advertising API