Most people are struggling to stay in shape right now. If you're shoed into this category either because of the harsh winter weather, or your gym is still closed for any reason, or you're undecided about your work-from-home routine, or you lack space in your small apartment to get in big workout equipment, we might have a nifty solution for you.
It's true that some people have the luxury of a spare room that usually just becomes a fitness haven, many others do not. And it can sometimes be a tough challenge to carve out space for gym equipment and accessories in already small rooms. If space is not a challenge for you, and you can set up a full home gym, check out this beginner-friendly guide on the best home gyms that you can buy at the moment.
On the other hand, if you're struggling to manage the little space you have, a simple solution is buying compact and easily storable gym gear, like any of the best folding exercise bikes. These are space-savers! They can practically fit into any room of your apartment or house and you can simply fold them up and store them away when until your next spin. (Here are 5 other indoor exercise bikes you might want to try.)
Spinning is a great cardio workout that not only burns calories but also helps to make your heart stronger and reduce your blood pressure. In fact, many studies have shown that regular cardio exercises may help to improve your sleeping habits, lower your stress levels, and reduce joint stiffness and body aches.
If you're looking to invest in a folding exercise stationary bike, you won't need to spend $$$ as many of them can be gotten for $300 or less. Some of them also have desk accessories that allow you to get some work done (or watch a movie) while burning calories. Here are five of the best folding exercise bikes to choose from.
---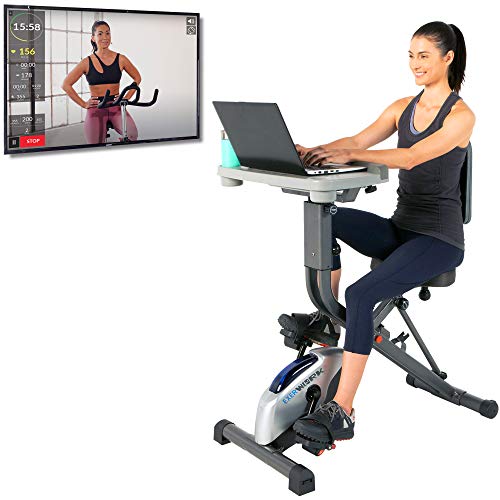 The Exerpeutic Exerwork 2000i Folding Exercise Desk Bike is a tough, durable, and well-constructed bike. It is easy to assemble and can carry a maximum user weight of 400lbs. The cushioned seat with backrest support is comfortable to sit in and use for long periods. Out of the box, this bike has an impressive 24 level magnetic tension resistance with 24 preset workouts to challenge yourself. It runs smoothly and quietly even as you hit higher speeds. And talking about higher speeds, the included LCD display shows your distance, speed, calories burned, as well as your heart rate. The standout feature, however, is the sliding desktop that is fully adjustable. You can tilt the desk forward, backwards, up or down to get your most comfortable position.
If you're looking for an alternative to a work desk or you prefer not to sit on all day without being active, the Exerpeiutic Exerwork 2000i comes highly recommended.
---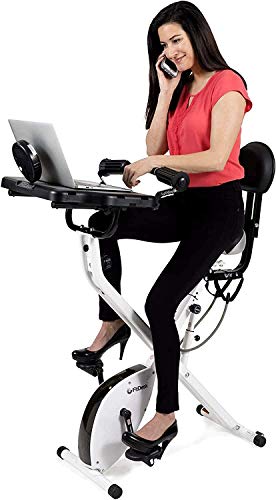 FitDesk 3.0 is one of the most stylish Folding Stationary Exercise Bikes you can buy at any price and should not look out of place in your apartment. Style aside, the Fitdesk 3.0 is a fully-equipped foldable bike with more tricks than you can expect.
Aside the obvious non-sliding desktop surface that is also adjustable, it has two resistance bands just underneath the seats for upper body workouts, and adjustable forearm supports with padded massage rollers. It is made from a solid steel white frame, has a well-cushioned seat with adjustable backrest that can support up to 300 pounds of weight. It is easy to assemble by one person, and folds up nicely for storage. For spininng, you get 8 levels of magnetic resistance and small LCD display to track your stats.
For all the extra features, it is one of the best folding exercise bikes that you can buy for a wallet-friendly price.
---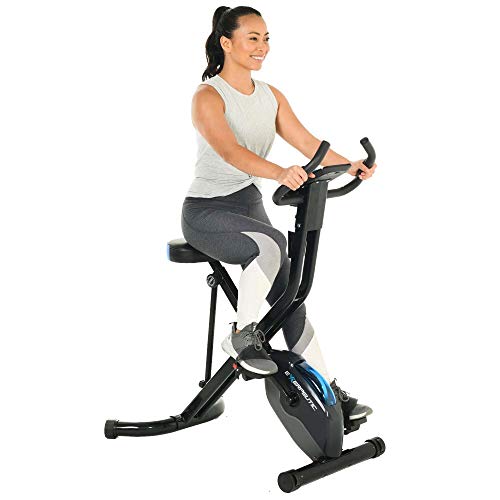 One word to describe the Exerpeutic 675XLS folding stationary bike would be "Heavy-Duty" and looking at the bike, it becomes immediately apparent why this is true. It is built with solid reinforced steel, has a maximum weight capacity of 400 pounds and height capacity of 6'5″, has an extra large seat cushion, and an LCD display that shows calories burned, distance, time, speed, and your pulse. It has 16 levels of magnetic resistance that challenges even the most seasoned pros.
One thing it lacks, is a backrest support, making it less-ideal for longer spinning sessions. However, if you're on the bigger side, this foldable bike excels at the basics and can push you ton lose those unwanted calories.
---
Lanos folding exercise bike is well-built and stable to spin on. It has a cushioned seat with a back rest, and can be set up in three different positions: upright, semi-stationary and recumbent. On the mechanical side, it has 10 levels of magnetic resistance, can carry a maximum weight of 330 pounds and a max height of 6'7″. The small monochrome LCD monitor is easy to read, and you get an additional tablet holder if you prefer to stream your workouts or watch movies while you spin. The handlebars are comfortable to grip and have sensors for heart rate.
Retailing regularly for a sub-$200 price, Lanos folding exercise bike is among the best in this price category. 
---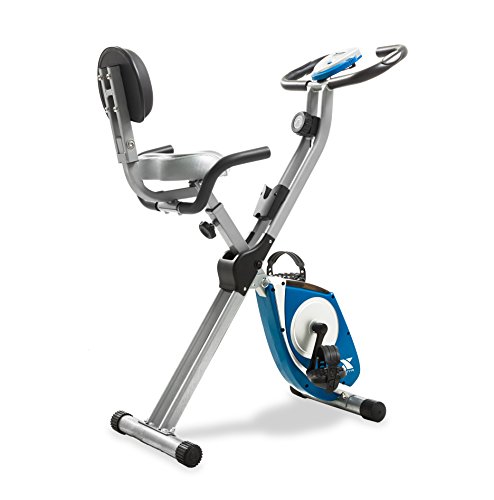 This XTERRA FB350 Folding Exercise Bike is a minimalist's dream. It cuts out all the extras and gifts you a very streamlined spinning experience at a mind-numbingly cheap price. It is durable and compact, weighing just 32lbs. It has well-padded seats with a foldable backrest and can carry a maximum weight of 225lbs. It has 8 levels of manual resistance that can be changed through the tension knob. The foot pedals have straps that hold your feet in place as you hit higher speeds. The small LCD window displays your spinning distance, speed, time spent, calories burned, and your pulse rate (if you place your hands on the sensors).
The Xterra FB350 is one of the best folding exercise bikes that offers a focused biking experience for a ridiculously low price.
Bottomline
Cycling, spinning, biking, or casual pedaling can make a major difference in your life and health according to experts. These exercise bikes that fold up and roll away are among the best folding exercise bikes for people who live in small spaces.
Last update on 2023-09-30. Affiliate links and images from Amazon product advertising API