Rowing shoes are one of the most valuable accessory items you could own as someone who consistently uses rowing machines. Unlike regular shoes, rowing shoes feature a more comfortable, less bulky, and lightweight feel to a rower.
They are made that way because rowing, just like many other sports, can cause fatigue and pain to your feet if you don't wear the right pair of shoes. So if you've already invested in a rowing machine to improve your fitness, it makes sense to get a sub $100 rowing shoes to optimize your workout and reduce the chances of developing long-term foot pain or feet conditions like plantar fasciitis.
This guide is inexact, but it's a great place to begin if you are looking to purchase some of the best rowing shoes for your workout. We've highlighted the best shoes for rowing that we could find and why you should consider them.
How to Choose the Best Shoes for Rowing
Now you probably got yourself a rowing machine, or you are frequently using a rowing machine, and you are searching for the perfect shoe for the task ahead. What separates rowing shoes from other shoes is generally in the way it is built. Here are a few features to look for in a rowing shoe.
Design
This feature is probably one that most people care less about. However, this feature must not be downplayed when making the selection for the best rowing shoe. A well-crafted rowing shoe should have moisture-wicking properties. It must be able to absorb and remove sweat from your feet without causing any foul smell to the shoe.
Your rowing shoe must have a reasonable amount of space for toe movement. Cramped toes are not the best for rowers because prolonged usage can lead to problems like plantar fasciitis. The material suitable for rowing shoes is mostly mesh designs. 100% leather shoes are not advisable for rowing workouts.
Sole Thickness
Rowing machines have a design that exerts less strain or impact on the feet. For this, a less thick sole is needed for this workout. Wearing a very thick-soled rowing shoe would only cause excess weight and unnecessary cushioning to your feet. However, the sole must not have a substandard material build.
Durability
This feature in a shoe is one that cannot be overemphasized. If you fancy the idea of getting a new rowing shoe every 3 months, then you can probably overlook this feature. A well-designed rowing shoe must have a durable, high-quality upper and sole material. This will ensure the shoe lasts for a longer period and will save you less money for a replacement.
Weight
The weight of your rowing shoes must be checked properly. The ideal weight must be light and not as heavy as a regular shoe. Lightweight rowing shoes equate better performance, less fatigue, and faster recovery.
Shoe Size
After ensuring that your desired shoe has all the necessary features needed in a rowing shoe, the next feature to consider must be the right shoe size. An overly large shoe will make the workout harder because you might constantly need to adjust your feet in them. A very tight rowing shoe will cause discomfort while using the machine. Ensure to get your exact size when purchasing.
Is it necessary to wear shoes when rowing?
Wearing shoes when using a rowing machine is not entirely a must, some users operate these machines without shoes. But, it is expedient that you put on shoes when rowing. Failure to use shoes can result in several foot injuries or damages that will occur after consistent practice.
The most advisable practice from fitness gurus and trainers is making use of shoes, especially the recommended shoe types for the workout.
Thick soles or light soles for rowing?
Rowing shoes are designed in a way that is supposed to make your feet feel comfortable (weight and material). Using a shoe with thick soles might be considered safer and better, but it is not. It makes a wearer uncomfortable and adds unnecessary weight to the feet.
It is better to wear shoes having light soles, these will fit properly on your feet and cause less drag when exercising on a rowing machine.
How long should rowing shoes be on?
Wearing your shoe for an entire day is not an advisable decision. However, these shoes should be worn for only the duration of the exercise. If you are going to be exercising for 3 – 4 hours, wearing the shoes throughout will cause no problems. If you are exercising for longer periods, daily usage of the shoe will cause slight pains to develop on the feet.
7 Best Shoes for Rowing
Rowing shoes have different features that make each of them stand out from the crowd. To pick out the best men's shoes for rowing or rowing shoes in general, certain features like comfort, weight, and others have to be in place.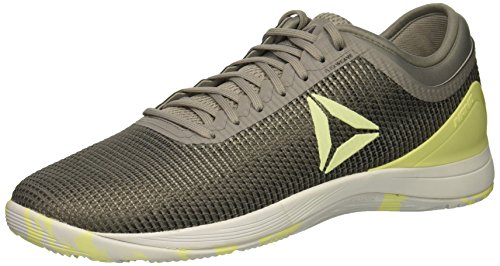 Reebok Men's Crossfit Nano 8.0 Flexweave Sneaker
The Reebok Flexweave has a breathable material that ensures the feet remain dry during a strenuous workout due to its moisture-wicking properties. The dual-density midsole system and the rubber outsole make the shoe comfortable on the feet.
Key Features
Very comfortable on the feet.
It sports a wide toe box.
It is lightweight.
It features toe cap protection.
High flexibility.
It is breathable.
Cons
Rowers have reported the sole might not be great for other workouts.
Inconsistent sizing.
---
On Sale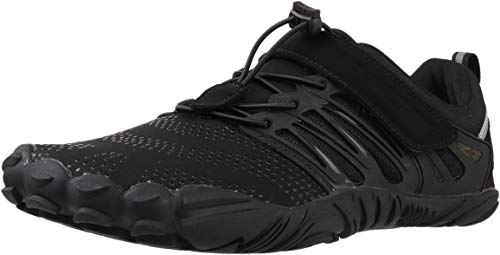 Whitin Minimalist Trail Runner
Rowing shoe from WHITIN is comfortable and gives proper traction and protection to the feet. It comes with an animal-free upper design, sports a true rubber sole, a wide toe-box, a comfortable inner, and additional removable insoles.
Key Features
Wide toe box.
Removable and replaceable insole.
Made with durable materials.
It has top cap protection.
Offers good foot protection.
Good value for money.
Cons
Inaccurate sizing most times.
Not the most stylish option
---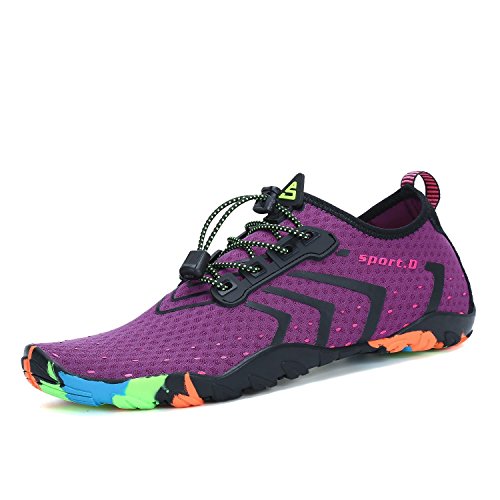 Mishansha water shoes
The Mishansha shoes are a versatile footwear having a Spandex fabric upper design and a rubber sole. The upper design gives the shoe salt and wears resistance and breathability. For proper traction, the rubber sole grips firmly to floor surfaces, preventing slips.
Key Features
It is breathable and dries quickly.
Comfortable on the feet.
Versatile; can be worn for several activities.
Easy to wear and remove.
Made with Spandex fabric and has elastic straps.
It offers proper traction.
Cons
It has a big fit; making it difficult to determine the right size.
---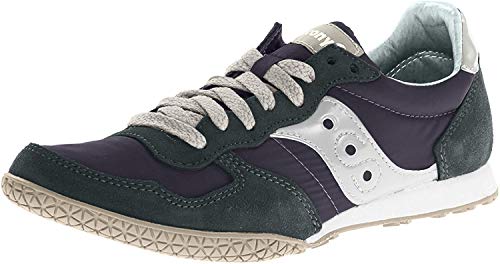 Saucony Original Men's Bullet Sneaker
The Saucony Bullet sneaker has a remodeled build of the 1985 original shoe featuring a low-profile nylon silhouette and suede finishing.The comfort of this shoe is not misplaced, having the tongue and heel collar padded to give comfort and reduce irritation.
Key Features
Slim silhouette and low profile.
Very affordable.
It is very lightweight on the feet.
Comfortable for casual wear.
Vintage style with a trendy look.
Cons
Thin outsole might wear out prematurely.
---
Simari Rowing & Water Shoes
The Simari water shoe comes with a 92% polyester spandex mesh material that Fit snugly and gently on the feet. It has a breathable and quick-dry construction with a rubber sole that gives it good traction. The entire build quality is good and gives a lightweight feel on the feet. For comfort, this rowing shoe has an elastic-shoelace with a locking mechanism design.
Key Features
Lightweight design.
It has good traction.
Good water drainage.
It sports an elastic strap for adjustability.
Affordable.
Cons
Thin sole.
No toe cap protection.
---
Xero Shoes Speed Force Minimalist Shoe
The Xero Speed force shoe has a lightweight feel making it ideal for rowing. If you like to move your feet around, Xero offers a wide toe box in this shoe. A zero-drop non-elevated insole design has been installed in this shoe to give proper stance and posture once inside.
Xero speed force shoe offers a low sole for better balance and agility.
Key Features
It has a lightweight feel.
Very compressible; making it easy to pack.
Sports a very grippy outsole.
It is very durable.
It features toe cap protection.
Very durable.
Cons
No insulation.
The design isn't very stylish.
---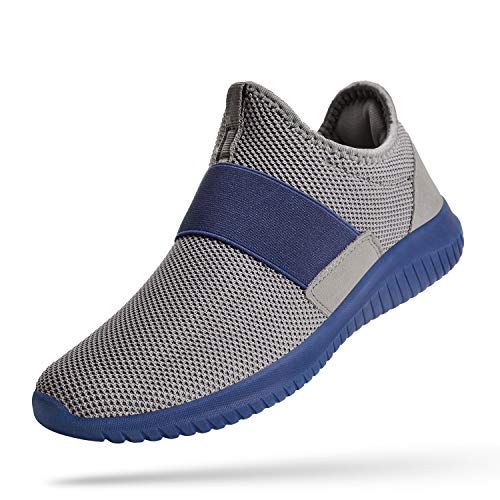 Xero Shoes Speed Force Minimalist Shoe
The Troadlop knitted men's sneakers are a comfortable shoe for use when working out on a rowing machine. It sports a knitted vamp outer upper material design and an elastic rubber sole, allowing for flexibility with the shoe. It is breathable and has a non-slip elastic outersole. If you need a lightweight shoe, Troadlop is a compelling choice at a budget price.
Key Features
Mesh breathable upper and insole.
Very lightweight.
Easy to wear and remove.
Grippy outsole.
Elastic sole for proper movement.
Cons
No toe cap protection.
The sizing might be inconsistent.
---
Bottomline
A good pair of rowing shoes will help to improve your workouts and reduce feet pain or other associated complications. Most of the best shoes for rowing highlighted in this guide are inexpensive, well-built, and can meet your needs for a long time.
Getting a pair or two should be a no-brainer.
Last update on 2023-09-30. Affiliate links and images from Amazon product advertising API