The best home gym provides an easier way to keep fit, lose weight, or build your muscles from the comfort of your home. It can help you work out all the muscle groups in your body. There exist myriads of multifunctional machines with different features and operations.
If you are ready to bring all in one gym to your home, then this resource will guide you in making the best choice as we have done extensive research for you.
Our top pick after the latest update: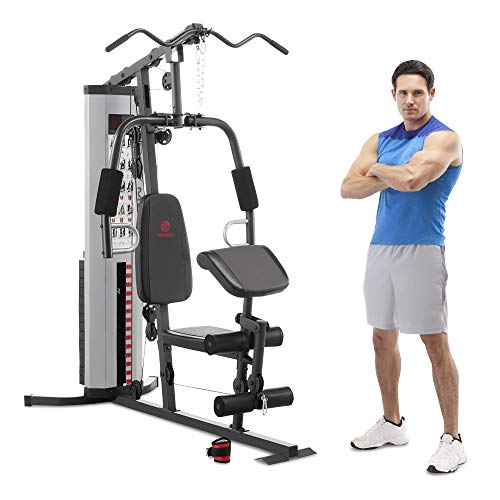 Marcy MWM-988 Multifunction Steel Home Gym
Our top pick for the best home gym system, the Marcy MWM-988 home gym, is fully equipped with 6 workout stations and a 150 lbs weight stack.
It comes with more than 36 exercise options for a full-body workout and is a few $100s cheaper than most commercial gym stacks.
Top 7 Best Home Gyms For Your Home Workouts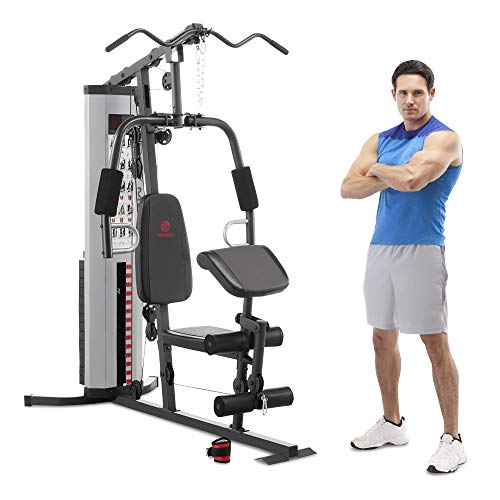 Pros
It is easy to assemble
It is sturdy and durable
It is quiet in operation, therefore suitable for home use.
Requires little maintenance
Cons
The seat is non-adjustable
More than 36 exercises available
Press arms are padded
Has removable curl bicep pad
It is equipped with Leg developer
Marcy MWM 988 Home Gym is a moderate-sized home gym that gives you a good full-body workout at home. The product is equipped with all the features necessary for you to reach your desired fitness level. The machine comes with a dual-function press arm, an adjustable preacher bicep pad, a butterfly that is adjustable with attachment, a roller pad, and a leg developer.
It is a sturdy product, courtesy of the equipped 14-Gauge steel -tube- frame equipped with the machine. For additional durability, there is a protective stack on the weights. Although the machine is not assembled out of the box, the easy-to-assemble product gives you comfortable workouts without going out to the gym.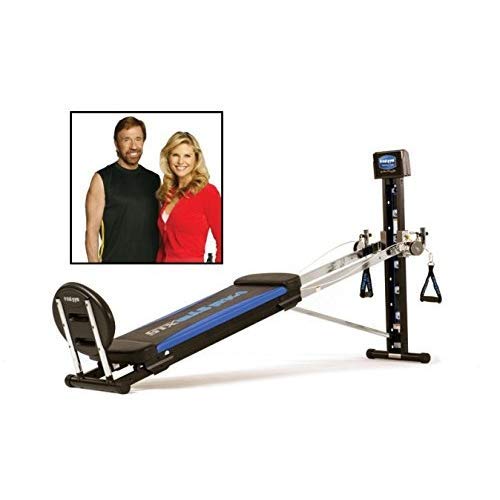 Pros
Easy to Use
It is quiet
Sturdy and comfortable
Easy to Set Up
Cons
The warranty on parts is just 6 months.
80 different exercises that target different muscle groups.
Has a weight capacity of up to 400 pounds
Six resistance levels from 6 to 26 degrees
1.5 inches high-density foam padding on glide board for extra comfort
The Total Gym XLS is a compact home bodyweight trainer with 80 exercises for varieties of functional training experience. The advantage of this product is that groups of muscle can be worked out simultaneously, thereby giving you the best results for time spent exercising.
Being an all-round product, it comes with a lot of training resources including a nutritional program, meal plan, and three training programs to choose from. To work out your abdominal muscles, it is equipped with an incline bench. The Total Gym XLS home gym is designed in a comfortable and sturdy manner that can handle a total weight of up to 400lbs.
Pros
The seat is well-designed
Space saver as it can be folded
It is affordable
Capable of working out every muscle group in the body
It has a sturdy frame
Cons
Adjusting the power rod takes time
May not be ideal for tall users
Has Inbuilt rowing station
Power Rod Adjustable resistance and effective pulley system
Multifunctional hand grips
Plastic-coated braided steel in the cables for durability
Pulley system perfectly designed to assure stability.
The Bowflex Blaze Home Gym is an all in one home gym equipped with a power rod resistance system that can be quickly modified. The quality of this home gym can be compared to that of a commercial grade. Offering more than 65 different exercise types, this machine helps you to specifically work out your chest, shoulders, abs, arms, and legs.
Whether you have a busy schedule or have something that does not allow you to go to your local gym, the Bowflex Blaze Home Gym is undoubtedly one of the best home gym to purchase in order to get a regular, and total body workout in your home. Accessories included in this product are the triple function hand-grip/ankle cuffs and instructional placard. With a wrench and a screwdriver, you can easily assemble this machine by yourself.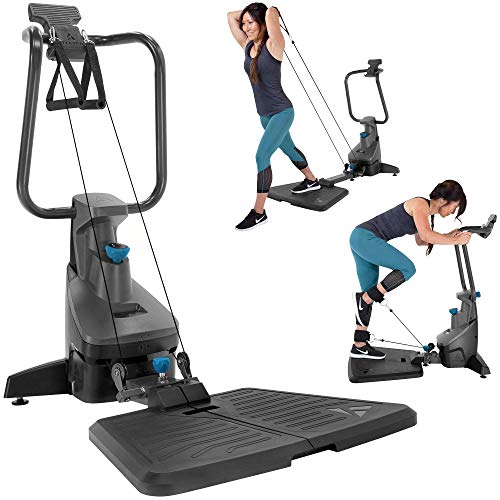 Pros
Smooth radial resistance intensity can be adjusted for every age and fitness level
Can be used for both strength-training and cardio workout
It is easy to assemble
It is compact
Cons
Limited workout options because of internal single-cable design.
Patented smooth radial resistance
Free personal training app
One-touch dial for micro-adjustments
Teeter FitForm Strength Trainer Home Gym is a cable machine you can use to strengthen your muscles. With this product, you can perform more than 100 exercises and you should feel resistance at any point during your exercise. This home gym allows you to gradually gauge your strength by increasing or decreasing the weight one pound at a time.
Using an internal, smooth radial resistance system, the machine lets you strengthen your muscles with little to no pain and without restricting your range of motion. Apart from muscle strength training, this home gym is capable of getting you a calorie-burning workout. You can also combine compound and dynamic movements with this machine.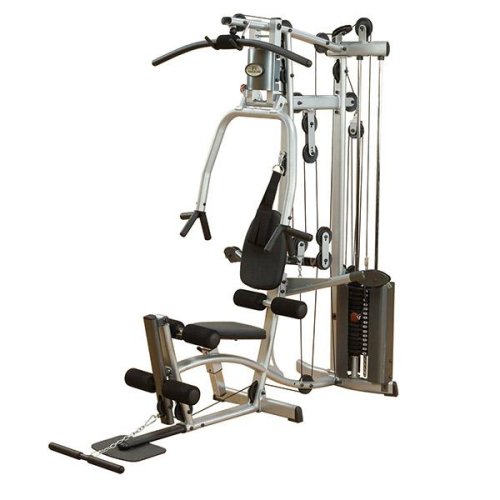 Pros
Upgradable weight stack
Comfortable, adjustable seat and back pad
Frame is heavy-duty
Offers full-body, strengthening workout
Has a good warranty
Cons
It can be difficult to assemble
Multi-function press arms
Lat pulldown bar
Has a mid pulley station with an ab crunch feature
Has a low pulley station with seated rows
A leg developer with multiple functions
When trying to choose an all in one home gym, the Powerline P2X Home Gym is worth considering. It is a compact innovative machine that combines functional pulleys to a traditional home gym platform, allowing you to carry out different exercises involving stabilizer muscles.
There are six different workout stations with dozens of exercises on this all in one gym and each station focuses on a different muscle groups. The machine has a good weight stack that you can upgrade up to 50-pound, a feature that is not often available in most all in one gym. It also comes with an excellent warranty offering a 10-year warranty on frame and one 1-year warranty for parts.
Pros
Very Portable
Offers complete body workout
Online workouts are available
Has carrying case for attachments
Cons
Only comes with 2 resistance bands
1 set of 2 handles
1 set of 2 wrist/ankle cuffs
Collapsible workout bar
Fold up vector-fit base that can withstand up to 500 lbs of force
Durable accessories carrying bag
Door anchor
BodyBoss 2.0 is a truly portable device that allows you to workout anywhere you find yourself. This home gym has resistance bands connected to a base, differentiating it from most other all in one gym available in the market. In addition to being a strengthening machine, you can carry out cardio workouts using this product.
It also features a collapsible bar and handles for dumbbell-style moves. With handles included, the BodyBoss becomes a complete gym that you can conveniently perform your exercises with, whether you are a beginner or advanced level fitness enthusiast. The only downside of this home gym is that it comes with just 2 resistance bands. Summarily, this is the best home gym if you need a portable gym that will give you a complete workout.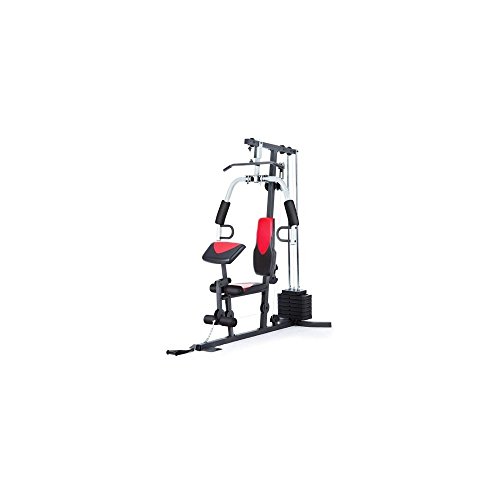 Pros
Has 6 workout stations
Comfortable padding and seat
More than 36 exercises available
Thick foam padding on leg attachment and fly bars
Cons
Assembly is complex
Cannot add extra weight plates to the stack
Has 80 pounds of weight plates
Leg developer included
Offers up to 214 pounds of resistance
Removable preacher curl pad
High and low pulleys
Weight resistance system: Weight stack and pulleys
The Weider 2980 X Home Gym is an all in one gym that allows you to perform 36 sets of exercises for arms, chest, legs, and abs. This home gym is made to give you a total body muscle building. The machine uses a weight resistance system made up of weight stacks and pulleys and comes with 100 pounds of weight.
This gym weighs under 100 pounds despite carrying 214 pounds of resistance. As such, the machine may slightly tip over when you are carrying out very heavy exercises, bringing into question its sturdiness. You can do upright rows, bicep curls, front raises and lateral raises are some exercises you can perform with the low-pulley. The leg attachment helps in leg extensions and hamstring curls.
How to choose the best home gym
Choosing the best home gym can be confusing especially with several products in the market. To get the best all in one gym, you should be on the lookout for some factors. Detailed below are some of the things to consider when finally settling for a home gym.
Weight Capacity
Careful consideration of the weight capacity of the home gym you are buying is very important. You need to be sure the weight capacity of the machine is able to hold your weight and the weight you are going to be lifting, especially if you are considering lifting heavy pounds.
Different home gyms have different weight capacity ranges to be considered. For instance, most glide board home gym has weight capacity ranging between 200 and 300 and this should be okay for most people. On the other hand, free weight home gyms have the highest weight capacity since they involve the highest amount of weight. Another reason to consider the weight capacity is that products with higher capacities are more durable but they often tend to be expensive.
Footprint
In choosing the best home gym, be sure to consider the footprint of the machine. Ultimately, this will be determined by the available space in your home. There is no point in purchasing a product with a footprint more than the space you intend to put it in the home. Glide board home gyms often save space because they have a small footprint. Furthermore, you can fold them into a compact shape that can easily be moved around or kept in a small place.
Conversely, a weight stack gym, especially the expensive ones will require more space in your home than a glide board home gym. What you should keep in mind is that the more the options offered by the gym, the more weight it has, and the more space it takes up. Moving around these gyms after assembly may not be an option since they are heavy, big, and stationary, except for the glide board options.
Assembly
Assembly is another factor to consider in buying the best home gym. A huge machine will take several hours and lots of strength to put together if you are doing it alone without any helping hand.
The glide board options are fairly small, compact, and do not have many pieces, thereby making them easy to assemble with some models coming fully assembled right out of the box.
If you have helping hands, assembling a huge machine may be eased. Resistance rod home gyms are often difficult to assemble because they come with complex cable and pulley systems, although there are no heavyweights involved.
Exercise capabilities
The factors to consider in choosing the best home gym will not be complete without looking at what the exercise capabilities of such machines are. Of all home gyms, the glide board options often have the highest exercise options because they are capable of giving you muscle strengthening and cardio workout.
A downside is that they are not great for only strength training. Fewer exercise options are available on the weight stacks or free weight systems, they, are however better than the glide home gym in building muscle.
Sturdiness
How sturdy a home gym is very important. Some products become wobble especially as you top up the weight. Extremely sturdy home gyms are often expensive while those at the lower end sometimes lose sturdiness with increasing weight.
Comfort
The overall comfort of the home gym you are buying should be considered. Check the seats, whether they are padded or not. The grips, bars, and benches should also not be left out in considering a comfortable all in one gym.
Warranty
Another thing you should consider, is the warranty that comes with it. A good warranty is very important, especially if you are getting expensive models. You want to be sure you are not going to be spending heavily in no time if the machine becomes defective.
The bigger and more expensive home gyms will often have better warranties running to 3 years for frame and parts. Glide board option may come with only a 1-year or 90-day limited warranty on the frame and parts.
Frequently asked questions
Are home gyms worth it?
If you are wondering whether having a home gym is worth it, then the advantages below should satisfy your curiosity.
Firstly, you can workout whenever you want. You do not have to worry if the gym is opened or closed. It also gives you the freedom to play your own music if you don't like the strong stuff at the gyms.
If you are someone who doesn't feel comfortable with your body in a public gym, then the home gym offers the privacy you need to confidently carry out your exercises. For a home gym, you can fix workout into your daily schedule. In addition, there is a high chance of following your fitness schedule because the issue of no time to go to the gym will not arise.
Although the initial investment in a home gym can be considerable, it pays off later because you do not have to pay a recurrent membership fees as done in the gym. Most importantly, it is easy for you to tailor your home gym to your fitness goals.
Another advantage of a home gym is that it allows you to spend as much time working out and eliminates the fear of picking up germs as you do not share your exercise equipment with the public.
What do I need for a small home gym?
There is a lot you can do in your home gym even though you want something small. While a gym offers lots of exercise equipment to use, you can set up a small gym in your home without necessarily breaking the bank.
Below are the basic equipment you need for you to have a standard/small home gym:
Exercise mat
An exercise mat is essential for your home gym irrespective of the workout you are engaging in. Be sure to get a mast that is thick and well-cushioned. A mat also helps you to have a well mapped out rectangular area for a workout. A mat is also a piece of mobile equipment that can be easily taken from place to place.
Resistance bands
Resistance bands are other important equipment to set up a gym at home. The bands which are lightweight and inexpensive are available in different levels to challenge you. Some even come with online video workouts. Resistance bands are a great way to work out every muscle group in your body. It will also challenge your muscles differently than free weights. The tighter the band is, the harder it is to stretch and the more challenging it is to work with.
Jump Rope
A jump rope is an essential equipment for a home gym. It is an inexpensive product to engage in a cardio workout at home. It burns calorie excellently and the effect can be compared to running an eight-minute mile off to your workplace. In addition, a jump rope is also useful for working out your upper and lower body.
Kettlebells
Another useful piece of equipment for your small home gym is a kettlebell. It is good for cardio training and working out your muscles plusyou can easily keep them away when you are not using them. There are different exercises you can do with the kettlebell for strength and endurance. You can do kettlebell swings, Turkish get-ups, walking lunge, and goblet squat with the kettlebell.
Dumbells
A set of dumbells is also essential for home gym. They can be used for isolated strength exercises like bicep curls, and for compound exercises like lunges. When you finish working out, you can easily store them away under your bed or in a smaller place. There are different sizes of dumbbells, but some give you the ability to go light or heavy.
Cardio Machine
Cardio is essential to keeping calories away and so many options are available to add cardio workouts to your home gym. For an effective cardio, you can consider elliptical trainers, treadmills, rowing machines, or exercise bikes. They all present good choices and one of them should be suitable for your home gym setup.
Can home workout be as effective as gym?
Yes, home workout can be effective at the gym if you are ready to put in time and effort into your workout at home. Working out at home depends on you. Are you someone that prefers to workout with others for motivation? If your answer is yes, then you may need to get a gym membership.
But if you find it difficult to go to the gym, then bringing the gym to your home and being disciplined will get you effective results like a membership gym. If you are still unsure which route to take, you can ask for a trial membership at a gym and see if it is what you want to do before subscribing for a plan.
What is the best home gym for the money?
This can depended on your specific needs and budget.
You might consider getting a compact home gym if you're living in a small apartment and space comes at a premium.
Although, if you have a higher budget, then our top pick, the Marcy MWM-988 Multifunction Home Gym, is one of the best home gyms you can buy. It is a solid all in one gym equipped with 150lbs of weight and with more than 36 different weights-based exercise options.
Last update on 2021-07-25. Affiliate links and images from Amazon product advertising API