Our top pick after the latest update: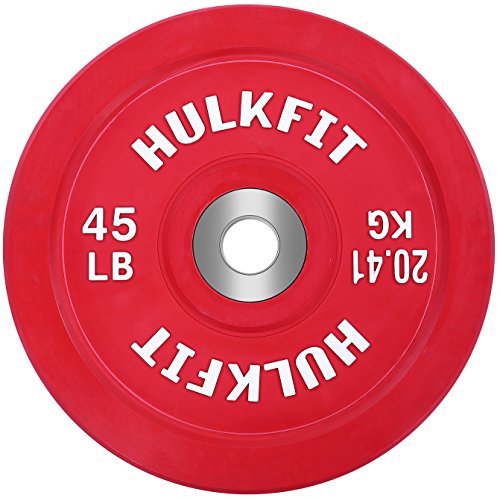 HulkFit color-coded Olympic bumper plates
Our pick for the best bumper plates are IWF standard 17.72″ diameter plates that will fit any Olympic barbell with 2″ sleeve, are built to last, stylish, and come with a 3-year warranty.
Bumper plates are a great way to introduce weight plates to your home gym setup safely and stealthily. They have a dead bounce, make less noise, and make fewer dents on your floor. After hours of scouring the internet in research, we found 5 of the best bumper plates for your home gym.
The best bumper plates for your home gym setup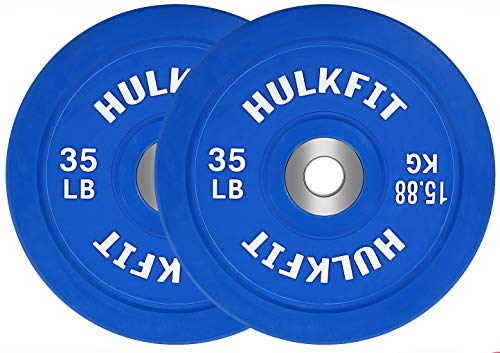 Our top pick, HulkFit color-coded Olympic bumper plates, are a great option for your home gym. They are well built, featuring a high-density rubber material with a solid stainless steel insert that can withstand repeated drops.
The Bumper plates are IWF standard with an inner ring diameter of 2″ and an outer diameter of 17.72″. They are color-coded for easy identification and weight is labeled in both pounds and kilograms.
They are slightly thick and cost a little more, but they are firmly within the "great value" segment as long as going for the best is your forte.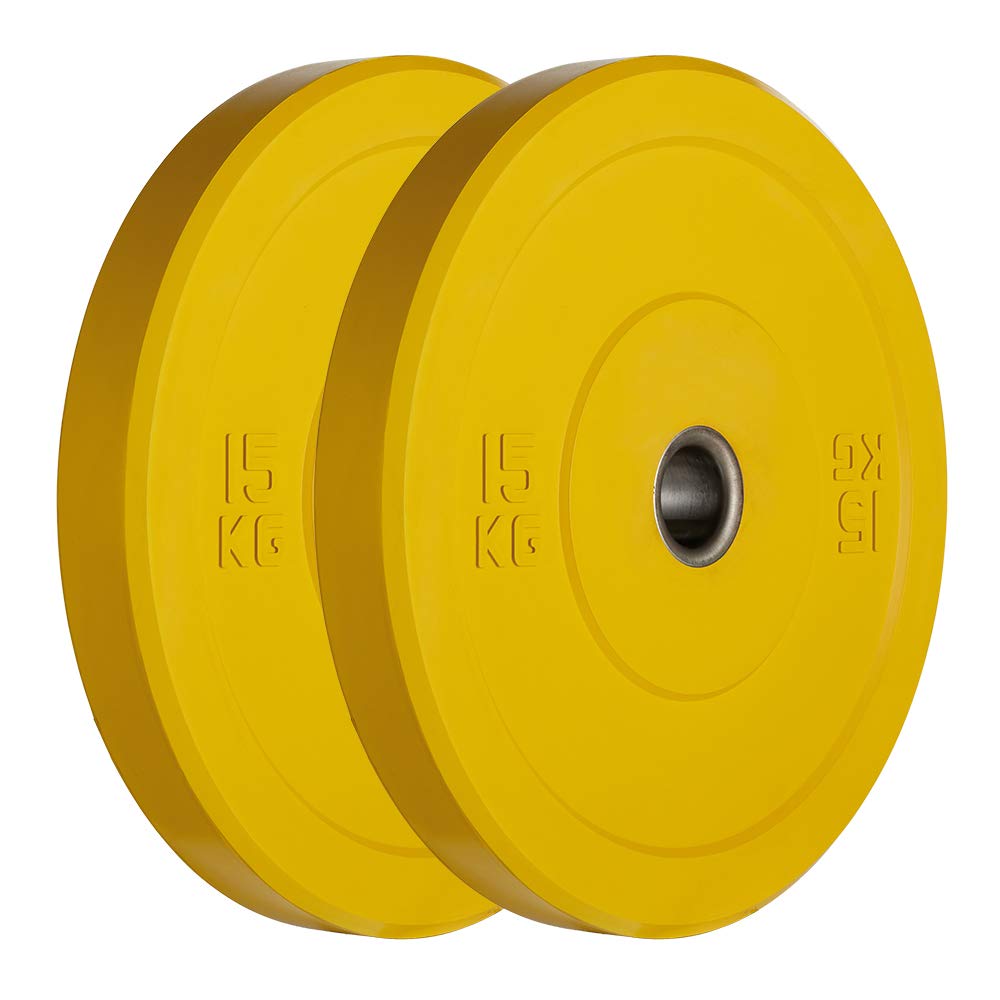 These Bumper plates from AMGYM are perfect if you're looking to own your first set of bumper plates. They are made from 100% High-Density natural rubber that is durable and can withstand up to 15,000 repeated drops.
They are color-coded and come in sizes ranging from 5kg to 25kg. We liked them best because they have an overall slimmer design than most other bumper plates which means that your barbell will have no issue fitting more of these weight plates.
The price is also another strong point. They're not dirt cheap but they are excellent value, especially because you get a pair of well-built IWF standard bumper plates and not just one piece.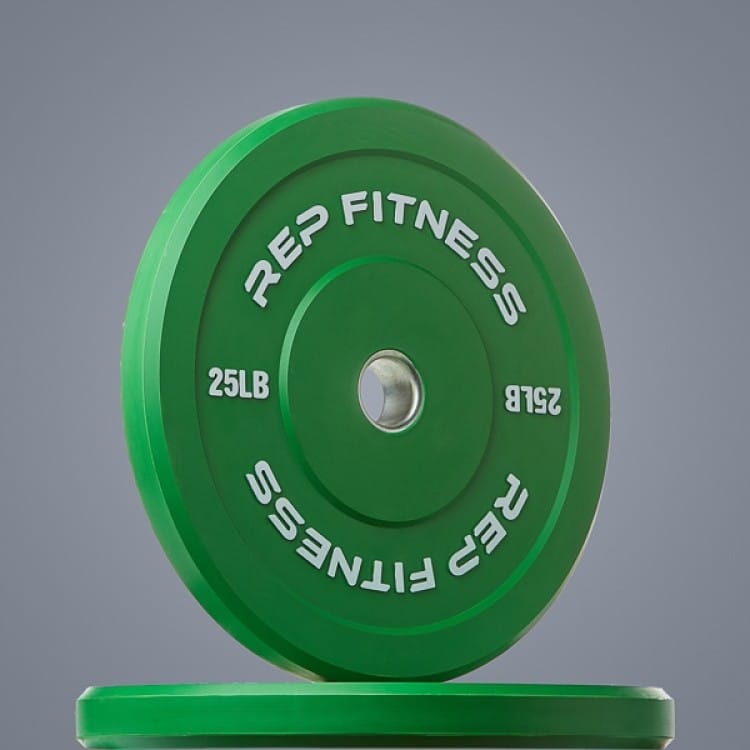 Rep fitness makes some relly good gym gear and these color-coded bumper plates are no exception. They are made from strengthened rubber outer and have a steel insert to increase durability. Their 10 lb plates are extra thick and will not break apart if you're using them alone.
All our criteria including low bounce, thin profile, IWF standard measurements, and solid build all feature here at a price that should wet your gizmo appetite.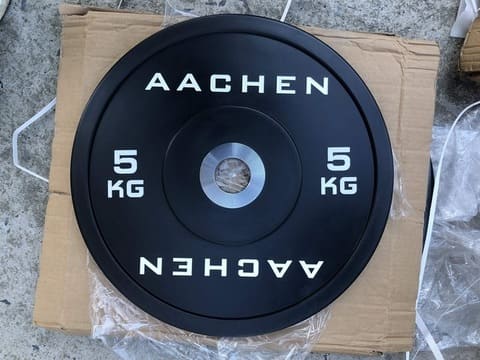 Aachen bumper plates are made different. While they adhere to other regular props of a good bumper plate, they are made from a strengthened Polyurethane outer and steel insert.
This choice of material makes Aachen claim superior durability of 60,000+ drops from above shoulder height (8ft). We couldn't verify this claim, but these bumper plates look and feel really solid.
In addition, they are affordable and should be in your shopping bag if you want to try something different or if our top picks are not available.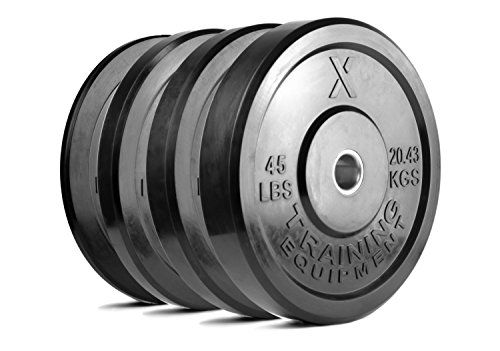 X Training Equipment Black Bumper Plates are a premium choice of bumper plates. They are made from 100% solid rubber and fit standard 2-inch Olympic barbells, including hex trap bars. They have steel inserts for more durability.
They have a small bounce and a thicker profile than most of our other picks, but you can still fit enough weight on Olympic barbells.
They also come in multiple colors and are a bargain choice when available on Amazon.
How we picked the best bumper plates for home gym setups.
Most bumper plates are standard IWF diameter (17.72 inches) with a 2-inch insert and we obviously didn't consider any bumper plates outside this standard.
Next, we also took note of the overall construction of the bumper plates with additional points for durability. All the bumper plates on our list have steel inserts that make them stronger and allow easy sliding movement in/out of barbells.
Finally, we considered the manufacturer warranty and user reviews.
Noise
Unlike the hunky steel/iron weight plates, bumper plates are made of rubberized materials that make far less noise when using them. You can safely drop your barbells when doing Olympic Lifts without startling the neighbors.
Floor Dents/damages
Another advantage is that you will also get fewer dents and scratches on your floor even if you don't have protective flooring in your home gym.
Bumper plates won't last forever
The downside to getting bumper plates over steel/iron plates is the durability. Those Iron/steel plates seem like they'd last a few lifetimes! That doesn't mean bumper plates don't last; they just don't last as long as the steel/iron plates.
If you're setting up a home gym and weight plates are a must for you, you're better off going with bumper plates. They make less noise, cause less dent/damages to your floor, are easier to maintain, and add good looks to your home gym.
Last update on 2021-07-25. Affiliate links and images from Amazon product advertising API