Living in a small apartment and having a home gym don't always go hand in hand.
But with the COVID-19 lockdown, we've learned that there is actually a need to make the best of your small spaces, especially when it comes to staying fit and healthy. Adding one of the best compact home gym systems, a compact treadmill, some free weights, and/or a cable machine is a great way to work out without leaving your house.
---
Our top pick after the latest update:
Marcy MWM-4965 Home gym station
Our top pick for the best compact home gym system is feature-packed, easy to assemble, solidly built, has a comparatively small footprint, and is very affordable.
These are the best compact home gym stations you can buy in 2020
---
---
---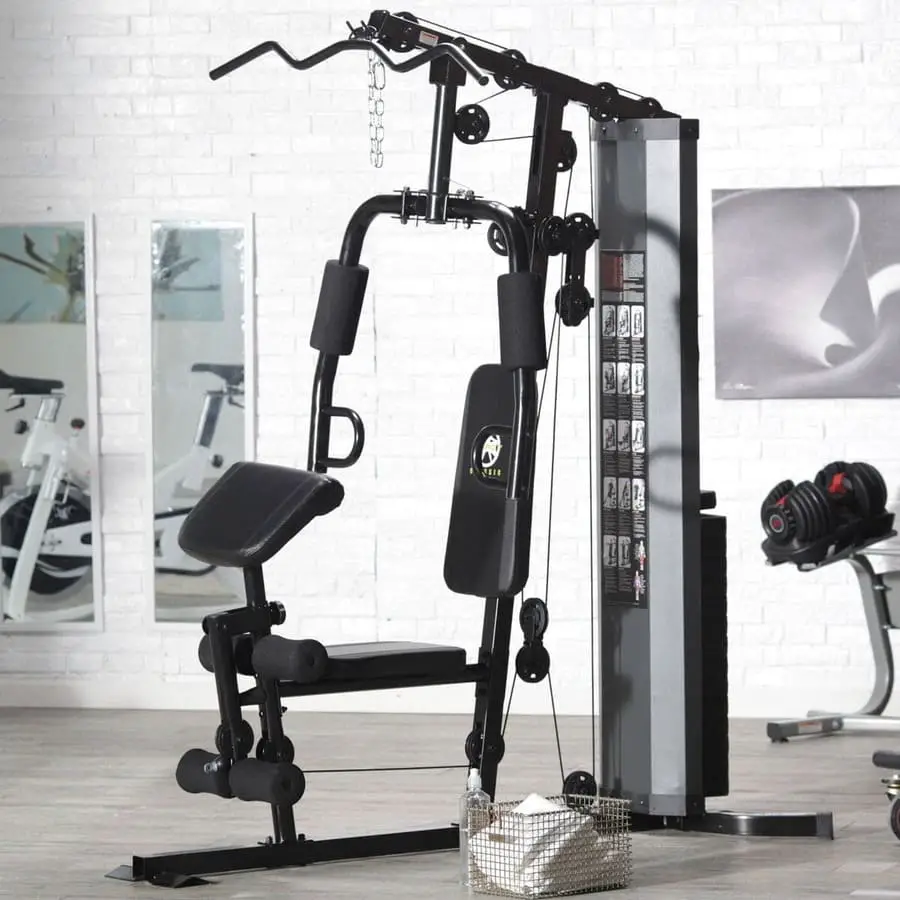 ---
Pros
Easy to assemble
Solid build quality
60+ exercises targeting all parts of the body
Upper, Mid, and Lower pulley systems
Compact size
Great price-to-performance ratio
Has rubber feet to protect your floor
Cons
The chair is not adjustable and may be an issue if you're over 6'4 tall.
Buying a home gym system means that you've made peace with seeing the machine sitting in your apartment like a sulking hulk, so you might as well get the best.
This Marcy MWM-989 compact home gym station is so good that we can totally recommend it twice.
When fully assembled (which can be done by one person within 4 hours) it has a footprint of 68″l x 36″w x 79″h and sits pretty in a small corner of your apartment.
The machine is solidly built, very stable, and does not creak at all after loading the weights. It takes up to 150lbs of weight stack secured by a large pin.
What you're also getting is an impressive 60+ exercises including leg development and chest press. It also has a rare middle pulley position where most home gyms of similar size and price just have top and bottom pulleys.
It falls into that rare category of products that get the pricing spot on – like it's not too expensive and it's also not too cheap.
It's suitable for users of any size and experience.
---
If our Recommend Top Pick is Unavailable, or you're looking for something more robust, try these next two picks.
---
---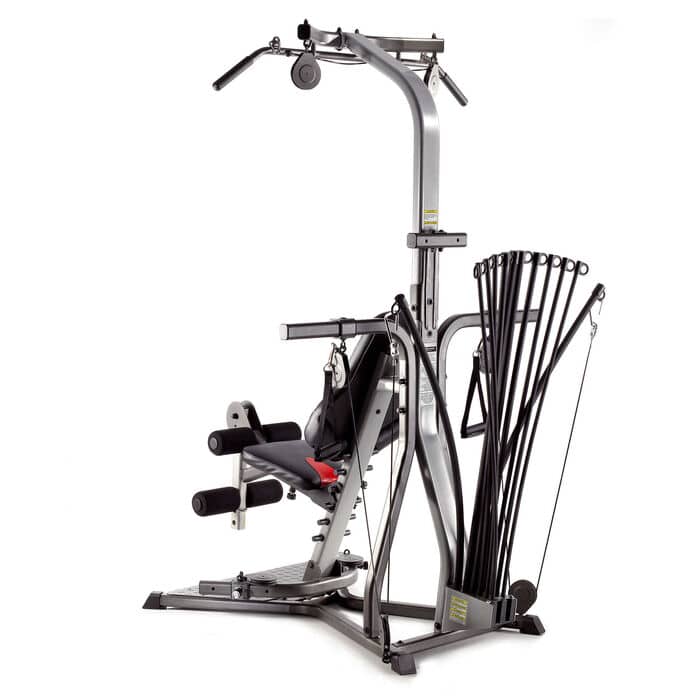 ---
Pros
Easy to assemble
Can load Up to 410 lb resistance rods
Solid build quality
60+ exercises targeting all parts of the body
Compact size
Has rubber feet to protect your floor
Affordable price
Cons
Only 210 lb of resistance rods come with the machine.
There are quite frankly no home gym systems like the Bowflex home gym series. You'll be positively surprised at both the innovation and function packed into their machines.
The Bowflex Xceed is our pick of the bunch for arriving at a great price and having everything needed to be a great home gym station.
It is relatively easy to assemble and covers an area of 53 x 49 x 82 inches (Length x Width x Height) which is smaller than our top pick after assembly.
You can perform over 60 exercises on the Bowflex Xceed and work all parts of your body efficiently.
The Bowflex power rod system somehow makes it possible to have up to 410 lb flexible resistance rods on this model. You also get even resistance all through the full exercise motion, unlike weight stacks that have the highest resistance at the start of your exercise motion and less once you've got the weights moving.
Finally, it comes at a price that sits right with lots of consumers, thus offering solid value for the money.
---
---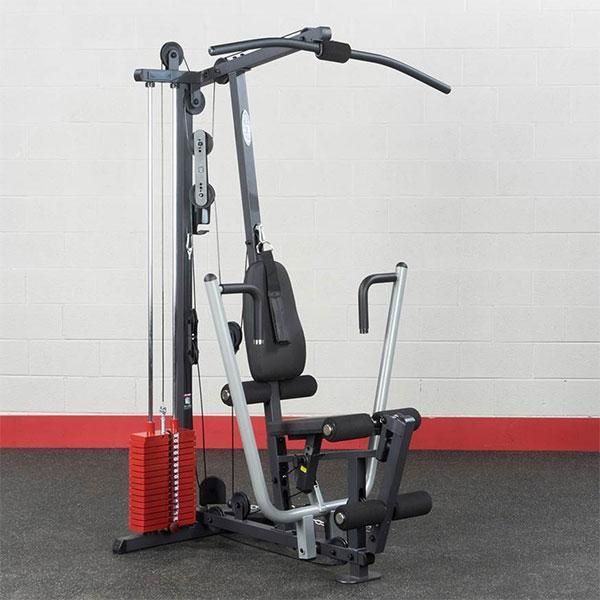 ---
Pros
Pro-grade build quality
Easy to maintain
40+ exercises targeting all parts of the body
Very small footprint
Lifetime warranty
Cons
A bit pricier (even though it fully justifies the price)
Not so easy to assemble
The Body-Solid G1S Selectorized home gym is the closest commercial-like gym station you can comfortably fit in your apartment. It is built to be more lightweight and solid than the older G1 from Body-Solid although it still shares the same skeleton.
Assembly is not as easy as the Bowflex or the Marcy, but it can still be done by one person. It covers a small footprint of 49 x 36 x 83 (L x W x H) and weighs just 150 lbs. It comes with a 160 lb weight stack and lets you do more than 40 different exercises.
Available for you are a high, mid, and low pulleys station, a chest press bar, and a leg extension station. Out of the box, it Includes an extra lat bar, straight bar, ankle strap, ab/triceps strap, Total Body Workout DVD, and a convenient water bottle and towel holder.
You also get a lifetime warranty as long as it sits in your home. A great deal for anyone looking for a commercial gym experience at home.
---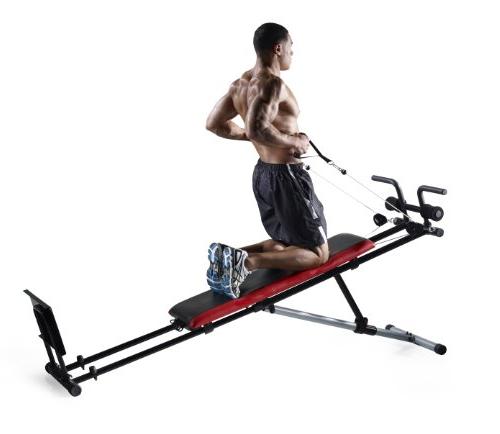 ---
Pros
Compact Champion
Solid build quality
50 exercises targeting all parts of the body
Budget Champion
Cons
You will get fit and well-toned muscles but you will not bulk up using this machine
You have to get used to it
Home gym setups are clunky and sit in a corner of your house all the time right? Wrong. The Weider Ultimate Body Works is an entirely different entity. It's simply not what you're used to.
It is so compact that you can easily fold it up and place it under your bed or in your closet after use, but it is no slouch.
It offers up to 50 body-sculpting and fitness exercises within the exercise booklet. The key thing to note is that it makes use of your body weight as resistance in a brilliant manner and also adds up to 50 pounds of resistance to your body weight for more challenges.
What's more, is that you can regularly get it below $150!
---
5. TRX ALL-IN-ONE Suspension Training
---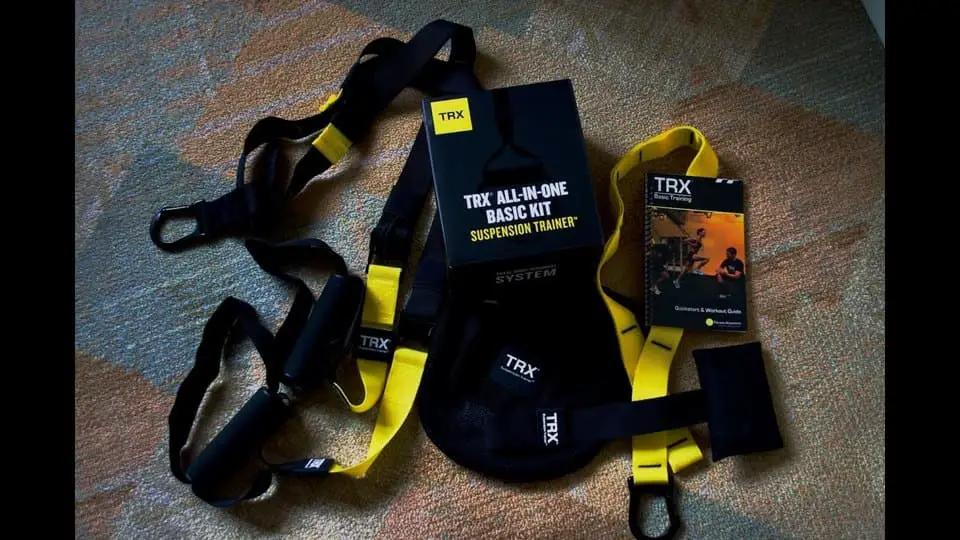 ---
Pros
You can have your entire gym in a box
300+ exercises on offer
Easy to set up anywhere and use.
Included exercise videos on TRX app
Great price
Cons
Can be a bit 'fussy' to use.
If you've ever used suspension bands in the past, you'd know how surprisingly effective they are. Although they won't build your muscles, you'll maintain great fitness and health condition using them. The TRX system is the best and most complete suspension training system you can buy.
Whether you're a beginner or a seasoned pro, the TRX system will make you sweat. It comes packed with over 300 exercises you can do in all sorts of places. You can get your squats, bicep curls, shoulder presses, upright rows, rear delt flyes, triceps extensions, and a lot of other exercises done.
It scores extra points for being very cheap and easy to use.
---
How we chose the best compact home gym for small apartments.
---
We reviewed 12 different compact home gyms to recommend our top picks.
Our review process focused firstly on a home gym that would not occupy more than the space of a large reading table.
We also considered factors that included the range and quality of exercises you can get from a single machine, how easily one or two persons can assemble the home gym station, the overall build quality of the machine, and of course, the price.
Last update on 2023-09-30. Affiliate links and images from Amazon product advertising API