Recumbent bikes are an excellent way to achieve self-paced exercises in the comfort of your home. However, getting the right bike is a daunting task for short people because more often than not, their feet may struggle to reach the pedals or they may sit in an awkward way that can cause injuries.
I wrote this buying guide to help you choose the best recumbent bike for short legs. And after an extensive search, viewing, and testing several bikes, I believe that I have curated the top six recumbent bikes for short people and people with short legs (Aren't they the same? I don't know). How do I know what's best? Well, the selection criteria for these recumbent bikes were comprehensive, and this review summarizes those criteria and outlines the pros and cons of each recumbent exercise bike.
Our top pick after the latest update:
6 of the best recumbent bikes for short people.
Pros
Maximum weight capacity of 350 lbs
16 levels of magnetic resistance
Sturdy steel frame
Compact design with great adjustable seats
12 preinstalled routines.
Seven-year parts warranty.
Cons
The bike supports users only below 6'4
The display needs more user-friendliness
The 3G Cardio Elite RB Exercise Bike comes with numerous incredible features, such as its well-padded and wide adjustable seats that provide maximum comfort. The distance between the well-strapped pedals is accurate for short legs. We had a swell time riding on this beauty as it is equipped with heart rate sensors and straps to help monitor cardiovascular indices.
Furthermore, this bike has an LCD and remote control to view all large screen parameters. In terms of performance, this impressive machine has 16 levels of magnetic resistance to suit a newbie and expert's needs.
Lastly, this bike comes with a well-detailed manual for assembly and 12 pre-programmed workouts. We found it easy to move as well despite its maximum weight capacity of 350lbs.
Pros
29 workout routines
Bluetooth enabled
25 levels of magnetic resistance
USB charging port
Acoustic speakers and cooling fan
Heart rate monitors
Cons
It lacks a chest strap
The display is not high definition.
The R616 recumbent bike from the Nautilus series offers fitness enthusiasts incredible features at an affordable price. In terms of convenience, this bike has well-padded seats with sliding backrest rails. It also has well-designed flywheels. It has a rack with a bottle holder if you wish to keep your favorite drink close. The bike is Bluetooth enabled and comes with acoustic speakers if you want to ride while listening to your favorite music.
The bike also has a USB port to connect your device and access the trainer app. This app can give you a fair progress assessment. In the same regard, the bike also comes with an LCD to display workout metrics. On the performance scale, the Nautilus R616 is not behind. It features an impressive 29 levels of magnetic resistance to help you adjust your intensity accordingly.
Pros
A maximum weight capacity of 242 lbs
Sturdy frames and transport wheels
Eight levels of quiet resistance system
Weighed pedals
Pulse sensors 
Exercise meter for workout metrics
Cons
The display lacks a LED backlight
It has no bottle holder
If you want an affordable yet efficient bike to help you fulfill your fitness goal at the comfort of your home, the SF-RB4905 is a helpful recommendation. It features extra soft seats with sturdy support frames to help you withstand prolonged exercises. The handlebars are well padded and come with accessible pulse grips to help you monitor your vitals. It has well-textured pedals that accommodate short legs. The bike also comes with a digital monitor that displays workout metrics to keep you focused on your fitness goal.
In terms of performance, the SF-RB4905 has eight magnetic resistance levels that help you determine the difficulty level you desire. It's smooth and quiet during use and features a tablet holder. With your device, you can log in to the manufactures site and get useful workout tips and routines seamlessly. Overall, we found this bike portable despite its maximum weight capacity of 242lbs.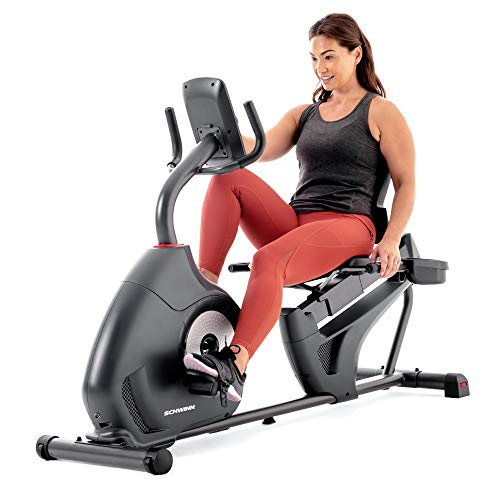 Pros
20 magnetic resistance levels
It supports two user profiles.
USB charging port and Bluetooth connectivity
Mp3 player
Cooling fan
Weighted pedals
Cons
Poorly cushioned seats
Loose seats
Short warranty
The Schwinn Fitness 230 Recumbent Bike stands apart with its enhanced entertainment and comfortable features. It is Bluetooth enabled, which allows users track their progress through special tools. If you have an explore the world subscription, you can have access to more than forty rinding routes all over the world. The seats have a contoured shape and a vented backrest. The pedals are also weighted and strapped to enhance safety. The manufacturers ensured that users get a smooth riding experience with the well designed high-speed flywheels.
This bike has 16 magnetic resistance levels for intensity adjustment and a streamlined console to monitor workout progress. If you're a heavy-duty user, you won't find a problem putting full weight on this bike as it can support up to 300lbs.
Pros
Weight capacity of 300 lbs
16 levels of computer-controlled resistance
12 preinstalled routines
Pulse sensors
LCD which displays workout metrics
Transport wheels and handles
Cons
It lacks a USB port
It has no Internet option
The SF-RB4850, designed for high-intensity workouts, features ergonomic pedals and straps to enhance user safety. The adjustable seats are wide enough to support short legs and come with a back frame for maximum comfort. This machine has an impressive weight capacity of 300 lbs, yet easy to handle.
This bike features 16 adjustable magnetic tension levels to help you tailor your routines to a specific goal. It has a console that displays necessary workout parameters such as pulse, calories burned, and speed. You can also measure your progress efficiently with its inbuilt BMI calculator. It also comes with twelve preinstalled routines and modes to help you get easy navigation in your fitness journey. If you have a favorite video or music for your workouts, there's a tablet holder on the deck for you. Lastly, we couldn't help but notice that this bike is easy to transport as a unit due to its inbuilt wheels and well-designed handles.
Pros
Non-slip pedals
Eight levels of quiet magnetic resistance
Maximum weight capacity of 242lbs
Arm resistance bands
Exercise meter
Cons
The display lacks a backlight
The bike has no bottle holder
The MaxKare Recumbent Exercise Bike is a very versatile machine. It's a recommended fit for the elderly and people who want low-mid intensity rides. To further demonstrate its versatility, it also has an arm resistance band that can perform various kinds of a straight, cross, and reversed pull. The bike allows easy customization of difficulty levels with its super quiet eight levels of magnetic resistance. It comes with a maximum weight capacity of 242lbs, enough to give support for different users.
We found the seat and backrest well-padded, thick, and very comfortable. It has easy to grab handlebars with well-fitted pulse sensors to check your performance at regular intervals. The MaxKare Recumbent Exercise Bike also comes with an LCD monitor to display user workout metrics.
How to choose the best recumbent bike for short people
Here are some essential factors to consider when shopping for the best recumbent bike for short legs.
1. Adjustable Seat
Adjustable seats are one of the most crucial factors you must consider when buying recumbent bikes. Ensure the seats are flexible to make your legs reach the pedals and lean back to check comfort and safety. Check the labels on the bike and opt for those made for short legs. Consider the handlebars also as your hands might not reach them comfortably if they're too far. Most manufacturers consider the wingspan of short people, especially in special bikes, but be sure that you can comfortably hop on and off the bike.
2. Durability
We recommend that you buy a bike that would give you its value for money. In the long run, the machine is likely to suffer from wear and tear complications due to continuous use. However, if the materials used to make the bike are durable, you're most likely going to experience fewer troubles. Try out the bike before purchase and ensure that it fits your fitness needs and intensity. Besides, a bike with a sturdy base, well-padded seats, and a metallic frame tend to last longer.
3. Maximum weight
The weight of the bike matters if you're going to lift it yourself. But no worries, most of them come with lift handlebars and transport wheels for easy movement. Some are even foldable to ease storage. The bike's maximum weight capacity is also vital since your body weight and workout needs must match.
4. Display
The role of an excellent display in a recumbent bike is crucial. Get yourself a bike that can track your speed, duration, distance, amount of calories burned, and heart rate. If you go for a bike with impressive cycling meters, that's a plus. Your workout metrics are a useful way of estimating progress and overall fitness level. What is the essence of a goal if it is not tracked adequately? Besides, some bikes have screens that show global riding routes and preinstalled workout programs. These are features that'll enhance your riding experience.
5. Resistance Levels
The bikes with the highest resistance levels are usually the best. With these kinds of bikes, you can adjust your difficulty level and progress rapidly. When you ride on a particular level for a while, you will have to go higher to maintain consistent progress. In essence, look out for the resistance level before purchase.
Bottom line
Choosing the best recumbent exercise bike for short legs is not a lot of hassle if you can identify your budget. Our picks cut across different budgets ranging from dirt cheap to premium.
If you want the very best recumbent bike that you can buy and you have no troubles spending top dollars for it, the 3G Cardio Elite RB Exercise Bike is our top pick. It stands head and shoulders above most other recumbent bikes in build quality, durability, and ease of use. If our top pick is not available, consider the Nautilus R616 Recumbent Bike which regularly retails for under $1,000.
On the other hand, if you're on a tight budget and want a recumbent bike that is great for short people, consider our sub $300 budget pick, Sunny Health & Fitness Magnetic Recumbent Exercise Bike SF-RB4905.
Last update on 2023-09-30. Affiliate links and images from Amazon product advertising API