Our top pick after the latest update:
On Sale
Garmin Vivoactive 4
Our top pick for the best fitness tracker for cycling and mountain biking is fitted with a ton of trackers and sensors that deliver accurate data.
As one of the premium Garmin fitness trackers, it supports onboard music storage and playback, streaming from music services, Garmin pay, and a long-lasting battery in a beautiful and durable construction.
---
A few Hardcore cyclists I've met prefer are still old-fashioned and prefer having their GPS tracker and other trackers/displays mounted on their Bikes. However, I think that times have changed, and they will have to upgrade to personal trackers soon. I'll make sure of it. (Evil laugh).
You are here, which means that you're probably looking for the best fitness trackers for cycling & mountain biking (because good is not enough) to replace your older solutions.
---
The 6 Best Fitness Trackers For Cycling and Mountain Biking
---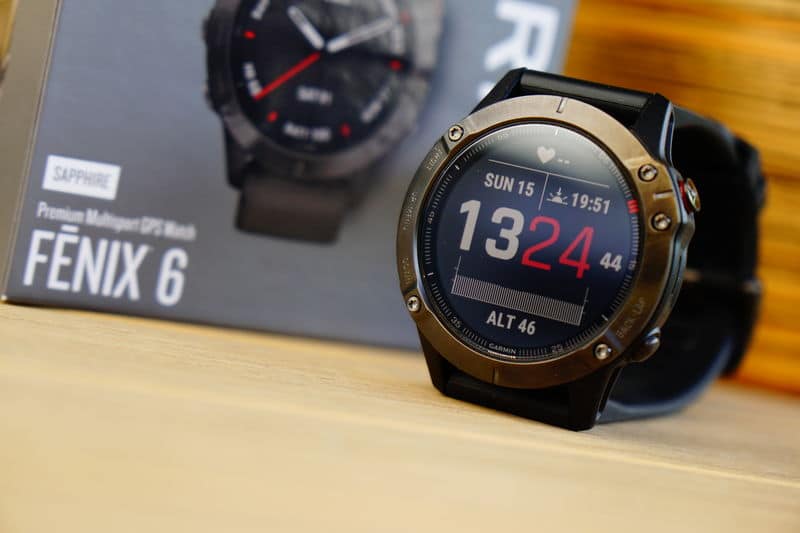 ---
The Garmin Fenix 6 is one of Garmin's premium fitness trackers packed with only the best Garmin technology. In terms of fitness tracking, it is the 'Gold Standard' and other trackers are really measured against it.
It is fitted with GPS, GLONASS, Galileo sensors for precise location, route, and map tracking. The battery lasts up to 36 hours in GPS tracking mode, and you can expect up to 17 days of battery life with normal usage.
It can track almost any activity you can think of, including CrossFit and weightlifting metrics, and has a special cycling profile that tracks your distance and laps, set courses, and lap maximum power.
As for the design, it comes in white, silver, black, titanium, and a host of custom straps – leather, silicone, or aluminum.
You can also opt for the more expensive Pro version (Garmin Fenix 6 Pro) which adds 32GB onboard storage for up to 2000 songs.
---
---
Apple Watch Series 5 is a deluxe Smartwatch and a great fitness tracker. It is beautiful and unique with Apple signature craftsmanship visible throughout. It's Apple's best watch yet.
It's equipped with Built-in GPS, GLONASS, Galileo, and QZSS. Additional sensors include an altimeter, Optical heart sensor, Electrical heart sensor, an accelerometer, and is water resistant up to 50 ATM
It doesn't really seem as durable as our other options, and I'll be a bit more careful with my apple watch, and it has the weakest battery among our picks with less than 24 hours with regular use.
Deep iOS integrations mean you get Apple Pay, music, store, Siri integrations, and hundreds of watch faces. If you're heavily invested in the Apple Ecosystem, this can be the best fitness tracker for cycling for you.
---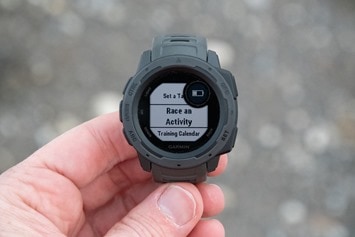 ---
The Garmin Instinct is a rugged, good-looking fitness tracker packed with all sorts of sensors and tracking capabilities.
It is fitted with GPS, GLONASS, Galileo sensors; an Accelerometer, Altimeter, and a thermometer that all work accurately. The chassis is made of highly durable material with Military 810 certification, and the battery lasts up to 14 days on regular use or 36 hours continuous GPS tracking, making it one of the smartwatches with the longest battery life.
The display is a non-touch, monochrome (black and white) display that is made from reinforced glass material. It is very visible outdoors, and the tactical edition adds more extras.
---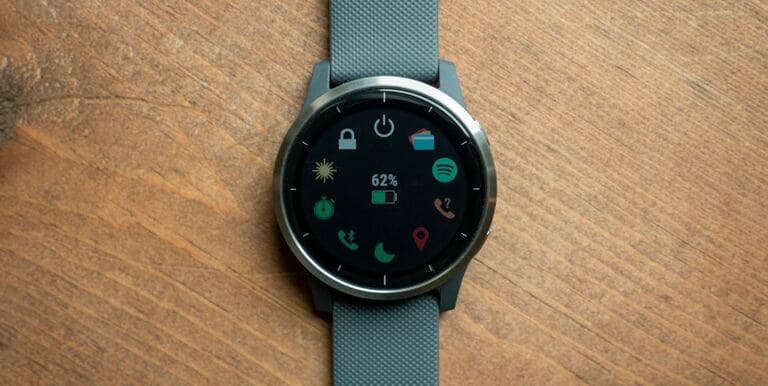 ---
The Garmin Vivoactive 4 is one of Garmin's flagship fitness smartwatch with an insane number of trackers to capture more data than most other fitness trackers.
It comes fitted with a built-in GPS, GLONASS, Galileo, Accelerometer, Altimeter, Compass, Gyroscope, Pulse Oximeter, and a thermometer. The battery lasts for up to 6 hours in GPS mode which is more than enough time for your cycling session. With regular use, you'll be getting 7 days + of battery time.
As a smartwatch, it doesn't slouch either. You can add your music to the device and leave out your phone entirely. It also supports Garmin Pay, sleep tracking, smart notifications, text response, and more.
---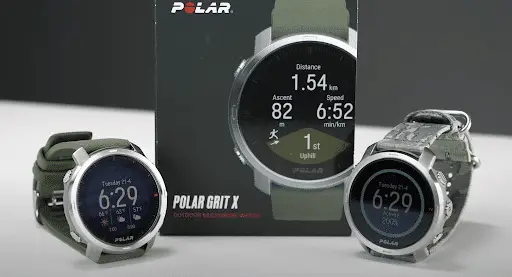 ---
Grit X is a feature-packed fitness tracker from Polar. It sports GPS & GLONASS, a compass, and an Altimeter.
The construction is durable with U.S Military standard 810G passed for extreme temperatures, drop, humidity, and water resistance (up to 100 meters). Battery life is on par with our other picks, with about 30hours on continuous GPS mode and Up to 7 days of normal use.
It has multiple sports modes and deep integration with Polar flow (Polar's fitness app) which keeps all your training, activity, and sleep data, as well as sync with other apps such as Strava or TrainingPeaks.
---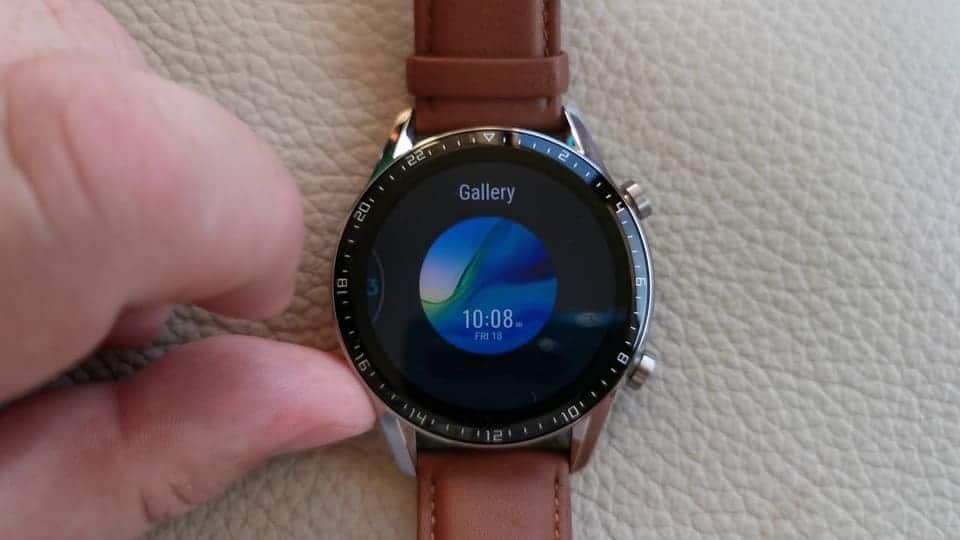 ---
Huawei is setting a new standard for Smartwatches and fitness trackers and the GT 2 is a part of this new standard.
There is the 42mm and 46mm dial and the latter is the model we reviewed and added to our list. It comes with built-in GPS & GLONASS, accelerometer, altimeter, compass, barometer, a microphone, speaker, 4GB built-in storage for music, Bluetooth 5.1 to connect to your music.
The watch is water-resistant up to 50 meters (5 ATM) and has dedicated swim features, making it a great smartwatch for swimming. For cycling and mountain biking, it has a dedicated profile that is well robust and gives voice prompts for laps, distance, and route mapping.
It is very accurate, snappy, and has a battery that lasts up to 14 days of regular use and 30 hours continuous GPS use. It is a true standout performer and one of the best fitness trackers for cycling for those on a tight budget.
---
Comparison Table
Garmin Vivoactive 4
Apple Watch Series 5
Garmin Fenix 6
Polar Grit X
Garmin Instinct
Huawei Watch GT2
Built-in GPS
Yes
Yes
Yes
Yes
Yes
Yes
GLONASS
Yes
Yes
Yes
Yes
Yes
Yes
Galileo
Yes
Yes
Yes
—
Yes
—
Battery Life
8 days;
10 hours GPS mode
18 hours Regular use
14 days; 36hrs GPS mode
7 days; 30 hours GPS mode
14 days; 16 hours GPS mode
14 days; 30 hours GPS mode
Durability
8/10
7/10
8/10
10/10
10/10
7/10
Display
Touch, Colored
Touch, Colored
Non-touch,
Colored
Non-touch,
Colored
Non-touch, Black and white
Touch, colored
Cycling Training Mode
Yes
Yes
Yes
Yes
Yes
Yes
Music
Yes
Yes
Yes (Pro Version)
—
—
Yes
Water Resistance
10ATM
5 ATM
10 ATM
10 ATM
10 ATM
5 ATM
Compatibility
iPhone / Android
iPhone
iPhone / Android
iPhone / Andriod
iPhone / Android
iPhone / Android
Replaceable Straps
Yes
Yes
Yes
Yes
Yes
Yes
Garmin Vivoactive 4
Apple Watch Series 5
Garmin Fenix 6
Polar Grit X
Garmin Instinct
Huawei Watch GT 2
---
How We Selected Our Top Picks
We reviewed a total of 15 trackers and narrowed our list to the 6 best fitness trackers for cycling. Our original list featured trackers from Garmin, Mobvoi, Huawei, Polar, Fossil, Suunto, and Fitbit.
We looked at GPS time and accuracy, Battery life, Dedicated Cycling Training Profile, and Durability as the most essential features for cyclists. Then we considered other features like design, ease of use (software), health features, and smartwatch features.
Finally, we compared these feature sets to their prices and selected those that offered excellent value for their price.
---
About GPS
All GPS are not equal. There is GPS, GLONASS, Galileo, Beidou, QZSSS, and NavIC. GPS or Global Positioning System is a satellite-based radio navigation system owned by the United States government. It is one of the global navigation satellite systems (GNSS) that provides geolocation and time information to a GPS receiver anywhere on or near the Earth where there is an unobstructed line of sight to four or more GPS satellites. Obstacles such as mountains and buildings block the relatively weak GPS signals." Source
GLONASS is the Russian equivalent of GPS while Galileo is the European Union satellite system that operates in the same fashion as GPS and GLONASS. QZSSS is operated by the Japanese, and Beidou by the Chinese.
The takeaway here is that the more GNSS receivers that your tracker is equipped with, the more accurate and precise the results will be.
Last update on 2021-09-20. Affiliate links and images from Amazon product advertising API