The importance of light exercises for seniors can not be overstated. It is a great way to keep feeling young and healthy. But, exercises don't always have to be strenuous, as recent research suggests that 30 minutes of light exercise every day is enough to keep you going. This is where a recumbent bike comes in.
Because of their design and how easy to use they can be, a recumbent bike might be the perfect solution for seniors to get their daily dose of exercise at home.
Also, a recumbent bike is one of the best gifts for the older people in your life because it ultimately eliminates the risk of falling down, or getting other exercise-related injuries.
Here are 5 of the best recumbent bikes for seniors that you might be interested in.
Comparison Table
Schwinn 230 Recumbent Bike Series
Exerpeutic 900XL Recumbent Exercise Bike
3G Cardio Elite Recumbent RB Exercise Bike
Sunny Health & Fitness Recumbent Bike SF-RB4631
Nautilus R616 Recumbent Bike





Schwinn 230 Recumbent Bike Series

Exerpeutic 900XL Recumbent Exercise Bike

3G Cardio Elite Recumbent RB Exercise Bike

Sunny Health & Fitness Recumbent Bike SF-RB4631

Nautilus R616 Recumbent Bike

---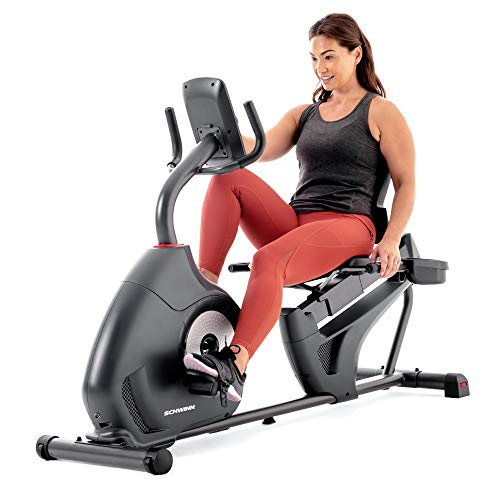 Schwinn 230 Recumbent bike is a great bike for those on a budget. It sits right in the middle of the Schwinn series and offers the best bang for your buck. It features a hard plastic, ventilated, and contoured seat with great support for your spine. The seat height can be easily adjusted via the sliding rails to allow you to sit in a comfortable position for your knees. Its 16 levels of magnetic resistance are more than enough for most people and it has the bonus of running quietly.
On the software side, it has a decent LED (not backlit) that displays your workout stats and Bluetooth connectivity. You also get 13 workout programs to choose from. There are no front-facing fans or speakers, so you may have to bring your own music.
Summary:
The Schwinn 230 recumbent back gets all the basics right while being safe for seniors. It lacks some comfort features, but you cannot really complain about those for the price you're paying.
Exerpeutic 900XL recumbent is a well-built and popular recumbent bike for seniors. It is fairly easy and straightforward enough to assemble that for the most part, it can be done by one person in a few hours. The seat is quite comfortable because of its solid low back support. However, the padding seems to be on the thin side.
During use, it runs very quietly, and the tension settings are easily adjustable. It packs a small display that shows the current distance, the time spent, your current heart rate, your mph, and how many calories you've burned for the workout. It also keeps a running count of your overall distance. It doesn't have any fancy programs or anything, it just comes on when you start pedaling – just get on and ride!
Summary:
Exerpeutic 900XL is one of the best recumbent bikes for seniors on a budget. It gets all the basic features right and doesn't skimp on safety and comfort. With the low price tag, the negatives are too minor to discourage anyone from buying it.
---
The 3G Cardio Elite RB Recumbent Bike is one of the best commercial-grade recumbent bikes that you can get for your home gym. It is built like a tank without being too heavy and sports a modern look too. The setup directions and format were easy enough to follow, even for one person. Although having a second hand would make the process faster and easier.
The seat is probably the most comfortable seat in the market on any recumbent bike at any price point. To begin with, it is very comfortable, but what makes it special is that you can adjust the angle of the mesh seat back – a feature not found on any of the low-priced recumbent bikes, and rarely on more expensive ones.
Summary:
The 3G Cardio Elite Recumbent bike is an excellent bike all-around. It runs quietly and smoothly and has enough resistance levels to get both beginners and pros sweating. Although it costs more than the other bikes on this list, it is still reasonably priced and the bump in quality, comfort, and features are enough to recommend it to anyone.
---
What is better than having a recumbent bike? A good recumbent bike with arm exercisers. This is what you'll be getting with the Sunny Health & Fitness Recumbent Bike SF-RB4631. For a start, it is well-built and easy to assemble and includes all the basic features that you would expect for a budget/midrange recumbent exercise bike.
This bike is relatively easy to assemble, very sturdy, has a comfortable seat that is easy to adjust. The hand exerciser and foot pedals are also adjustable; the operation is smooth, and the electronics are intuitive and easy to use.
Summary:
Sunny Health & Fitness Recumbent Bike SF-RB4631 nails all the basics and adds a gimmick arm pedal that can be tedious to use. Regardless, it is a very competent recumbent bike at a very wallet-friendly price.
---
Nautilus Recumbent bike series are a bit of an enigma. They divide opinions a lot, but I would stick my neck out for the R616 and the R618, the two models that I have tested.
The first thing you'll notice on a fully-assembled bike is that the seats are made of plastic and seem uncomfortable. You'll also be happy to know that the bike is easy to assemble, and very sturdy. It operates smoothly and silently that you can use it while watching TV, and there is no audible noise. There are 25 levels of resistance, from effortless to very difficult. The aforementioned seat, despite being plastic and cheap-looking, is comfortable and easily adjustable with a lever. It has a digital display that looks dim, but is enough to clearly see all your workout information.
Summary:
Overall, the Nautius R616/R618 is a solid recumbent bike that will last for years if properly assembled and used. The bike gives a smooth, quiet and plenty tough workout for seniors and pros alike.
---
Are recumbent bikes good for seniors?
The answer is yes. Recumbent bikes are good for just about anyone, including seniors. As long as you can handle the machine and are in reasonably good health, a recumbent bike will not be a problem at all. The best thing about recumbent bikes is that they give you a great workout without even feeling like you're working out. You can literally sit down and pedal your way to good health!
Can you lose weight on a recumbent bike?
Yes, you can lose weight on a recumbent bike. You will not lose weight as quickly as you would on a treadmill or elliptical, but you will burn calories and tone your muscles in the process. Many people find that the slight incline of a recumbent bike is easier on their joints and hips than flat ground. That means they're less likely to sustain injuries.
Is it ok for seniors to ride an exercise bike every day?
Riding an exercise bike every day is fine as long as you are comfortable with it. It's not good to overdo anything, but if your body feels like it can handle it, then there is no reason why you should put a limit on how often you use your recumbent bike. Studies have shown that there are benefits to exercising daily when compared to less frequent workouts.
How much weight can a recumbent bike hold?
Most recumbent bikes can support at least 225 pounds. Some of the higher-end models can support 300 pounds or more, meaning that your weight is less likely to be an issue for most of the recumbent bikes in the market.
Can a recumbent bike help with back pain?
A recumbent bike might be able to help with back pain down the line, especially if your issue is muscle-related. A recumbent bike can help with your back pain by toning your muscles and keeping you in shape. It will help you strengthen and stretch your muscles, making them less likely to hurt down the line. However, if you need immediate help with your sore back, consider short-term options like getting a back massage or using some pain medications.
Will a recumbent bike help with knee pain?
Recumbent bikes can be a fantastic way to recover from knee injuries, especially if the issue is one that has occurred recently. If you have just come back from surgery, then a recumbent bike is a great zero-impact workout machine that allows you to be active without putting any stress on your knees and hip.
How much does a recumbent bike cost?
A typical recumbent bike will range in price from $300 to $1,000. The more expensive models will be very similar to an actual bike, with the same features. However, if you are looking for the most affordable option, then the cheaper models will offer a simple design and fewer features.
What kind of benefits do recumbent bikes offer users?
Recumbent bikes can offer a number of benefits to users. Firstly, they can help you burn calories so that you lose weight. They can also help tone your muscles and strengthen them.
In addition, they are known to improve stamina and cardiovascular health. Many users say that using a recumbent bike is a great way to relax and let go of stress.
Some people have even said that using this machine has helped them get over bad backs, due to the fact that you sit in an upright position when riding it while remaining in a reclined position at the same time.
How do recumbent bikes vary from upright bikes?
Recumbent bikes and upright bikes are very different from each other. The first thing to note is the design. Recumbent bikes are enclosed machines that have you sitting down, while upright bikes have you standing up during your workout.
You will also notice that recumbent bikes don't have any handlebars. This makes them safer for seniors to use than upright bicycles, which can cause some problems for people with medical conditions.
The main differences between these two machines are the type of ride that they offer and the ease of use.
Last update on 2023-09-30. Affiliate links and images from Amazon product advertising API