Stationary Recumbent bikes in which the rider is sat in a reclined laid-back position have become popular along with spin and upright bikes. This particular ergonomic design is increasing in popularity largely because people can get the same calorie burn in a much more comfortable position.
If you're in the market for a recumbent exercise bike, we have scoured everywhere and reviewed lots of these bikes to pick out only the best ones in the market and narrow down your options to only the best recumbent bikes you can buy right now.
Our top pick after the latest update: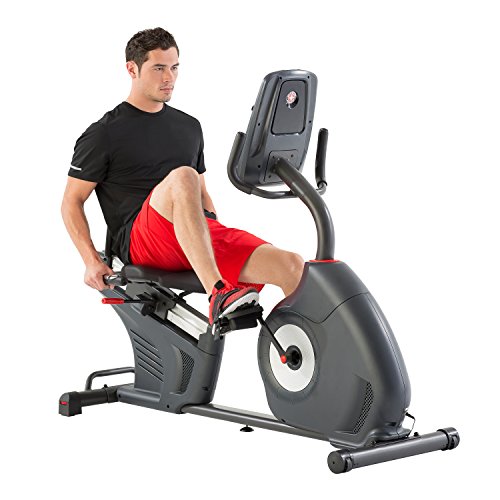 Schwinn 270 Recumbent Exercise Bike
Schwinn 270 Recumbent exercise bike ticks almost all our boxes to be our top pick for the best recumbent bikes in the market right now. It is well built, durable, and has enough extra features to outshine the competition within the same price range.
Top 7 best recumbent exercise bikes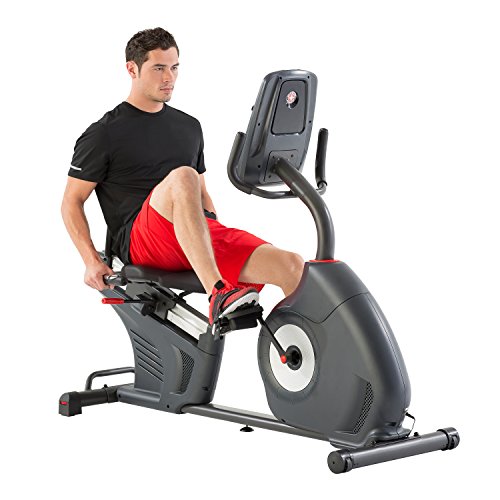 Pros
Easy to assemble, adjust, and transport
Multiple workout profiles
It comes with 29 preinstalled routines
25 magnetic resistance levels
Solid warranty
Sturdy and stable design
Progress tracker through Schwinn fitness account
Cons
No WiFi option
Inconsistent pulse sensors
Requires to be plugged in at all times.
Schwinn 270 Recumbent Bike tops our list of the best recumbent bikes you can buy at any price. It is easy to assemble, adjust, and transport, having two transport wheels in the front and a transport handle-bar.
The backrest of the seat is not padded, but it does not make it any less comfortable because it has an ergonomic curvature that supports your lower back. Also, it is adjustable to help you get the right height and angle.
You have full control of the bike through its console, which comes with up to 29 preinstalled workout routines and can host multiple exercise profiles.
It has up to 25 levels of magnetic resistance to provide whatever level of challenge that you want as you pedal your way to fitness. The build quality is excellent and it has a fairly solid warranty.
Schwinn 270 recumbent bike warranty info
10 years warranty on frame
2 years warranty on mechanical parts
1 year warranty on electronics
90 days warranty on labour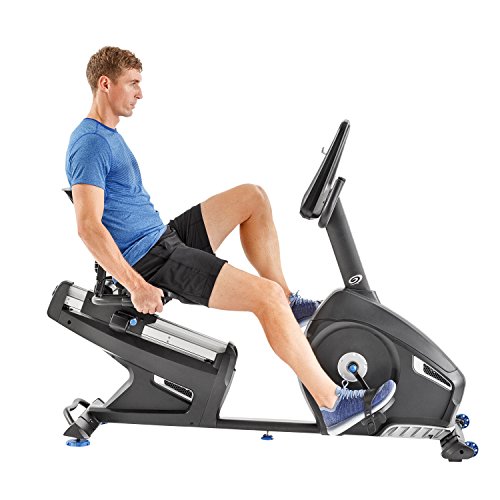 Pros
29 workout routines
25 resistance level
Ergonomic seats and wheels
Heart rate monitors
USB charging port
Cons
No chest strap
Lacks high definition display
The R616 recumbent bike from Nautilus is another well-built recumbent bike. It is built from a metallic chassis with several rubberized plastic parts and has a premium look and feel.
On the exercise part, it has 25 levels of magnetic resistance and a weighted flywheel which moves the pedal smoothly as you push yourself to the limit.
It has 29 preinstalled customizable workout programs, and the option to connect other fitness apps to the device via Bluetooth. To make a well rounded console, Nautilus R616 features two speakers, two LCD's, a tablet holder, and a bottle holder.
The backrest of the seat is not padded, but it is adjustable and so comfort is not an issue at all. The seat itself is wide and well-padded and is delightful to sit on for a long time.
Where the Nautilus R616 shines more is in assembly. This is one of the best recumbent bikes that ship in a semi-assembled manner and all you need to do is attach the pedals. Piece of cake.
Nautilus R616 recumbent bike warranty info
10 years warranty on Frame
3 years warranty on Mechanical parts
3 years warranty on Electronics
1-year warranty on Labor
Pros
Unique design
Adjustable backrest and well-padded seat
Quiet and smooth motor
Mobile handlebars
Cons
Very basic console
Not quite a "bike"
Teeter Freestep recumbent cross trainer is a lot of things without being anything in particular. On one hand, it has a very comfortable and well-padded recumbent seat with adjustable backrest and seat pad, and on the other hand, you have pedals that neither move in an elliptical nor cycling motion.
Instead, the pedals move in simple up and down directions without being overbearing. And adding to the up and down motion of the large pedals are two mobile handlebars that help you to get very decent upper body workouts.
Whoever came up with the hybrid design of the Teeter Freestep recumbent cross trainer machine deserves an award. This design is as versatile as it is useful. The result is that you can get a very low-impact and effective full-body workout regardless of your current fitness levels.
Although the display console could be better, it boldly and accurately displays all the important information and includes two hooks to attach a tablet or an iPad.
We highly recommend the Teeter Freestep cross trainer for people starting rehabilitation and for seniors who want to stay active.
Teeter Freestep recumbent cross trainer warranty info
1-year warranty on the entire machine.
Additional warranty available for purchase
Pros
Wide seat
Leg straps
12 customizable workout routines
16 resistance level
Great aesthetics
Ergonomic handles and wheels.
Cons
No chest strap
Lacks high definition display
Sunny Health & Fitness has a lot of quality recumbent bikes to their name but the SF-RB4850 stands out from the pack. It features a wide, adjustable seat, foot straps to help secure your feet, and a computer-controlled 16 levels of resistance used in 12 customizable workout routines – and retails for an unbelievably low price.
The overall build quality is good and the machine doesn't feel cheap at all, although the "boxy" design looks dated. It has front wheels and well-placed handles for easy movement and rubberized feet on the back of the machine for better stability.
Sunny Health & Fitness SF-RB4850 recumbent bike gets all the basics right. Right out of the box it is easy to assemble, once assembled, it is very comfortable to use, has enough power for most people (except elite athletes who want a recumbent bike with more powerful motors), and includes all the extras at a superb price point.
We do not like that the warranty is short and that the backrest has only one fixed position, but these are trade-offs you can expect for the cheap price.
3 years warranty on frame
180 days warranty on other parts and components.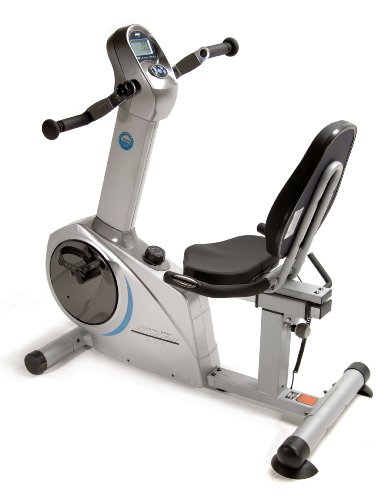 Pros
Minimal and compact design
Rotating handles are great
Easy to assemble
Quiet and stable
Powerful motor
Cons
No tablet or accessory holder
The backrest is not adjustable
Stamina makes great fitness gear and the Elite total body recumbent exercise bike is one of them. It is a no-frills, minimalist recumbent bike with all the bells and whistles removed in order to give you a focused recumbent exercise session.
This means that there are no extra features such as a tablet holder, bottle holder, speakers, or Bluetooth on this model.
If you can get past this, you have a very sturdy, compact, and beautiful recumbent exercise bike that includes an arm exerciser. The Stamina elite total body recumbent bike has 8 levels of magnetic resistance, a pulse rate monitor, and well-padded seats.
The pedals are slip resistant and have safety straps to secure your feet in place while you cycle.
We loved the minimalism, but we did not like that the backrest is not adjustable. This caveat aside, we recommend the Stamina elite recumbent bike for anyone looking for a great basic recumbent bike that works on both the upper and lower body.
Stamina elite total body recumbent bike warranty info
1-year warranty on parts
5 years warranty on frame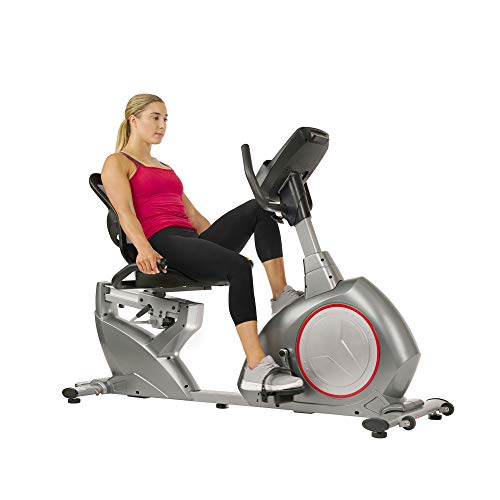 Pros
A lot of built-in extras (speakers, charger, tablet and bottle holders.
Heart rate monitor
24 levels of magnetic resistance
Excellent build quality
Wide, comfortable and well-padded seats
Cons
No power cord
Backrest is not adjustable
Sunny Health & Fitness keeps giving users reasons to trust in its ever dynamic products. This is part of what earned the SF-RB4880 a mention on our list of best recumbent bikes. This recumbent bike combines stability and convenience with its well-padded adjustable seats and pedal straps.
It features adjustable levers and 24 levels of magnetic resistance that puts you in control of your exercise. You do not need a power cord or battery to power this recumbent bike as your continuous effort, and cycling is all it needs to work.
More so, you have a meter display to monitor specific metrics and parameters necessary to keep you on your toes.
It is not lightweight or compact, so keep in mind that you might need a bit more space for the SF-RB4880 than other recumbent bikes on our list but this does not take away the superior, smooth, and whisper-free experience you get with this machine.
Sunny Health & Fitness SF-RB4880 recumbent bike warranty info
3 years warranty on frame and parts
180 days warranty on labor
Additional warranty available on purchase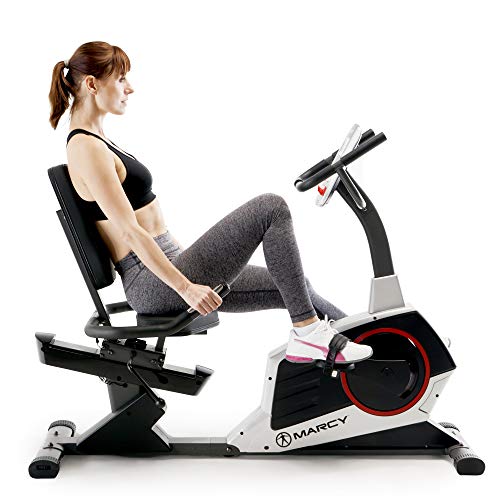 Pros
Easy to assemble and maintain
Maximum weight capacity of 300 lbs
Well padded and adjustable seats
Pulse sensors
24 levels of magnetic resistance
Cons
Backrest is not adjustable
No chest strap
We've loved Home gym equipment from Marcy, like the Marcy MWM-988 Multifunction Home gym that is our top pick this year for the best all-in-one home gyms and the Marcy ME-706 recumbent bike follows suit.
Marcy ME-706 recumbent exercise bike is a sturdy, compact, and well-built recumbent bike that handles anything you can throw at it with ease.
It is easy to assemble and has transport wheels that allow you to move the machine around easily.
On the fitness side, Marcy ME-706 has 24 levels of magnetic resistance and 23 programed workouts that you can customize to your fitness level. It also has a u-shaped handle, a well-padded adjustable seat, and levers to give you a comfortable experience throughout your workout session.
The console deck and display is well spec'd with a bold display and control buttons to keep track of your stats as you exercise.
Although it lacks a few extras like tablet and bottle holders, we are more than happy to recommend the Marcy ME-706 to most people who want a powerful recumbent bike that won't breakdown soon at a great price.
Marcy ME-706 recumbent bike warranty info
2 years warranty on frame
Additional warranty available on purchase
How to choose the best recumbent bike
A recumbent exercise bike should be firstly about comfort and low-impact. Otherwise, you can buy a spin bike or upright bike and burn calories faster.
This is very ironic though as very few recumbent bikes on the market have fully adjustable seats (backrest and seat adjusting options), and many of these bikes just stick with an adjustable seat with a fixed backrest.
In fact, only the Teeter Freeform recumbent cross trainer has adjustable seatback/backrest among all out top picks.
Some other factors to consider when choosing a recumbent bike are as follows:
Type
There are various types and styles of recumbent bikes out there. The basic type usually comes with a simple frame and is easy to assemble, use, and transport. The hybrid and cross trainers, on the other hand, are recumbent bikes with an elliptical trainer. They allow high-intensity routines while still sitting comfortably. Make sure you're familiar with the type of gear and your workout needs before purchase.
Workout requirement
Workout routines are of varying types and intensity. Basic recumbent bikes are more suitable for low-intensity exercises and the elderly. The hybrid and cross trainers are reserved for high sway cardio and heavy users. Be conversant with your body weight and the suggested weight capacity of the bike to ensure compatibility.
Space requirement
If you have very little space to spare for a recumbent bike, consider the compact recumbent bikes like the Stamina elite recumbent bike and the Marcy ME-706. They both have smaller footprints and require less space than our other top picks. Also, it is worth considering how easy it is to assemble and transport the gear, especially if you intend to move it regularly.
Connected fitness
With a lot of fitness streaming apps in the market, several recumbent bikes have the option to connect to these apps via Bluetooth and wifi. Our top pick, Schwinn 270 recumbent bike, supports some of the major fitness apps and integrates smoothly and seamlessly to them.
Frequently asked questions
1. What is a recumbent bike?
A recumbent bike is a type of stationary bike with angled/inclined seating option. It differs from upright bikes in its structure and also in the position of the user during an exercise session.
Generally, they are more comfortable and have an almost zero-impact on the knees and other joints.
They're usually self-powered by the conscious effort of cycling. Some are battery-powered with wheels and adjustable levers. Most recumbent bikes feature an adjustable resistance level, handle, and well-padded seats and backrest.
2. Will a recumbent bike help me lose weight?
It is no hidden fact that you need to burn more calories than you consume if you wish to shed extra pounds and one of the best ways of creating a calorie deficit is through regular exercise.
Pedaling on a recumbent bike regularly can make you lose up to 500 calories per day. Do the math and see how much you can lose monthly.
This is not a quick weight loss scheme; rather, performing high-intensity routines on recumbent bikes can get you results. The caveat, though, is that you'd need a longer time than you'd spend on other cardio machines like treadmills and elliptical trainers.
The good news is that most recumbent bikes come with ergonomic designs, seat, and backrest to make room for lengthy sessions.
3. Which is better, recumbent bike or upright bike?
Generally speaking, there's no clear cut better machine as both types of exercise bikes will serve different users differently. The key is to identify what your exercise needs are and chose which exercise bike serves you more, recumbent or upright.
Recumbent bikes are better at working the hamstrings, require less work, and more time.
On upright bikes, you will lose more calories as they target various parts of the body such as the neck, arm, and back. It is more demanding; hence, you burn calories faster.
4. Are recumbent bikes better for your knees?
Recumbent bikes are especially good low-impact cardio trainers. This means that they have a near-zero effect on your joints and do not put any sort of stress on your joints. This is majorly due to their reclined sitting position, wide seats as well as the well-placed pedals.
The bike's design makes sure you're well supported, and no weight is placed on your knees. This is good in the long run, especially if you use the bike regularly. Also, most recumbent bikes come with well-fitted chest and foot straps that prevent falling off and injuries.
Gizmo Verdict
Recumbent bikes are a great cardio machine for seniors, people recovering from injuries, or anyone looking for a low-impact workout.
We scoured the internet to compile a list of the best recumbent bikes you can buy at any budget for both pros and beginners.
If you don't want to spend a lot of time doing your own research, we recommend our top pick, Schwinn 270 recumbent bike, as it meets a lot of the criteria for what a very good recumbent bike should be like.
Otherwise, go through our other picks and make your decision based on other features that might interest you.
Last update on 2021-07-24. Affiliate links and images from Amazon product advertising API