Our top pick after the latest update: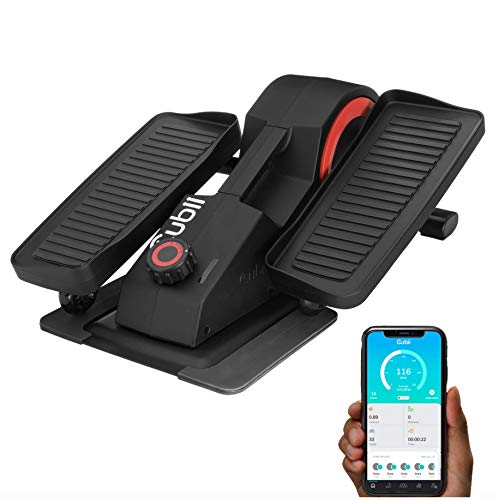 Cubii Pro Under Desk Elliptical Trainer
Our pick for the best under desk elliptical machine, the Cubii Pro Elliptical trainer, provides satisfying workout sessions with no effects on your joints.
It is solidly built with adjustable resistance, slip-proof and quiet pedals, smooth motor, and extra features like Bluetooth connection with your Fitbit and Apple HealthKit app.
The best under desk elliptical machines give an easy impact workout, that quickly gets rid of calories without aching your muscle helping you combat sitting all day. These compact elliptical trainers are becoming more popular as more people are working from home. Also, they are gaining great reputation daily by at home and office workers, because of the way they let people get some calories burnt while sitting and working.
If you are in the market for one of the best under desk elliptical trainers, read on to get the best advice and buying guide.
Top 7 Best Under Desk Elliptical machines
Cubii Pro under-desk elliptical is built specifically to sit at work and get your workout routine done. It keeps you in motion throughout your day burning your calories while doing other sitting jobs. It features a syncing free with the Cubii app, Fitbit, or Apple HealthKit, to store records of your workouts in real-time and steadily studying your progress.
Other great features it posses are tracking calorie loss, revolution per minute, time, and distance covered. Cubii Pro is designed and manufactured for a low profile core muscle workout, it whisper-quiet, discreetly working out with its smooth elliptical motion and preventing your knees from knocking on your desk.
The design features 8 resistance levels allowing you to adjust and control the intensity of the workout to your satisfaction and providing elliptical motion with lower effects on your joints. Very ideal for home rehab too. It's easy and quick to assemble, right out of the carton with just 4 screws, all work is done in an estimated time of 3-4 minutes.
The Stamina InMotion Compact Strider comes at an absolutely fascinating price for an under desk elliptical machine that you can use while sitting or standing. It is designed with a reverse motion mechanism that helps you to target different muscles while exercising.
It has a single dial and a small monitor for adjusting the intensity (tension) of your workouts. The monitor also lets you see your workout stats periodically. It shows your number of strides per minute, total strides taken, exercise time, and calories burned.
It also has nifty textured pedals that are slip-resistant and help you maintain a good balance in standing and seating positions.
Coming in at a very compact 24 x 17 inches, it is very portable and can fit under standard desk sizes easily. This means that you can also move it around easily to wherever you want to use it.
One small nitpick is that it doesn't have any handles for moving around.
The Cubii JR1 under desk elliptical is one of the finer and quiet machines you can buy at any price tag. The motion is very smooth and near-silent, just like the Cubii pro (Our top pick). It has 8 levels of magnetic resistance which can be adjusted via a nifty dial on top of the machine. Also on top of the machine is a handle for carrying it about easily, and a mini display that shows your workout data like time spent, calories burned, revolutions per minute, and current resistance level.
While it inherits all the features and mechanics of the Cubii pro, it does not come with multi-app syncing that lets you sync your data to your fitbit or other apps.
The base is stable and broad so it does not wobble at all during workouts. And finally, the pedals are large enough to fit most feet sizes and have a textured surface for better grip.
Considering that Cubii has a great customer support service, the Cubii JR1 under desk elliptical is a machine you're going to enjoy using if you cannot afford the more expensive Cubii Pro
The Exerpeutic 900E under desk elliptical has a design that offers 14 levels of magnetic resistance, which when compared to others, places it at the very top of elliptical trainers. This means that you're going to get a wider range of challenging workouts using this machine.
Another important feature is the ability to sync your machine to their 'my cloud fitness app' in order to track your workout data. Metrics you can track include workout time, distance covered, average speed, and calories burned, all in real-time. Using this app, you can also set custom workout programs based on time, calories and distance.
Finally, it comes with a gimmicky "extended wheel holder" that is supposed to hook to your chair wheel and add more stability as you workout. During our review, it worked most of the time, but only just.
As far as portability is concerned, the xx measures only 31 x 18 x 14 inches, comes with a carrying handle at the top and has two attached roller wheels. These features, although not essential, help to make moving this elliptical around a simple task.
Assembly is also stress-free as you just need to attach the pedals and the front stabilizer.
The Sunny Health & Fitness Magnetic Under Desk Elliptical is a well- built, fully assembled machine that has 8 levels fo magnetic resitance that can be adjusted through a simple-to-use tension knob. Also conveniently placed, is a digital monitor that displays your exercise progress.It is able to track metrics like exercise time, speed, total calories burned, and distance covered.
The pedal moves smoothly and quietly, although it wasn't as quiet as our top pick. It also has a low profile design, with a maximum height of 11 inches and can fit under most desks comfortably. To round up the pedal features, the Sunny Health and Fitness SF-E3872l's pedals are wider than most foot sizes and textured to give a comfortable, non-slip surface.
It doesn't weigh a lot coming in at under 30 pounds and can be transported easily using a well-position carrying handle. For the price, it makes a very compelling option if you're looking for one of the best under desk elliptical machines.
The Fast88 Electric Under Desk Elliptical is a powered machine that comes with more advanced features than many of the competitors. As a powered machine, you can connect it to an electric outlet to get 3 pre-programed workout modes. Alternatively, you can use it in manual mode with 5 levels of resistance. The pedals are adjustable and move in both forward and backward directions that target a wider range of muscles during exercise. The pedals are also spacious with anti-grip rubber studs for easy and secure stance while working out.
The machine includes a digital advanced LED Monitor that can track and show your workout stats such as time, distance, revolutions per minute, and calories burned. You can also chose a preset program P1 – P3 in powered mode using the display and one touch buttons.
The Fast88 Electric Desk Elliptical Machine runs quietly, and is compact enough to be moved around and used under most desks.
Our next pick, the FitDesk Under Desk Elliptical is no slouch. It is the only Elliptical we reviewed that has very ergonomic and intuitive design to enable a hands-free control so that you can entirely focus on whatever you'rer doing while using the machine. It achieves this feat by having a gearshift-like knob that you can use to adjust the tension/resistance settings. Still on resistance, the FitDesk elliptical has 8 levels of resistance to both forward and backward pedal directions to add some challenge to your workout.
It has a low profile setting and you'll have no problems using under most standard desk setups. It also has a mounted meter that is removable. The meter has a small LCD display that shows your workout stats like many other ellipticals.
The pedals are spacious and have a serrated surface for more grip and anti-slippage. Overall, the FitDesk under desk is a great buy for anyone looking for one of the best under desk ellipticals.
How to choose the best under desk elliptical machine
After you've decided to buy an under desk elliptical machine for your workouts, choosing the right machine can be a bit tricky, but here are some features to consider (that we considered) that'll help you pick the best elliptical trainer for you.
Resistance
Elliptical trainers are built on the principles of resistance to help tone different core muscle parts. Likewise the under desk ellipticals, which comes with adjustable tensions that you can select during your exercise. If you like to sweat it out, we recommend you increase the resistance level to its highest. This means that it is best to get an under desk elliptical machine that offers higher resistance levels.
Versatility
Although the core idea of the design of an under desk elliptical is to be used while sitting, they should also be versatile for use while standing. It makes sense to prefer more versatile machines that help you get the most value for your workouts.
Noise
We recommend that you get an elliptical trainer that is quiet to avoid distractions at work or with family. No one wants the noise from your exercise machine to be as loud as the TV or disturb your colleagues. Generally, elliptical trainers that have noise levels of less than 60 dB are most preferred.
Pedal Height
This might be a trifle consideration people forget when shopping for an under desk elliptical trainer. We advise you to take measurements between the bottom of your desk and your knees. This will determine the exact height of the pedal that you are aiming for.
Although many ellipticals come with an adjustable pedal height, you want to be able to use them freely without confining yourself to a fixed height.
Can you lose weight with an under-desk elliptical machine?
Basically, yes you can. Elliptical machines are cardio-based trainers that help you burn calories. Some studies show that one hour of exercising on an elliptical machine can burn between 100 and 300 calories depending on resistance level and rounds per minute.
Also, in order to lose weight, diet and body constitution, as well as having an active lifestyle (which under desk elliptical machine can help you achieve even while at work) have to be considered.
Which is better? Under desk elliptical or bike?
Choosing between an elliptical and exercise bike should depend on individual fitness goals. Generally speaking, both products will get you there. Some are for low effect, making it painless on the knees and other joints.
The Under desk pedal exercisers are of 2 categories: those that you pedal like a typical bicycle in a circular motion and those that use an elliptical pedaling motion. If you are looking for an ergonomic solution, an elliptical trainer is ideal. On the other hand, if you are constrained by budget, under desk exercise bikes are typically cheaper.
Who Should Buy an Under Desk Elliptical?
Under Desk Elliptical machines are ideal for most people who work long hours sitting on a chair. They are also ideal to have at home if you work from home and cannot easily commute to the gym. As a rehabilitation machine, people recovering from leg and feet injuries are also better served by using an elliptical machine.
Do Under Desk exercisers work?
Going for cycling at a 5.5 mph pace for one hour per day can help a 160-pound person lose a pound of calories in about 12 days, the 200-pound person will lose the same amount in about 10 days at the same pace.
Notwithstanding, it's possible to adjust the tension, making it difficult to pedal while maintaining the same pace. Source
Last update on 2023-09-30. Affiliate links and images from Amazon product advertising API