Our top pick after the latest update:
On Sale
CEP Compression Calf Sleeves 3.0
Our overall best calf compression sleeve comes highly recommended for setting a high bar for most other sleeves in the market at a very affordable price.
---
Calf compression sleeves are a great accessory to have if your workout routine includes a moderate degree of running or 'leg day' exercises.
Even if you don't do a lot of running but get painful, sore, and stiff legs after your workouts, you might benefit greatly by spending a few tenners on any of the best calf compression sleeves and/or getting a nice calf and leg massage afterward. We have rounded up our top picks for the best calf compression sleeves that you can buy this year.
---
These are the best Calf compression sleeves for running in 2020
---
---
---
---
Featuring an incredibly soft and comfortable blend of 79% Polyamide (a stronger type of polyester) and 20% Spandex, this compression sleeve is lightweight, comfortable, and breathable.
They come in 3 sizes and a variety of colors that sit perfectly between the knees and ankles (not too short or long). They also offer amazing graduated compression with a pressure of 20 – 30 mmHg.
For the price, these sleeves from CEP are among the best calf compression sleeves you can buy. They fit, feel, look, and work great.
---
---
---
Looking for a compression sleeve that is really good and stylish? This compression sleeve from Venom manages to make black and white look really cool – seriously. The design features a cool Venom logo, reflective bands, and checkered top and bottom bands.
They are made from high-quality, thick material that is breathable and offers graduated compression. They come in 5 sizes, including an XXL that is sure to fit the biggest calf sizes. Venom also offers optional 'infused' sleeves which basically have a "sewed-in nylon patch with capsaicin and a synthetic cooling agent which greatly increase the recovery of the calves."
They are highly recommended.
---
---
---
Rymora calf compression sleeves are quite possibly one of the most comfortable sleeves you can buy. They are very lightweight, and breathable, and do not slip once in place whether you are wearing them during or after workouts.
They are made from a tailored blend of 54% nylon, 39% polyester, and 7% elastane, and offer graduated compression of 10 – 20 mmHg or 20 – 30 mmHg depending on your choice. They come in 6 sizes from XS – XXL, so it's easy to find your perfect fit. You also get to choose from 7 color options.
---
---
---
These graduated calf compression sleeves by Thirty48 are another lightweight pair that have amazing compression. They are available in 15-20 mmHg or 20-30 mmHg compression pressure, 3 sizes (small, medium, and large), and different color options.
The lightweight and breathable design makes this sleeve comfortable to wear all day if necessary. It also features anti-bacterial and anti-odor coated nylon, therefore, comfort is a strong point for these sleeves.
---
---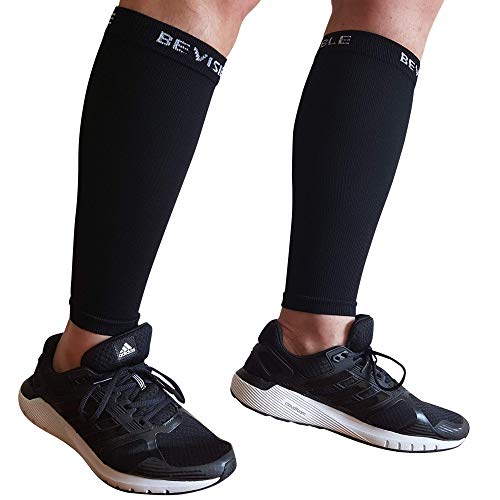 ---
BeVisible compression sleeves make our list for being a good pair of everyday sleeves. They have a lower but unique 14 – 23 mmHg true graduated compression that ensures they are comfortable wearing them for a long time.
They are made from a blend of 76% Nylon and 24% Spandex and are available in 5 colors and 3 sizes. They have a bit of a bland design, but the color options make up for this deficit.
If you're looking for a comfortable pair of sleeves that you can wear more often, these sell for a bargain price and are definitely worth your consideration.
---
---
---
Powerlix calf compression sleeves feel and look great even though they come in just two color patterns. They are made from double-stitched 80% Nylon and 20% Spandex material which ensures the best mix of comfort and pressure. The fabric is also moisture-wicking and breathable.
Talking about pressure, it exerts 20-30 mmHg of graduated compression. It comes in 3 sizes (small/medium, large/X-large, and 2X-Large) and fits perfectly.
One more thing you get with the Powerlix sleeve is 6 months warranty on every pair you purchase.
---
---
---
Our last entry is this calf compression sleeve from Vive. They are the only "one size fits all" sleeve in our list and uses three adjustable straps to ensure that you get a personalized fit. Unless your calves are over 22 inches (XXL) in circumference they will fit you just fine.
They are made from a strong material that seems to hold up fine, although the many sewn points make them seem like they won't last as long as our other picks. The dense material also means that they are not breathable, so you might catch yourself sweating in them. However, they offer some of the best compression depending on how tight you fasten the adjustable straps.
---
How we picked the best calf compression sleeve – what to look out for
---
Our selection process was fairly easy as it came down to mostly two main criteria and a general absence of pain points when we considered compression sleeves.
Materials Used: Compression sleeves are made with a lot of different materials for different reasons. Some are made with breathable fabric to control odor and moisture during workouts, or with nylon materials to prevent slipping out of position. We went for those that effectively combined materials to offer good compression (15 – 30 mmHg) and stay cool during and after workouts.
Fitting: You want to be able to wear compression sleeves that are not downright uncomfortable but are not loose either. Although they come in different sizes, you'll soon find out that sizing is tricky and some compression sleeves have a more consistent sizing than others.
Finish: A bit of style never hurt anybody. We want our compression sleeves to look good while serving their important purpose. Not necessarily over the top with colors, but a blend of patterns, reflective bands, or even cool branding would do the trick.
---
What does a calf compression sleeve do?
Many people wrongly believe that a calf compression sleeve only improves your circulation. In truth, a calf compression sleeve does more than that.
In addition to improving your calf circulation, a calf compression sleeve provides support to your muscles and reduces the amount of muscle vibration during activities such as running, dancing, CrossFit, or cycling. Reducing the number of muscle vibrations, helps you exercise longer, and boosts your post-workout recovery time significantly.
Oh, and it reduces calf pain too.
---
When should you wear compression calf sleeves?
Because the best calf compression sleeves improve muscle efficiency and mechanics, your best bet will be to wear them during any workouts that engage the leg and calf muscles. Exercises such as running, cycling, rowing, working out on an elliptical, dancing, and even weightlifting are all given boosts with a good compression sleeve.
Also, you should wear a calf compression sleeve after workouts and during traveling due to the fact that they help to improve the circulation of blood in your calf, supplying nutrient and oxygen-rich blood to those areas.
Another alternative to wearing a calf compression sleeve after a workout will be to use a good percussion massager to reduce muscle tightness or a TENS/EMS unit to stimulate the muscles and block pain receptors.
---
Are calf compression sleeves dangerous?
Wearing a calf compression risk for a very long time (12 hours or more) carries a risk of backing up blood to your feet. This is because compression sleeves do not cover your feet, unlike compression socks. So it is important to wear compression sleeves for shorter durations or buy compression socks instead if you want to wear them all day.
---
Will a compression sleeve help calf pain?
Calf compression sleeves work to ease calf pain in two distinct ways. The first way is by improving the efficiency and mechanics of calf muscle vibrations during workouts and the second way is by supplying nutrient and oxygen-rich blood to the calf muscles to ensure adequate blood supply and quick recovery time.
Another way to ease calf pain will be to use heating pads and/or calf massagers after your workouts. (Read our buying guide for the best heating pads)
Last update on 2023-11-30. Affiliate links and images from Amazon product advertising API