Foot massagers for neuropathy are a bit of a collector's item. It's one of those things you don't need until you do. And like a nice cup of coffee, you won't regret ever buying one and you may become hooked!
Foot massagers, like electric back massagers and heating pads, are quite frankly, almost a necessity now. More than a third of Americans suffer or will suffer from Plantar fasciitis, tendonitis, and sore legs. It's also very useful for people with neuropathic pain from either diabetes or high blood pressure, and for athletes.
You could definitely go to a massage therapist every week, but those $30 -$100 appointments add up fairly quickly. So it's safe to say that owning your own feet massager gives you a lot of added benefits that you don't get elsewhere.
Even if you only work out a few times a week, you need recovery time and a good massage can offer the best and fastest recovery.
Buying only the best foot massagers is necessary if you're going to spend money on any foot massager at all to help ease your foot pain and/or discomfort. However, it's not so easy to pick out the best one for you with so many available options, that's why we created this buying guide to help you decide the best product to buy.
Our top pick after the latest update:
On Sale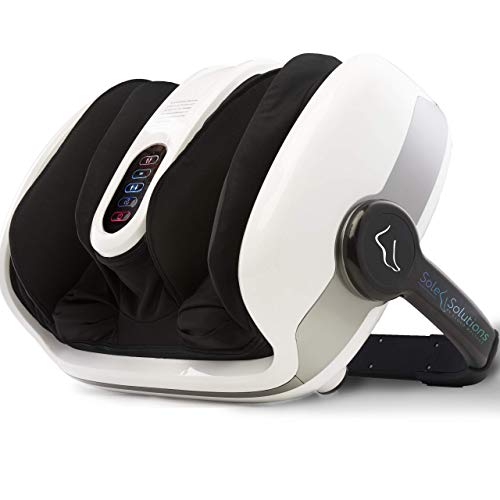 CloudMassage Shiatsu Massager
Our top pick for the best foot massagers is well-built, portable, and easy to use. It has multiple massage modes that makes sure your foot gets excellent treatment at a price that won't hurt your wallet.
How we selected the best foot massagers
The best foot massagers should be easy to use, durable enough as not to break apart after a few months, affordable, and leave your feet feeling doughy and great every single time.
We did not consider handheld percussion massagers like the Sonic Handheld Percussion Massage Gun, or calf compression sleeves that help to speed up recovery in this roundup. We also did not consider TENS/EMS devices. Read our review for the best TENS/EMS units.
We considered factors such as type of massager (full leg vs calf vs calf and feet massagers), extra features like heat, timer, and the price. Hours of research all led us to our top pick, the CloudMassage Foot & Calf Massager.
The Best foot Massagers to deal with Neuropathic pain and calf tightness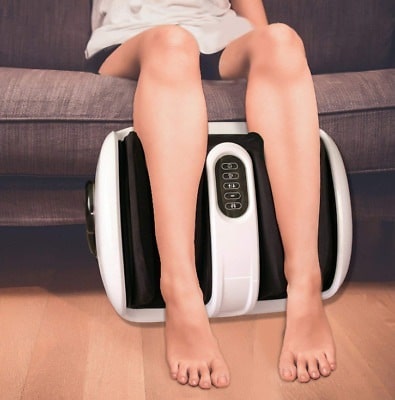 Pros
Excellent value for the price
Multiple massage modes
Fairly portable build
Easy to use sitting or lying down
One year manufacturer warranty
Cons
Very intense (is this even a con?)
No remote control
Do you want a personal massage therapist kneeling at your feet every evening and working magic on your calves as you sip a warm cup of tea and watch the evening news? Well, that's exactly how the CloudMassage Shiatsu foot massager feels.
It is well-built and easy to use, and works wonders on any feet. It has four (4) massage modes including kneading, compression, heat therapy, and rolling; and three (3) levels of intensity.
The massager can be propped up or used flat for your feet or calves and except you have really large feet, the 5″ footbed area should fit nicely.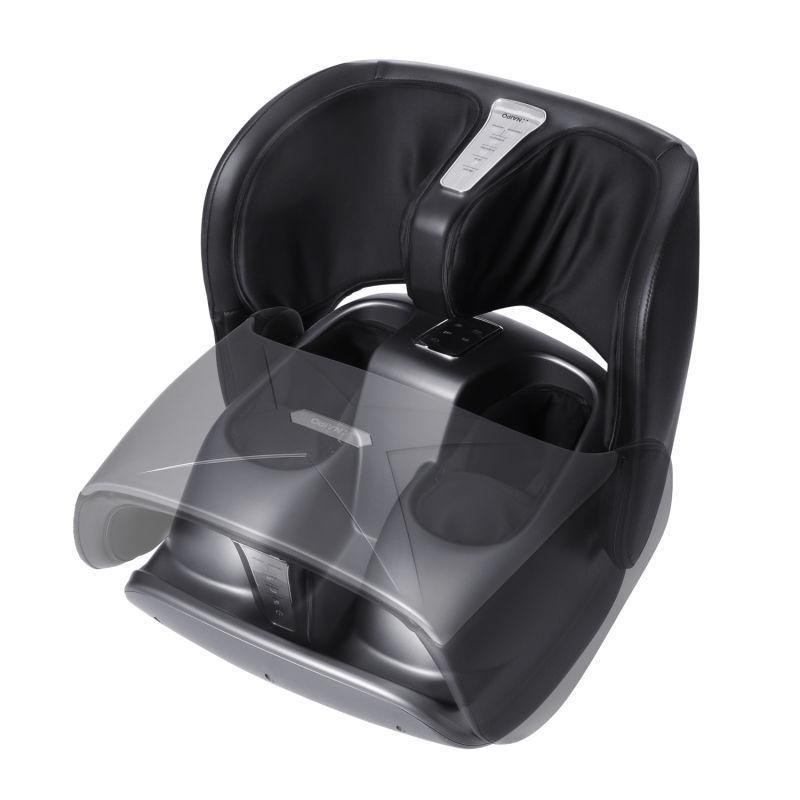 Pros
Thoughtful design
Solid build quality and functions
Easy to move around
Two (2) years manufacturer warranty
Good Price
Cons
Due to fixed position of the calf area, it may not be a good fit for taller people.
Cannot use while lying down
No remote control
Naipo foot & calf massager is a more 'oomph' a.k.a luxury model than our top pick even though it costs just a fraction more.
The machine has a unique foldable design that is great for carrying and storage, and also allows you to massage both your feet and calf simultaneously. As for massage functions, you get Shiatsu kneading rolling massage, air compression, heel vibration, and heating function that can all be activated separately.
Overall, it is very thoughtfully built with removable covers that you can unzip and wash for better hygiene; and a design straight out of sci-fi movies.
If you don't mind the bigger size and limited usage positions (only when you're sitting down), the Naipo 2-in-1 luxury foot & calf massager is a great option.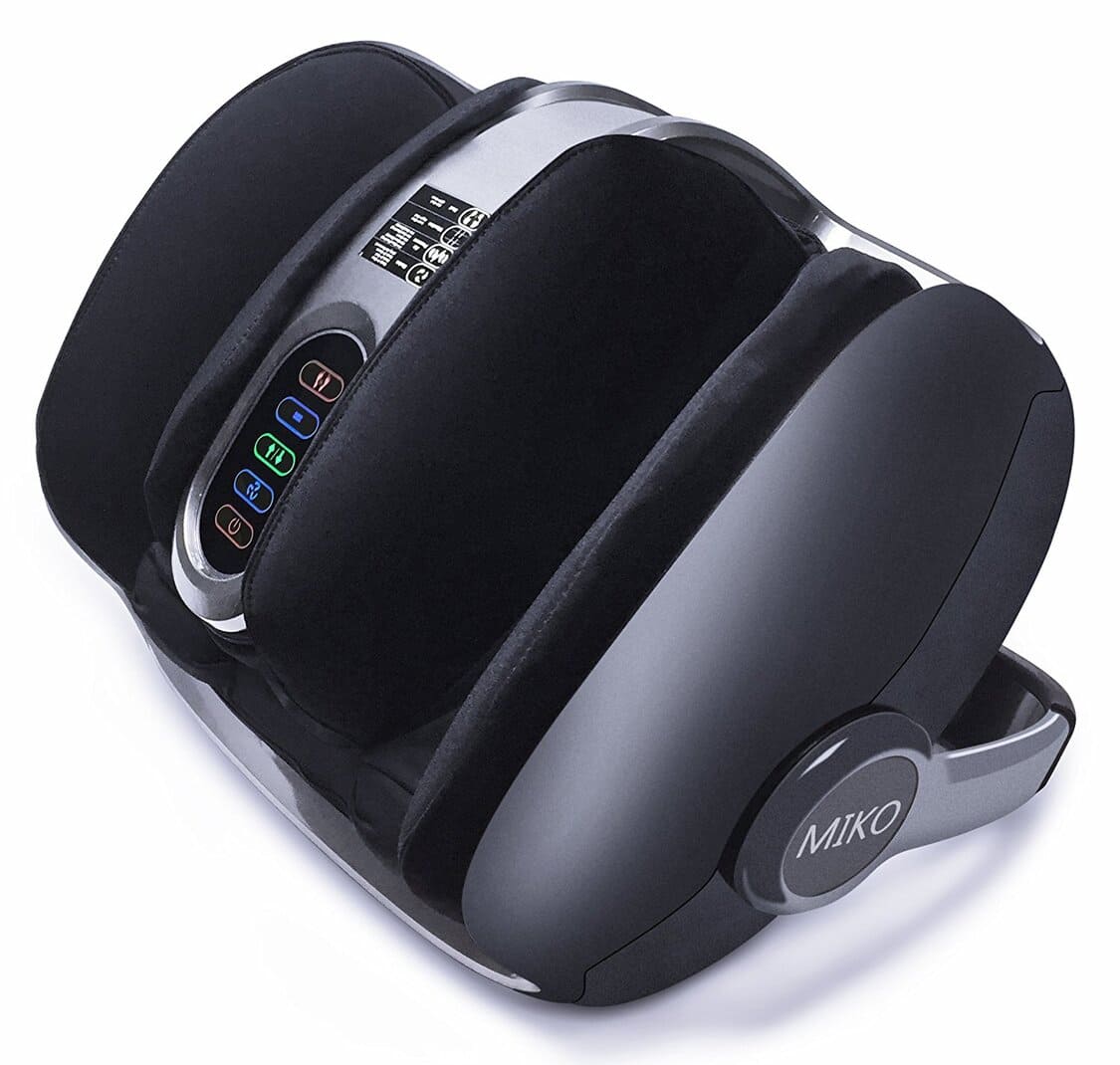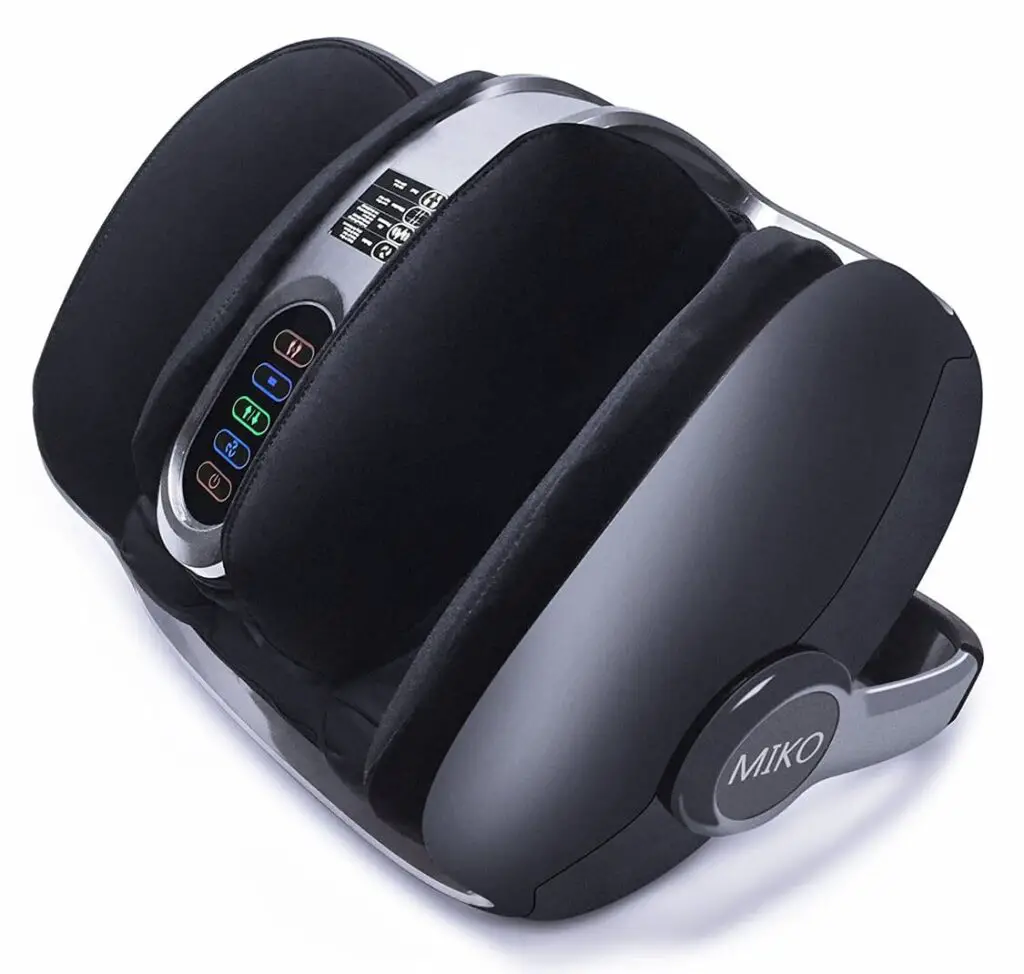 Pros
Stylish design
Solid build quality and functions
Great handle for moving around
One year warranty
Bargain Price
Cons
Compressions may be too tight for some people
No remote control
Miko Foot & calf massager is very similar to our top pick in a good way. They both have the same portable design, size, and adjustable handle mechanism.
Miko's massager is equipped with 4 air pressure pads, 5 different pressure settings, 3 massage modes, vibration, deep-kneading function, and heat that all combine very smoothly to give you a great feet massage.
It also has a removable fabric inner lining for easy washing and is cheaper than all the other foot massagers for neuropathy on this list.
If you're looking for a great foot massager for neuropathy at a really affordable sub $200 price, the Miko foot and calf massager is an excellent choice.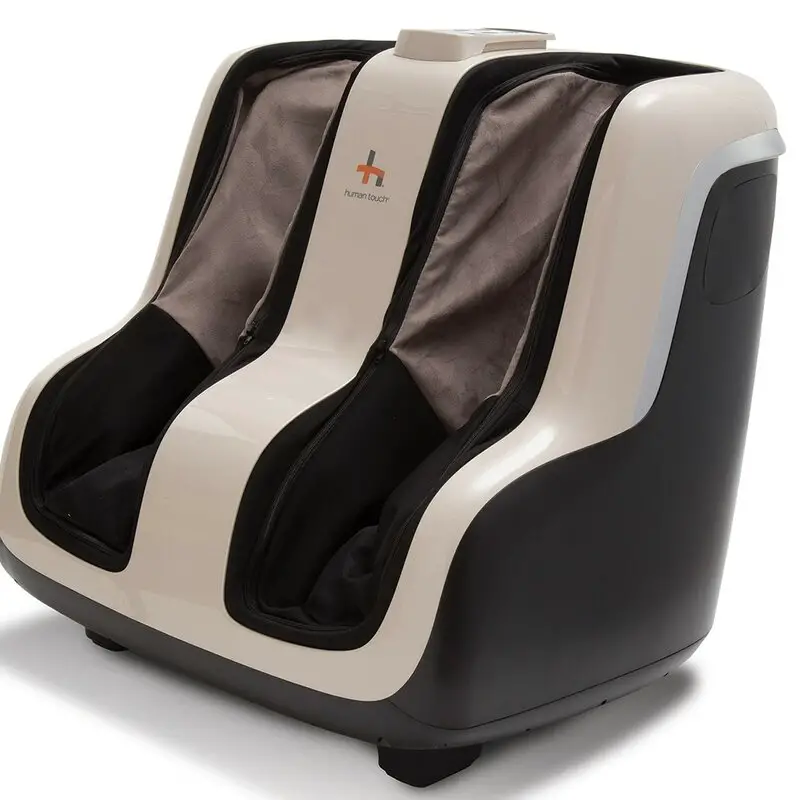 Pros
Solid build quality and functions
Easy to move around
One year manufacturer warranty
Great for tall people
Good value for the price
Cons
No compression massage
Cannot use while lying down
No remote control
Human Touch is a veteran wellness tech company with top quality products and the Reflex SOL foot & calf massager is no exception.
It is equipped with 3 auto-massage settings, two speed/intensity options, warm-Air Technology, and vibration settings. The overall build quality is solid, although it's bigger and heavier than our other picks. The larger size also means that it fits taller people just as well.
We should point out though that there is no compression massage in the Human Touch Reflex SOL, so look to other picks if compression mode is important to you.
Bottomline
Many of the best foot massagers for neuropathy can produce results without leaving dents in your pocket. If you regularly suffer from foot pain, plantar fasciitis, tendonitis, or any other feet condition, a feet massager would be a lovely addition to your home.
Last update on 2023-09-30. Affiliate links and images from Amazon product advertising API