Our top pick after the latest update:
Schwinn Compact A40 Elliptical Machine
Our pick of the best elliptical trainers under $500, the Schwinn A40 Elliptical Trainer, features six (6) program workouts, 8 levels of magnetic resistance, smooth motor movement, and extra features such as a cooling fan, tablet holder and water bottle holder; all in a compact and eye-catching design.
Elliptical machines are great equipment for cardio exercise with low impact on your joints. You should consider firstly, whether you want a full elliptical or an under-desk elliptical, among a lot of other factors before you buy an elliptical so that you don't end up purchasing a product that will not serve your workout purpose. Because of the myriads of products in the market, you need a guide to get value for your money.
If you are looking for a way to bring the gym to your home within a budget, then you should check out our picks for the best elliptical trainers under $500.
Top 7 Best Elliptical Trainers Under $500 You Can Buy Right Now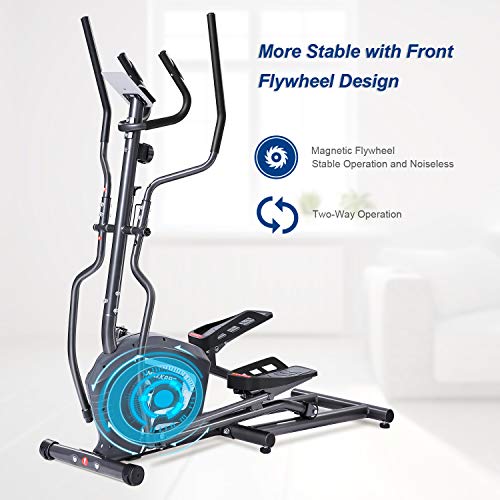 Pros
Has 8 levels of magnetic resistance for high intensity and effective workouts
Quiet and smooth during operation
Has a good motion and is very sturdy
Cons
Stride length may not ideal for taller users.
Makes a squeaky-clanking sound after some months of use
It has a stride length of 18 inches
It is equipped with magnetic resistance of 8 levels
Pre-loaded with 10 programs
Equipped with water bottle and accessories holder
MaxKare Magnetic Elliptical Trainer has a magnetic flywheel with 8 resistance levels. Because of the magnetic flywheel, it is stable and almost noiseless when you are using it. The LCD panel displays the speed, distance covered, time elapsed, pulse rate, and calories. The elliptical machine is sturdy and durable and you will get a great aerobic workout the harder you pedal.
The pulse sensors are located in the stationary handlebars, gripping them will help you to monitor your pulse rate. One cool feature of this cheap elliptical trainer is the tablet holder that is fairly stable depending regardless of how hard you pedal. This elliptical helps you workout your upper body, thanks to the main handlebars, while holding the fixed magnetic trainer handles will help you work out your knee, shin, and leg. Also, you can easily move it from room to room because of the transportation wheel in-built.
Pros
It is compact and lightweight
Smooth and quiet in operation
It is easy to assemble
It has wheels for convenient transport from room to room.
Cons
No wireless chest strap for heart rate monitoring
Lacks stationary handlebars for stability and safety
Has a stride length of 17.5 inches
Has a magnetic resistance of 8 levels
Has a workout fan
It has a water bottle and accessories holder
Multi-function LCD display
The Schwinn A40 Elliptical qualifies as one of the best elliptical trainers under $500 because it is compact, well built, quiet in operation, and has a stride length of 17.5 that is fairly enough for almost anyone. The elliptical trainer is equipped with moving handlebars which are great for working out the upper body. It, however, lacks stationary handlebars which some people hold on to for stability and safety.
It comes with 8 levels of quiet magnetic ECB (Eddy Current Brake) resistance system and a perimeter weighted flywheel for a smooth and quiet workout. The console is loaded with 6 workout programs to choose from to reach your desired fitness level. It also features a holder for a water bottle, a reading rack, and a 2-speed workout fan. Although this elliptical lacks a wireless monitoring option, it has heart rate sensors on either side of the console to monitor your heart rate.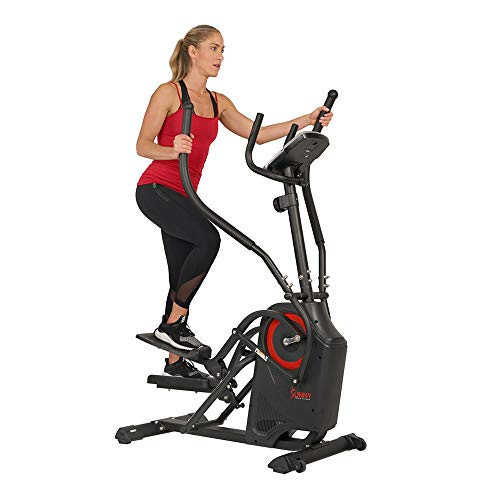 Pros
It is compact and sturdy
8 levels of magnetic resistance
Multi-window LCD display console
Easy to assemble
Has tablet holder
Has an excellent warranty.
Cons
No backlight for the console display
Lacks a bottle holder
Elliptical & stepper motions
Has a magnetic resistance level of 8
Handgrip heart rate monitor
Multi-window LCD
Transportation wheels
Sunny Health & Fitness Premium Cardio Climber Stepping Elliptical Machine is a stepper/elliptical trainer having an 8-level magnetic resistance system for low to high-intensity cardio workouts, stamina development, muscle toning, and weight loss.
It is equipped with a durable set of pedals and a console that can track and report all the important workout metrics. It has a compact and durable frame, two sets of handlebars, and a pulse reading function. The Sunny SF-3919 is an elliptical stepper and as such has a short stride of only 7 inches. However, it provides your high-intensity workouts with maximum stability because of the sturdy frame construction and the handlebar configuration.
Doufit EM-01 Portable Elliptical Trainer is a compact elliptical trainer that helps you work out your entire body. Depending on the resistance level you set it to, this elliptical is capable of working on your arms, back, waist, core section, hips, calves, and legs at low impact.
It has a digital LCD monitor that is battery powered and helps you to monitor the important workout parameters like distance covered, speed, time, total mileage, time exercised, and calories burned. You can monitor your heart rate by holding the small fixed handles in the center.
The pedals are large and can move in both forward and backward directions, and you get up to 4 months warranty.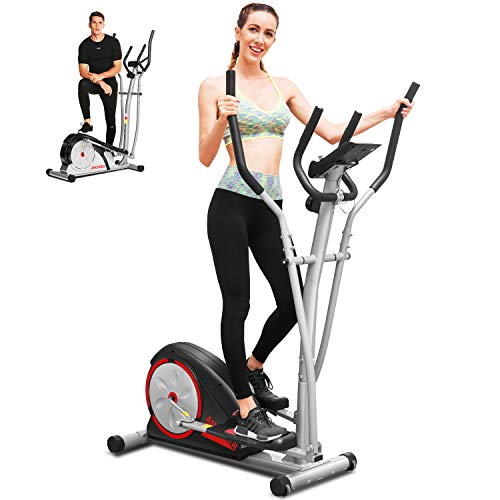 Pros
Lightweight
Roomy, cushioned foot pedals
It is easy to assemble
Compact, great for a smaller space
Cons
It has a short stride
It lacks a water bottle holder
8 levels of magnetic resistance
13 inch large non-slip pedal
Bi-directional pedal
max user weight: 350lb
Stationary and mobile handlebars
Ancheer Elliptical Trainer is a top elliptical machine under $500 that makes your workouts easier and from the comfort of your home, at any time of the day without the fear of disturbing anyone because it is almost noiseless.
Despite being one of the best cheap elliptical machines, it is easier to assemble and arrives with 8 different levels of resistance that you can easily change during a workout to challenge you to more difficult levels.
It is capable of working out your upper and lower body effectively because it is equipped with Dual Power motion. There are two separate sets of handlebars in this elliptical. The mobile set that moves with your feet and the stationary handlebars that has a pulse sensor to monitor your pulse rate and also serve for stability and safety purpose. This elliptical lacks a water bottle holder but you can easily purchase one online and install.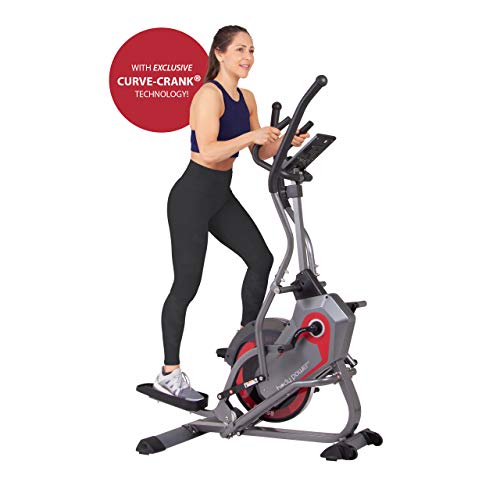 Pros
Innovative 2-in-1 motion with zero impact
It is a compact elliptical trainer
Has eight levels of resistance
Curve-Crank technology removes dead zones for even motion
Cons
The frame is not as sturdy as other options
Lacks a water bottle holder
Stride length: 13 inches
Curve-Crank Technology
Max user weight: 250lb
Transport rollers
LCD digital display
Our list of best cheap elliptical machines will not be completed without mentioning the Body Power 2-in-1 elliptical stepper trainer with Curve-Crank Technology.
The patented curve-crank technology helps you get an efficient motion and smooth operation during a workout without feeling any discomfort on your joints.
Despite being an elliptical under $500, you can view this as your personal fitness machine to workout in your home or apartment, given its compact design, 2-in-1 motion, an LCD screen, transport rollers. The LCD screen helps you tracks and displays time, speed, distance, and calories burned. There is an easy-to-read and use manual included that allows you to easily customize your workout for your weight. 
Pros
It is compact and sturdy
Quiet and smooth in operation
Console tracks all the important workout metrics
Ability to use a chest strap heart rate monitor
Large, non-slip pedals that make your grip much better
Cons
Some resistance levels are barely noticeable
14" stride length
51" L x 24"W Compact footprint
Dual Color Backlit LCD Console
Front transport wheels
Max user weight: 300lbs
Taking the final but not the least spot on our picks of the best budget elliptical trainers under $500 is the XTERRA Fitness FS 2.5 Elliptical Trainer that has great features to make your workout smooth. For the price, you will get a total of 24 programs, that includes 12 pre-programmed workouts on the computer console, 14 levels of digital magnetic resistance that can be adjusted with the push of a button, and an integrated receiver that allows you to use a chest strap for heart rate monitoring.
This allows you to have wireless and more accurate heart rate monitoring while you are working out. This budget elliptical trainer has a sturdy design, with a 22 flywheel that makes it very stable, smooth while having your most intense workouts.
Finally, it has a console that tracks all the important workout metrics, including distance, time, speed, total distance, RPM, watts, and pulse, and calories burned.
How to choose the best elliptical machine under $500
Getting the best elliptical trainer at this price tag can be a herculean task, but we have done the research to ensure you get the best product out of the many hundreds in the market. Here are some things to consider if you're in the market for a cheap elliptical trainer:
Stride Length
Getting the best elliptical trainer under $500 with the right stride length can be tasking. Most people have a natural stride length of 14 to 22 inches, so lookout for a machine with a length in this range. An elliptical machine with a stride length that is too short can harm your own stride mechanics leading to an unsatisfying workout. Make sure the machine has a stride length that is right for you.
Our best pick, Schwinn Compact A40 Elliptical Machine has a stride length of 17.5-inch. Try to avoid budget elliptical trainers with shorter stride length.
Resistance
Apart from stride length, resistance is another important factor to put into consideration when you are buying the best cheap elliptical. It is very important to the point that it may determine if you will be able to use your machine without waking up your neighbor or roommate with a loud noise. We advise that you get the best cheap elliptical with magnetic resistance to have a quiet workout. Ellipticals with magnetic resistance use a set of magnets to give a smooth and silent operation while you pedal.
The resistance determines how your workout on the machine will progress. If your machine's resistance is too much, you may find it difficult to progress and develop a fitness routine. Conversely, if the resistance of the elliptical under $500 you are going for is too small, it will no longer challenge you once you have become more experienced with your workout.
Durability
Although you are buying an elliptical for under $500, you should consider how durable the machine is. When buying the best cheap elliptical, look out for a unit that can withstand a weight of at least 250 pounds. Ellipticals with lower capacities tend not to be durable and are compromised on the quality of parts.
In addition, check the warranty of the elliptical before making a purchase because it is often an indicator of quality. The best elliptical machine under $500 often has more than a six-month warranty on parts. The Schwinn Compact A40 Elliptical Machine is not only durable but also has an adequate 1-year warranty on parts.
Flywheel Weight
The weight of the flywheel of the elliptical you are considering is very important because it determines how stable and smooth the machine will be when you are working out. When getting an elliptical under $500, go for one with a heavyweight to get a smooth movement during a workout.
Frequently asked questions
Are ellipticals good for losing belly fat?
Elliptical machines are good for losing belly fat because they help you burn a lot of calories with perceived less effort. The more you work out, the more calories you burn which in turn translates to more fat loss. Because you cannot do a spot loss of fat, you have to lose fat throughout your entire body to lose stomach fat. Using an elliptical, you should combine regular training with HIIT workouts, with a healthy diet to get rid of belly fat.
How long should you workout on an elliptical to lose weight?
To answer the question of how long you should work out on an elliptical depends on duration, intensity, and frequency. Working out on an elliptical will burn between 150 and 400 calories every 30 minutes on average, depending on the intensity of your training. It can also be lesser if you're using an under desk elliptical trainer. To lose weight, 150 – 200 minutes of exercise weekly is recommended for the best results.
In order to lose weight, you must burn more calories than you take in per day. The higher the intensity of your workout, the more calories you burn which translates to weight loss. To achieve better results, workout 30 minutes with high intensity per day as opposed to spending 40 minutes with low intensity.
Why do my feet go numb on the elliptical?
While pedaling on the elliptical, your soles are no fixed in any position. This might put your weight on the balls of your feet. This will compress the nerves, prevent oxygen from getting to your toes, and therefore makes your feet go numb.
To prevent feet numbness while working out on an elliptical, wear larger shoes because they have a larger room for your feet. Another way to prevent feet numbness on an elliptical is to buy a machine with moving pedals as opposed to rigid types. To further reduce the pressure on your feet, change your motion by pedaling forward for five minutes and backward for five minutes.
Last update on 2023-09-30. Affiliate links and images from Amazon product advertising API