Handheld massagers are gaining popularity for all the right reasons. They are currently the Swiss army knife of massagers right now and combine lightweight designs that are easy to use and are able to target any part of your body effectively.
If you're struggling with chronic pain or just need a great massage to relax after the day's hectic schedule, getting one of these wellness machines might do the trick for you. On our part, we have rounded up the 7 best percussion massage guns you can buy in the market right now.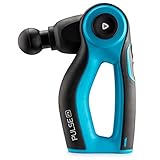 Note: FitnessGizmo is supported by our readers. When you buy through some links on our site, we may earn an affiliate commission at no extra cost to you. Learn more
Also great:
How we picked the best percussion massage guns
The best percussion massage guns, unlike shiatsu massagers, work by sending rapid vibration pulses into the muscles to mainly increase blood flow to the muscles, loosen tight muscle knots, reduce inflammation and muscle tension.
For this reason, we think that being able to control the strength of those vibrations should be a key feature of the very best percussion massage guns. All the massage guns that checked this box were now tested for their finer qualities. We preferred models with a rechargeable battery over those that needed to be plugged into an outlet to work. We also preferred models that operated with little or no noise to those that sounded like we were operating a drill.
Another key feature we considered was the overall stability of the handheld massage gun. i.e how well does the construction handle the vibration? Some models rattled at peak vibration settings while others remained calm and channeled all that vibration adequately to the massage heads. We also considered build quality, portability, easy to access and use controls, and manufacturer warranty.
Our list of the best percussion massage guns is ordered from our very best option to good ones and you'll not be out of place buying any of our top picks based on several deciding factors.
These are the best percussion massage guns you can buy right now
Featuring 3 speed settings, 3 adjustable head angles, 4 interchangeable heads, and controls that are built into the handle for real one-handed operation, the pulse FX percussion massage gun is a great massager that can target and massage a wide range of pain points all over the body.
While some other models on our list have more interchangeable heads and/or speed settings, none achieves the power (16mm massage amplitude at up to 3000 rotations per minute) of the Pulse Fx at near quite levels.
The build quality is top of the line with a rubberized finish for easy grip and battery that lasts for up to 7 hours of use. Out of the box, you also get a charging dock, a hard carrying case, and a 100% lifetime warranty. When you considered the overall package offered with the Pulse Fx handheld massage gun at a great price, it's very hard to ignore.
Theragun rushes into our list with their top of the line G4 pro percussion massage gun. Considering that Theragun led percussion massage guns to popularity, a lot has to be said about their 4th attempt at delivering a PREMIUM massage gun.
The G4 pro handheld massage gun has the same triangular shape of the previous models with a high-grade rubberized finish for a solid grip. It has the same pro-grade 16mm massage amplitude as our top pick with less intensity (2400rpm). However, some subtle details like a small OLED display, a Therabody app that learns your preferences and customizes the G4 pro settings, and two removable Li-ion batteries that give a combined 5 hours of use cements the premium status of the Theragun.
The Theragun G4 Pro comes with 6 interchangeable heads, a charger, a hard carrying case, 2 years manufacturer warranty, and an expensive price tag that is justified if you want the top premium model.
If you're looking for a percussion massage gun with a bit more 'oomph' than our top two picks, the VYBE pro with a 12mm amplitude and 3400rpm is one of the most powerful massage guns you can buy.
It has a stunning 9 intensity levels and 8 interchangeable head attachments to choose from ensuring that you will definitely find some combination that suits your need. It is well-built and although it is a lot bulkier than our top two picks, it surprisingly makes less noise than the Theragun G4 pro despite having more power.
In addition to the included charger, you get a hard carrying case and one year manufacturer warranty – all at a very affordable price.
We found this unit by Taotronics and decided to give it a nod as TaoTronics makes great budget audio and home electronics. Overall, we liked it enough to crown it our budget pick for the best percussion massage guns.
The fit and finish of the massage gun is basic but also very functional. It comes with a comes in a hard carry case with 6 interchangeable heads for different types of muscle groups and a removable, replaceable battery pack that lasts for up to 3 hours on a single charge.
Compared to our top picks, this Taotronics massage gun has 10 adjustable intensity levels and can go a depth of 12mm at 3200rpm. It also runs fairly quiet. The only caveat we noted was that the vibrations seemed a bit less controlled (i.e it has less stability) than our other picks.
If you're looking at a percussion massage gun that is not cheaply built, works great, and does not hurt your wallet, the Taotronics massage gun is highly recommended.
Featuring 5 intensity levels that max out at 2800rpm, our next pick, the sonic percussion massage gun is a good buy for those looking for a middle option between power and price. It comes with 5 interchangeable heads, a rechargeable battery that lasts up to 4 hours on a single charge, and a hard carry case.
We like that it has a very stable build and runs comparatively quietly. The build quality is also very good as it sports a rubberized finish for a solid grip, and a single button to adjust the intensity positioned at the trigger-finger spot. This massage gun feels smooth and easy to use!
Finally, you get lifetime warranty with this device from Lifepro (the same company that produced our top pick) making it a great alternative option for most users.
The Vybe X percussion massage gun makes our list with speed up to 3000rpm and 6 levels of adjustment. It has a good ergonomic rectangular design that is a bit 'plasticky' and bulky, but easy to use. A single button is located conveniently at the trigger spot for power and speed adjustments. It also has a 90-degree swiveling head that can target hard-to-reach spots.
Out of the box, you get 7 interchangeable heads, a hard carry case, a removable rechargeable battery that lasts up to 5 hours on a single charge, and a charger. It is the loudest massage gun on our list and has a bit of a rattle. However, the included one year warranty is enough to comfort even the most skeptical buyers.
The last entry on our list, the Fusion Fx heated percussion massage gun, is a lightweight, well built, and powerful massager. It features a stable and quiet motor that can go up to 3200rpm with 5 intensity adjustment levels. It also has a heated interchangeable head for adding another dimension to your massage.
Out of the box, it includes 5 interchangeable heads, a hard carry case, wall charger, and instruction manuals. You also get lifetime manufacturer warranty when you purchase the Fusion FX massage gun.
The Fusion Fx offers 5 hours of use from a single charge and the heated massage that takes it to a whole new level. It definitely merits a spot on our top picks and on your shopping list if you want a bit more from your percussion massage gun.
Last update on 2020-08-03 / Affiliate links / Images from Amazon Product Advertising API