Our top pick after the latest update: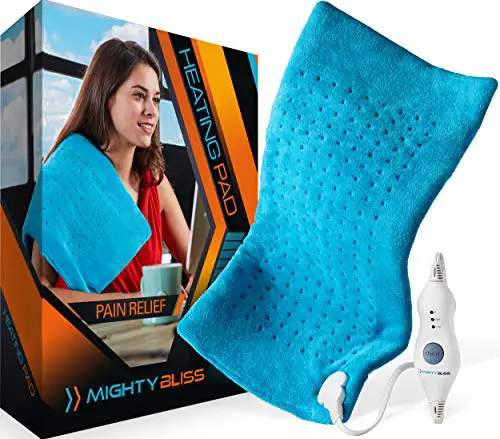 Mighty Bliss Large Electric Heating Pad
Our pick for the best heating pad is made with a large and plush material that has moist and dry heating options and 3 heat settings at an unbelievable price.
Dealing with pain is not one-way traffic. If you are an athlete or have a nagging chronic pain, then you'll know that there are so many things you can try to get good pain relief. Some days are about Tylenol or essential oils and other days you can try using back massagers, calf massagers, percussion gun massagers, or Transcutaneous electric nerve stimulation (TENS), or EMS.
One more effective remedy you can add to your arsenal is using a heating pad. The best heating pads can greatly relieve you of pain, especially from sore muscles after exercise, lower back pain, or period cramps. We scoured Amazon to find the best heating pads you can buy today.
These are the best heating pads you can buy for pain relief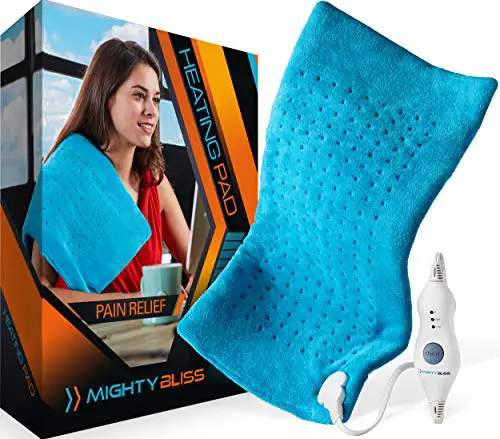 This heating pad from Mightybliss is a soft 12″ x 24″ XL pad with moist and dry heating options and 3 heat settings to choose from. It also has a nifty 2-hours auto shut off feature in case you sleep off under the soothing warmth.
It is universally loved for the comfort and pain relief it provides with more than 5,000 5-star reviews on Amazon. If you add the lifetime warranty and cheap price, you can understand why it's out top pick.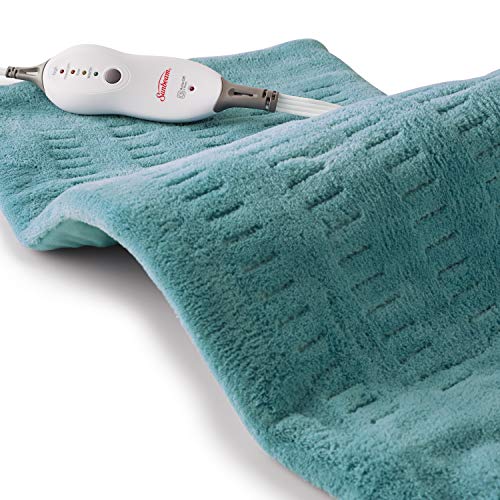 Our next pick is this cozy heating pad from Sunbeam also measuring 12″ x 24″ with 4 heat settings to choose from. It features a 2 hour auto shut off and the fabric is machine washable. However, it does not have a moist heating feature.
More than 1000 Amazon customers love this heating pad for the comfort and ease of use, and also for providing satisfactory pain relief.
Featuring 6 temperature settings, fast-heat technology, and overheat protection, this heating pad is loved by many customers. The fabric is soft, comfortable, and machine washable
It comes in two king sizes – 18″ x 33″ and 32″ x 25″, making them one of the largest heating pads you can buy.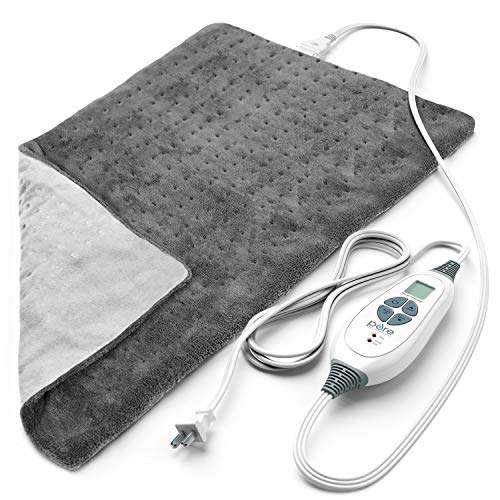 This heating pad features fast heating technology that takes it from 0 to 90 F in a few seconds. It also has 6 temperature settings and offers dry and moist heating options.
Measuring 12″ x 24″, it's large enough to use on any part of your body. Amazon customer rave about the fast heating and soft material of the heating pad.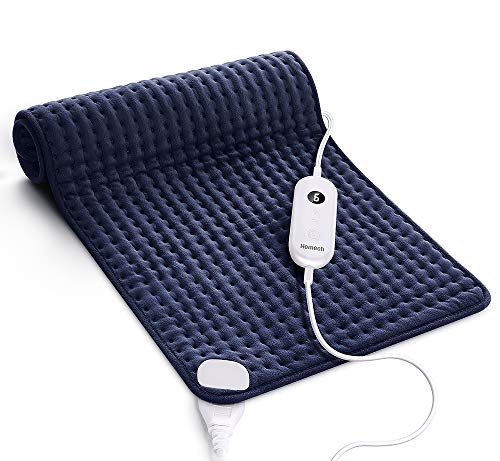 This heating pad comes in a larger than average 17″ x 33″ size and 6 temperature settings with the option of moist heat therapy.
One reviewer mentioned "It's a lovely feeling to have such heat radiating onto the painful areas. It feels wonderful on my legs, especially after a long day's work. Even having it on my legs helps ease the pain from sciatica.""
With more than 1,000 other 5 star reviews, you can be sure it's a safe bet.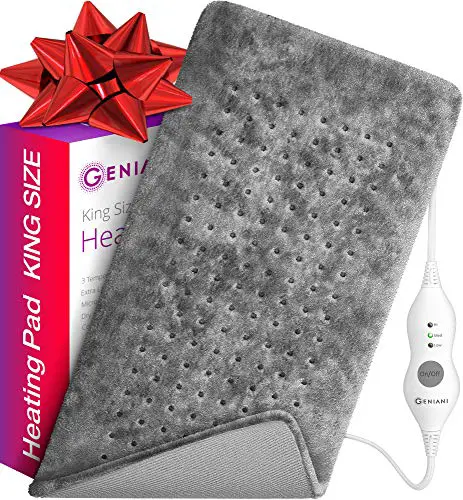 This heating pad comes in a large 12″ x 24″ size and has 3 temperature settings. It is made of plush fabric for extra comfort and seems to be really good at relieving pain and soreness. It has auto-off feature, and offers both dry and moist heating.
One Amazon customer wrote, "The automatic shut-off is terrific and I love that I can have dry or moist heat". Thousands of other positive reviews also confirm that this pad from Geniani is one of the best heating pads you can buy.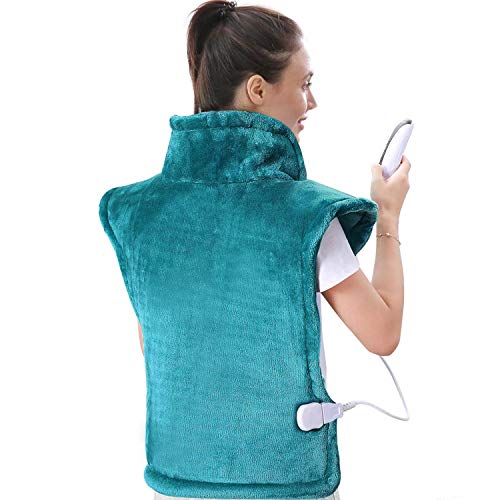 This pad is designed like a vest and conveniently covers the back, neck and shoulders. It is quite large compared to most heating pads on the market with size of 24" x 33". It has 5 temperature settings and fast heat option that takes less than 30 seconds to become heated.
More than 1,000 Amazon customer love gave 5-star reviews to this product with one customer stating "There are no cons only pros. It is large, covers my entire back and shoulders. It heats quickly and consistently. It is soft and pliable!"
Honorable Mention:
The comfier heating pad is not your typical heating pad. It is a foldable soft pad with side buttons that create a pouch to fit your feet into. Cool. Additionally, the soft polyester lining makes it very comfortable to wear.
Featuring 3 adjustable temperature control settings and fast heating up of pad within 30 seconds, it does a great job relieving pain and keeping your feet warm.
If you need a more versatile device, consider getting the Comfier heating pad.
Last update on 2020-10-20 / Affiliate links / Images from Amazon Product Advertising API