Our top pick after the latest update:
Garmin Swim 2, GPS Swimming Smartwatch for Pool and Open Water, Underwater Heart Rate, Records Distance, Pace, Stroke Count and Type, Slate Gray
Our best fitness tracker for swimming has seriously advanced swimming metrics that put other waterproof fitness trackers to shame – including the premium smartwatches.
It is suitable for pool, sea, or lake activity and can track swimming metrics such as laps, distance, strokes, SWOLF, etc.
---
Most fitness trackers since two years ago are splashproof, sweatproof, or waterproof to some extent – ranging from those that can withstand a little sweat, to fitness trackers you can swim with, and to those built to track your swimming data.
We've made a roundup of great waterproof smartwatches that are also the best fitness trackers for swimming. This means that whether or not swimming is your main activity, these fitness trackers/ smartwatches are very well suited to other sports or for use as your daily companion.
---
The 6 best fitness trackers for swimming
---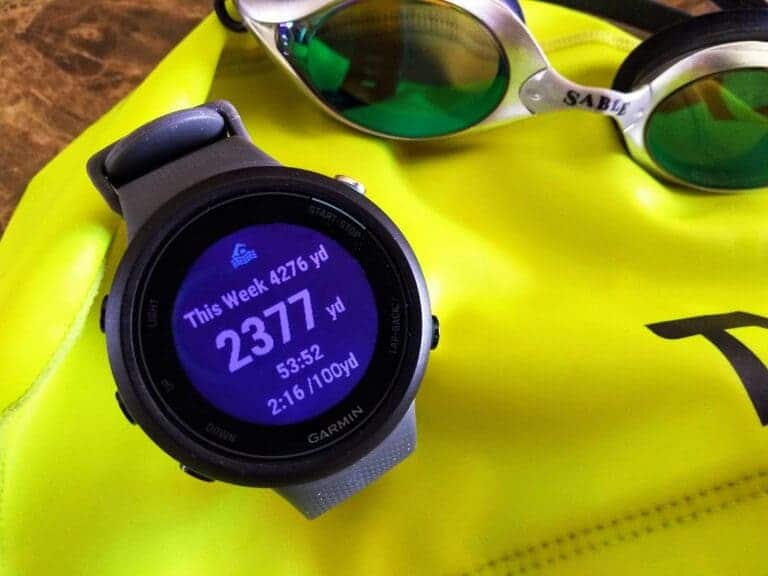 ---
The Garmin Swim 2 is hands-down the best fitness tracker for swimming/water activities. It tracks Open-water and pool swim metrics like distance, pace, stroke count/rate, stroke distance, swim efficiency (SWOLF), and calories… and that's just scratching the surface.
It features advanced stroke type detection for freestyle, backstroke, breaststroke, and butterfly stroke and an optical heart rate sensor that works underwater.
Despite the excellent swim-tracking features, it's not a one-trick pony. It has built-in GPS, a battery to last up to 7 days, and is able to track different sports activities.
On the exterior, it is unassuming and has a laid back design that both men and women will appreciate. For the regularly discounted price, it is a bargain.
---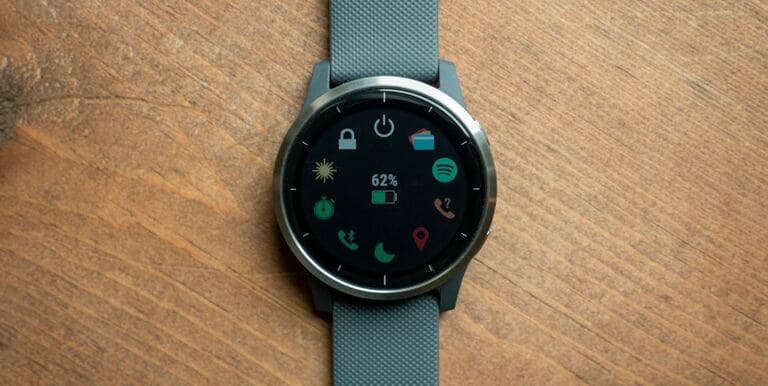 ---
You'd be forgiven for having reservations taking the Garmin Vivoactive 4 to the pool. It is one of the best fitness trackers for swimming and waterproof smartwatch.
Although it does not have all the swim tracking bruhaha of our top pick, it does really well underwater. It excels where the Garmin Swim 2 doesn't with better battery life, ability to load your music directly onto the watch, Pulse oximeter, and full fitness tracking programs offered in the Garmin app including crossfit and strength training.
If you won't be swimming as much, the Garmin Vivoactive 4 is a slightly better and more expensive choice than the Garmin Swim 2.
---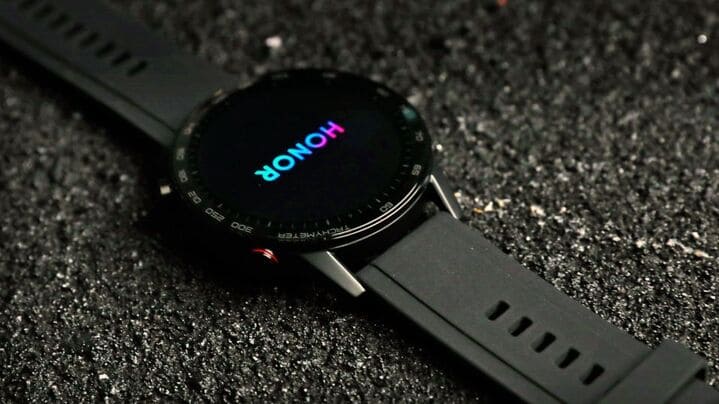 ---
The Honor Magic Watch 2 jumped in features and performance from the previous edition. It looks and feels good, and tracks much more accurately than we expected.
It packs built-in GPS, Bluetooth 5.1, and embedded microphone and speaker for making calls, 4GB onboard storage for music playback from the watch, and a battery that lasts up to 18 days with light usage. For swimming, it has the ability to track laps, distance, strokes in the pool, and open waters.
It loses some marks for not being customizable and not having compatibility with Strava. This smartwatch is among the best fitness trackers for swimming and sells for a bargain price.
---
---
Apple Watch is a case of a tech product actually improving with each new Edition and the Series 5 feels fully mature. It is the best choice if you're using an IOS device for all the core integrations with iPhones, Macbooks, and especially their earbuds.
As a Smartwatch, it Is fancy, well made, and quickly jumps out in a sea of watches. It has the extra bonus of being less sporty so it can go anywhere with you.
The Apple watch series 5 has a large always-on display(AOD) that is disabled underwater but still allows you to see all your stats and swimming data. The tracking accuracy is spot on and within the same limits as premium Garmin trackers.
The one caveat however is the poor battery performance we encountered during testing. A weak battery aside, the Apple watch series 5 is the best Apple watch yet, and the best swimming fitness tracker for iOS users.
---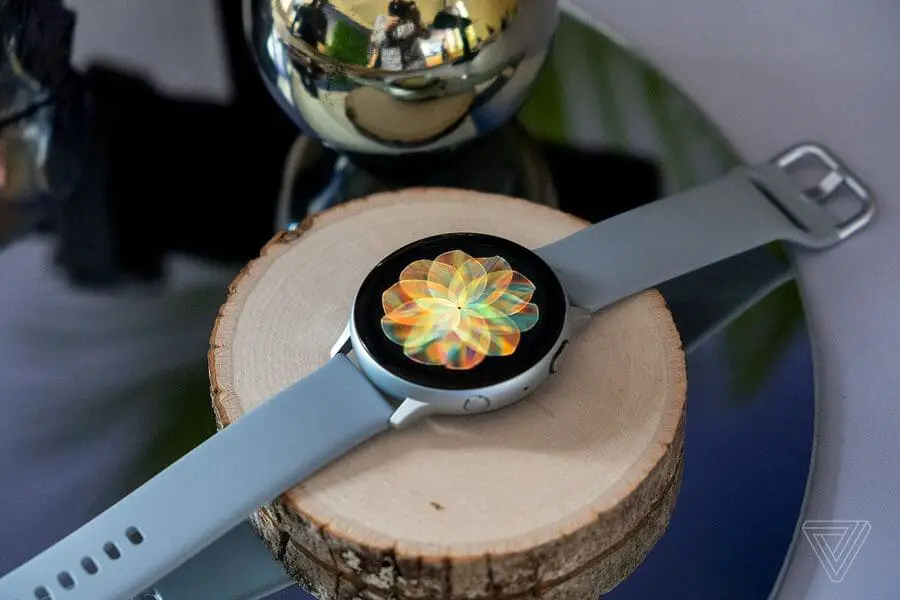 ---
The Galaxy Active watch 2 is slightly less feature-packed than its older sibling – the galaxy watch, but it is also cheaper and more suited to workouts.
It packs dedicated swim features like distance, lap, stokes counter, SWOLF, and can smartly detect the length of your pool. In addition to pools, it can also track swim in open waters.
It has other smart features like to ensure you get the best of smart and sport functionality. We also found Samsung's Tizen OS snappier and better overall than Google's Watch OS.
---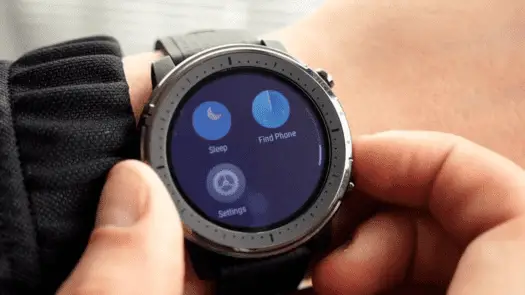 ---
The Amazfit Stratos 3 is the Flagship fitness tracker from Amazfit with features not seen in other brands. It packs Amazfit's transflective screen that gets brighter outdoor, built-in GPS, temperature, air-pressure sensor, accelerometer, Heart rate sensor, Bluetooth 4.2, and more.
It lacks a few key "Smartwatch" features like the ability to make/receive calls and respond to notifications. However, it makes up for this with robust 50+ fitness modes and we believe it is targeted towards core athletes.
When it comes to watersports, the Amazfit Stratos 3 is one of the best fitness trackers for swimming. It has a dedicated swim profile that supports tracking in open water and swimming pools, and measures all the other data (laps, distance, strokes) accurately.
---
Other fitness trackers for swimming to consider
Fitbit Versa 2
Fitbit Versa 2 is good for watersports but doesn't perform better than any of our top picks at the same price point. However, it is an excellent tracker on it own and one of the best Fitbit for women.
---
Mobvoi Ticwatch E2
The Ticwatch e2 doesn't look good and feels 'plasticky'. It scores points for packing a built-in GPS, microphone for google assistant, and an array of basic sensors. However, it suffers from depending on wear OS and has noticeable lags when loading apps and doing almost any other thing.
Last update on 2021-09-20. Affiliate links and images from Amazon product advertising API