Our top pick after the latest update:
Bear KompleX CrossFit Weighted Vest
Our pick for the best weighted vest for CrossFit has a short, adjustable weight design, is super comfortable to wear, and made with breathable fabric. It adds load while allowing you the necessary flexibility for your CrossFit routines.
---
Weighted vests are exercise gear that adds extra load/weight to a wearer for increased cardio conditioning and resistance. This makes weighted vests a great option to increase the efficiency of your cardio routines and without altering them by a lot.
One of such training routines that benefit from increasing load and resistance is CrossFit, which is a high-intensity strength and conditioning workout routine consisting of functional movements (squatting, pulling, pushing, etc.).
Many CrossFit enthusiasts do not shy away from a challenge and so the opportunity to add a weighted vest to their routine is a no-brainer. If you are in this mold, and you're shopping for a CrossFit weighted vest, we have written this article to help you decide on the best option for you.
Furthermore, regardless of your training inclination and the kind of exercises that keep you engaged and happy, these weighted vests for CrossFit are also suited for those other activities, although it would be best if you rather choose the best weighted vest for running, which are built a little bit differently from CrossFit weighted vests
---
Top 7 Best Weighted Vests For CrossFit
---
---
For 👍
Water-resistant.
Elastic sides for better comfort.
Easy to wear and remove.
Very comfortable.
Against 👎
Doesn't come with weights.
High-priced.
Design – Cordura Nylon.
Weight load – doesn't come with weights (for best functionality, max 40lbs).
Size – one-size-fits-all.
Adjustability – Yes.
The Bear KompleX weighted CrossFit vest is a high-quality design. The vest was built not only to help you build your muscles and agility but to give you comfort while exercising. It comes with an adjustable elastic side trap allowing complete chest expansion for perfect breathing. However, it doesn't come with any weight; users would have to purchase that separately. The brand makers understand that you can get sweaty while exercising and so attached a water/sweat-resistant feature to the vest.
Overall, the CrossFit weighted vest from Bear Komplex is a great buy, the only downside being that you have to purchase weights separately.
---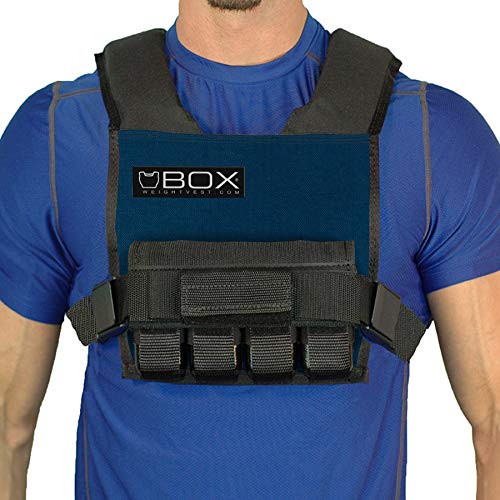 ---
For 👍
Specifically made as CrossFit vest.
Tight fit with comfortable padding.
Made in the USA, coming with a lifetime warranty.
Zero restriction of movements.
Easy to wear and remove.
Durability – moisture resistant.
Weight load – 18 2.5lbs. Cast iron blocks.
Size – one-size-fit-all.
Adjustability – Yes.
The Box weighted vest is a high-quality CrossFit weighted vest that sports a very comfortable and resistant-free design; it is every athlete's pick. Unlike many other weighted vests, the Box vest was designed specifically for CrossFit giving it an edge over many other multipurpose weighted vests when it comes to using for CrossFit. It also means that it may not offer the best running experience.
It has a short design, that makes it easy to wear and remove, as well as improves overall coordinated movements that are peculiar to CrossFit programs. One caveat that naturally comes with a good spec'd out vest is a high price tag which only true CrossFit disciples will appreciate.
Overall, the Box weighted vest is a top-quality CrossFit vest with evenly distributed weights (18 2.5lbs iron blocks; nine at the back and front), a neat finish, machine-washable and breathable fabric with a price tag to match.
---
---
For 👍
Built-in weights giving more durability.
Mesh storage pockets. 
Adjustable buckles at the front to fit most sizes.
Evenly distributed weight at the front and back.
The weights are iron pellets, preventing odor. 
Soft breathable neoprene material
Against 👎
It cannot be washed with machines.
The weights cannot be adjusted.
Premium feature – iron pellets as weight
Weight load – 4lbs. to 25lbs.
Sizes – depending on the weight.
Adjustability – Yes.
The Aduro Sport Vest comes with a unique look and design that comfortably adjusts to the shape of your body. In place of the old-fashioned sandbags, the Aduro Sport Vest uses iron pellets as weight; this reduces the amount of odor it can retain on the vest. With the mesh pockets, you can keep up with your news or music while exercising; this is an excellent feature for a weighted vest. It is durable, comfortable (having adjustable buckles), and a well-designed vest. 
Overall, it is a good buy, but its unadjustable weight makes it difficult for people looking to try a higher/lower weight.
---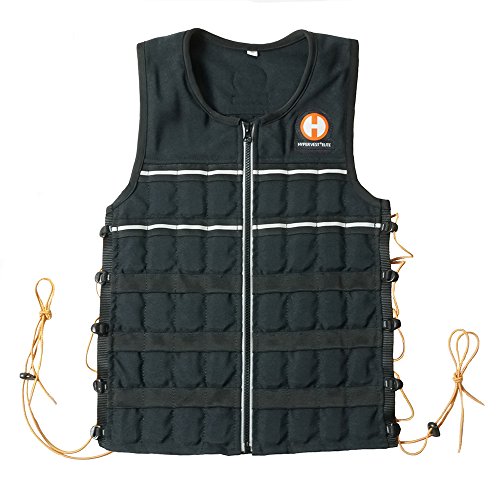 ---
For 👍
It is made with a very durable Cordura fabric.
Fit for outdoor with reflective areas.
Fits perfectly for all shapes and sizes, with adjustable straps.
Unique weight system for micro-loading.
Against 👎
It lacks storage compartments.
It is high-priced
Design – Durable Cordura fabric.
Weight load – 10lbs. to 20lbs.
Sizes – small, medium, large, and extra-large.
Adjustability – Yes.
The Hyperwear Hyper Vest Elite is an upgrade to its PRO predecessor, both having a unique feel when worn. One of the favorite things about this CrossFit weighted vest is the thin design and comfortability it gives to wearers immediately when put on. The cords on this vest are a great addition for athletes running or hiking; the spaces by its side allow room for ventilation and cool down body temperature. When it comes to the weight distribution, the Hyperwear vest is top-notch, thanks to the pockets at the front and back containing up to 2.25oz of high-density steel bars. 
Overall, it is a good CrossFit vest for those who do not need a higher weight capacity and can afford to pay a bit more than the average price for comparable vests.
---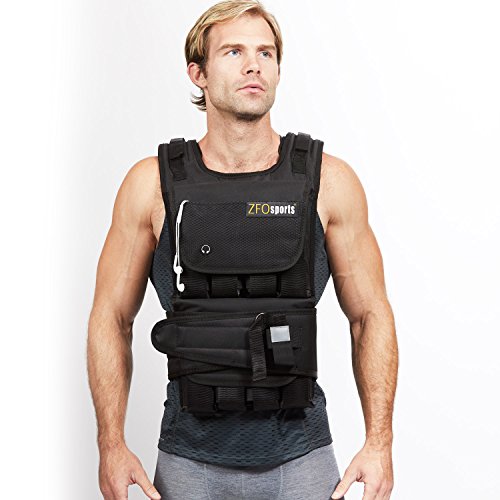 ---
For 👍
Evenly distributed weight system.
It is a one-size-fits-all vest.
Comes at an affordable rate.
Has pocket space for phones and bottles.
Against 👎
Length not ideal for people with a short torso.
Polarizing design.
Not breathable, so you will sweat easily.
Premium feature – pocket for phones and bottles.
Weight load – 40lbs. to 80lbs.
Sizes – one-size-fits-all.
Adjustability – Yes.
The ZFOsports weighted vest is a good vest for CrossFits due to its high weight capacity, helping athletes build up more strength, agility, and muscles. For some people, the SWAT-like design of the vest can be catchy, however, a higher percentage of users may not like this design. One of the major advantages of the ZFOsports weighted vest is its pocket space, this is because it comes in really handy for people wanting to run, take a long walk, and hike.
The one-size-fits-all design is a plus for many persons wanting to share the ZFOsports vest; however, the long length can become very uncomfortable for people with a short torsos.
This CrossFit weighted vest works best for tall people who need higher weight bearing vests.
---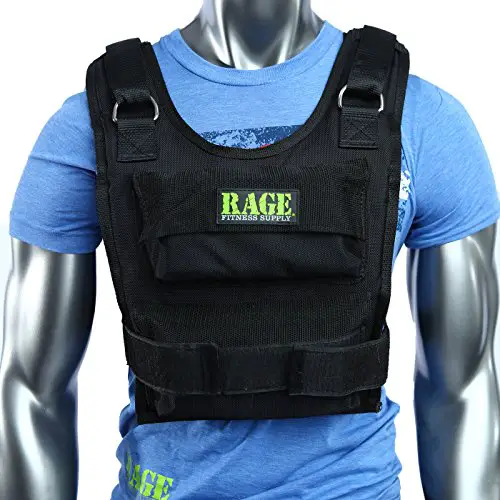 ---
For 👍
It comes with pockets for phones and accessories, one at the back and front.
It uses 12 3lbs. cast iron blocks as weights instead of sandbags.
Easy to exercise or workout with.
It comes at an affordable price.
You would sweat less; breathable vest.
Against 👎
The weights cannot be adjusted.
Not machine washable
Design – Denier material 
Weight load – 36lbs.
Sizes – one-size-fits-all
Adjustability – No
The Rage Fitness weighted vest is a high-performance vest allowing limitless movement without hindering your breathing. Should you be looking to add an extra challenge to your workout routine, the 36lbs. Rage fitness gear is your pick. It is comfortable on the body and allows the flow of air, reducing heat on the wearer. For music lovers; those who would love to listen to music on-the-go while running, jumping, or random exercising, the double pockets on the Rage fitness vest allow you to place your phone or music box next to you.
Overall, the pricing of the Rage Fitness vest is very attractive for its specifications. Although the vest has unadjustable weights and can only be washed by hand, it is a highly recommended vest for those looking for a versatile and breathable weighted vest for CrossFit.
---
---
For 👍
Easy to use.
Comfortable.
Wide range of weights to choose from.
Comes with adjustable strap
Against 👎
Straps can feel a bit flimsy
Design – Reinforced nylon and polyester.
Weight – 40 to 150lbs.
Size – one-size-fits-all. 
Adjustability – Yes.
The CAP Barbell weighted vest is a versatile weight vest suitable for a wide range of training routines including weightlifting, running, swimming, and CrossFit. It comes with a wide range of weight load, from 40lbs. to 150lbs. (the weights can be increased or decreased by 2.5 lbs. to 10 lbs.).
It features comfortable padded interior, adjustable straps, and some extra storage pockets. Although it comes in both short and full length options, we recommend that you buy the short weighted vests for CrossFit training as the longer ones can restrict movement.
With a large range of weight options to choose from, the CAP Barbell weighted vest is the most versatile vest in the market and can work well for CrossFit.
---
How to Choose the Best Weighted Vests for CrossFit
When purchasing a CrossFit vest, there are some key factors to consider before concluding on any being the best. These factors differentiate the best from the mediocre CrossFit weighted vests.
Comfort and Design
Whenever you find yourself wanting to own a CrossFit vest, your utmost priority should be on the comfort of the gear. Yes, you might be looking for a hefty vest to build stronger muscles, but when this vest fails to sit comfortably around your shoulders and upper body, it can be very strenuous – and this is not in a good or beneficial way.
The right designs; meaning the quality of the material used for the build-up of the CrossFit vest must be of high-quality, regardless of the amount spent on it. The vest must come with pockets for the weights, which would be evenly distributed around the gear.
Weight Capacity
The best or ideal weight for a user of CrossFit weighted vest is strictly preferential. You should understand your body and how much it can carry over-time. However, when purchasing a CrossFit vest you must purchase one having a range of different or adjustable weights.
Although not all the best available CrossFit vest can have their weights tempered with, you can get one that has certain pockets for slight increments in weights. In my opinion, if you need a CrossFit weighted vest for boosting your physical strength, you might want to keep your gaze on vests with an adjustable facility.
Price
As far as purchasing anything is concerned, the pricing on any product is always one of the major factors to look out for. It is a fact that not all good-quality CrossFit vest would come at a high price, but understand that if you need a popular or top brand of these vests, you would have to spend a little higher.
However, if you must cross your budget limit, I would suggest you go for the well-known and top-quality CrossFit vest brands. There would barely be any hiccups in their products; giving you what you paid for is in their best interest.
Durability
There are lots of CrossFit weighted vests going as high as 60lbs., and this is why a good-quality material or design of a CrossFit vest is required. Constant usage of the vest; the one-for-one movement of the vest with your body can take a toll on the CrossFit vest.
Purchasing a cheap quality vest will result in you replacing the vest constantly, making you spend more on replacing than getting a superior-quality on the first buy. When next you are purchasing a vest, have the future in mind, how long will it last, can it withstand the strain. Once the answers to the questions are positive, then you can purchase them.
Frequently Asked Questions
Are Weighted Vest Bad for Back?
The idea behind a weighted vest is to apply pressure on your body and for your body to overcome that pressure. While this is majorly successful for some, the weight of the vest pressing down on the shoulders and the straps around your waist could strain your spinal cord. Compressing the intervertebral disc, which would eventually lead to pains and back injury. Using the CAP Barbell 150lbs weighted vest can cause some back and spinal problems, especially when wearing it for a long time.
Does Working out with a Weighted Vest Build Muscles?
One of the many reasons most people begin to exercise or sign-up for a gym class is because of the fitness and stiffer muscles that come with exercising. Adding vests like the BOX weighted vest to your workout routine would increase your perspiration, tiredness, and energy depletion. It might seem like a bad thing, but that is not the case; straining your body and muscles with weighted vests allows your body to adjust and build itself to be able to withstand it. Thereby increasing or building-up muscles.
What Weight Should I Start With?
The weight to start with when exercising is not fixed; it varies and will always vary from persons to persons. You must understand how much strain your body can withstand without damage. However, I would always advise that new weighted vest users should start by using weights that are 15 to 20% of their full body weight. If you weigh 200+lbs., your weighted vest should be between 30 to 40lbs and not exceeding. Bear KompleX vest allows users to select the amount of weight they want for their gear.
How long can I Wear a Weighted Vest?
The exact number of time to wear any weight-level of a weighted vest is not certain. It depends on the amount of weight hanging on your shoulders, your reason for having the vest on (your goal), and how much strength you have to keep pushing. However, I would suggest wearing it for 20 minutes to 1 hour if you intend on running or jogging with the vest.
Should I Buy a Vest with Sandbag or Iron Weight?
Choosing the right type of weighted vest is strictly preferential, and it also has to do with what you are trying to gain by exercising with gears. Sandbags; because of their nature, they tend to be heavier than iron weights at times due to their density. The fillings of the sandbag can move causing the weights to get destabilized, which would in turn cause more strain on the wearer. Iron weights like the Aduro Sport weighted vest would retain less sweat and odor on the gear. However, sandbags are a favorite by many.
Last update on 2021-09-20. Affiliate links and images from Amazon product advertising API